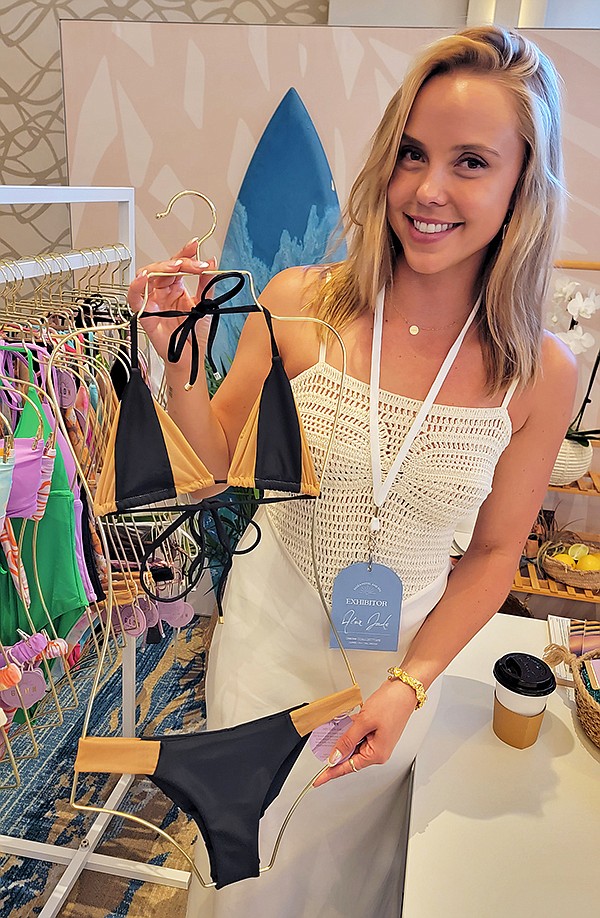 TRADE SHOW REPORTS
Swimwear Proves to Be a Wardrobe Staple at Swim Collective
The seaside Pasea Hotel & Spa in Huntington Beach, Calif., was the perfect setting for the Summer 2023 edition of Swim Collective, held June 13–14 and featuring a sunset reception, runway show, complimentary champagne and antioxidant breaks.
Brands displayed wardrobe staples from bikinis worn under garments and resort-style clothing to complete looks and children's lines, proving that swimwear has transformed into a lifestyle revolving around health and fashion.
This edition drew retailers from Arizona, Northern and Southern California, and Canada, all looking at offerings by well-known and up-and-coming brands from Australia, California, Canada, Colombia, the Caribbean and more.
Said Vonnell Osmidoff, owner of Beach Bungalow 415 in Novato, Calif., "This is the show. I ordered from five to six different companies and found three new brands I didn't know I was going to purchase from." Osmidoff particularly liked Vix Paula Hermanny, Cosita Linda, Sea Level, SeaFolly Australia and Sunset Vibes.
Michael Hagen, owner of Long Beach Calif.–based Wyeth headwear, was inspired as a youth while traveling in South America. "I loved hats before that, but I was blown away by seeing all these beautiful hats in Bolivia and Peru," said Hagen.
Barbados, West Indies–based Nikkibiedes dazzled with its luxury Caribbean pearls while other brands displayed bejeweled footwear and Oceanside, Calif.–based RAEN showed its handcrafted eyewear. Colorful swimwear was on display at Colombia-based ONEONE, known for its color blocks and on-demand offerings. "We've seen existing accounts and created new relationships," said Valentina Correa, sales director, wholesale division, of ONEONE.
Mother-daughter duo Alex and Valerie Dickens launched up-and-coming Newport Beach, Calif.–based GLDN Swimwear, capturing the Southern California vibe with their reminiscent Fun Zone collection along with sexy and sporty swimsuits. "I grew up a swimmer so it was really important for me to have everything comfortable yet flattering, trendy and fun that stays in place," said Alex Dickens. "My mom had a career as a window designer, so bringing us both together just made sense," she added.
Packing for vacation was the inspiration for Angelina Cannell, who created the Los Angeles–based capsule collection Coastal Femme. "I wanted to create a brand where everything is versatile, mixed and matched, lightweight, and wrinkle resistant with the exception of the linen," said CEO/owner Cannell, who uses polyester, rayon, linen and limited-edition silk chiffon. "The reason I incorporated polyester is to be adaptable for swim. If you want the perfect swim cover-up you're not going to wear a silk chiffon kimono, you're going to want to wear something that absorbs the water and still breaths," she added.
Vancouver, Canada–based Fenntessa Swimwear displayed colorful, artistic-driven swimsuits, unique hanging displays, a prize wheel and swag. "We put our whole heart into the creative process. We always work with local artists and designers. What's important to us is to create unique things that are true to ourselves," said founder Cami Rush.
Inspired by the beaches of Brazil and her own experience, Denise Foley launched Los Angeles–based Sunset Vibes Swimwear to promote self-love and body confidence for women sizes 4–26. "I'm on a mission to empower women of all shapes and sizes to feel their absolute best, with comfort, support and sexy in a swimsuit without compromising fashion or style," said Foley.
Owners Elaine Snider and Paige Jarvis of the Bikini Ranch Boutique in Scottsdale, Ariz., said Swim Collective gave them the opportunity to connect face to face, see new lines and learn about new brands. "I love this show, the hospitality is great, and we accomplished all the goals we were here to do in a nice, beachy vibe," said Jarvis.
Alli Jackson, Swim Collective senior marketing manager, called the show a great success. "Our popular sunset reception was a highlight for many as retailers and brands got to meet and mingle in a more-casual setting. We also brought back our newly added runway show during the reception to feature new looks by Body Glove, Skye, Eidon, Beach House Sport, Malai and Moda Minx," said Jackson.