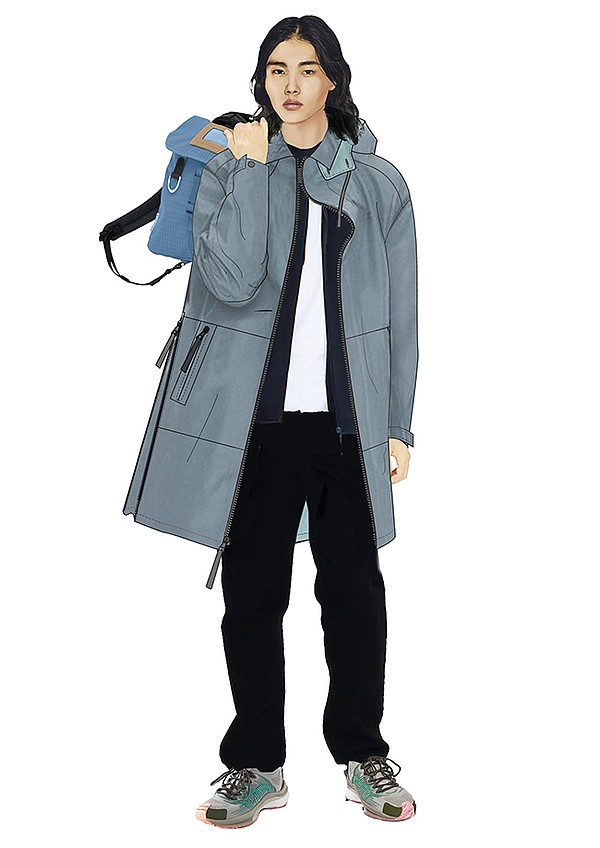 FASHION TRENDS
Redefining the Boundaries for FW24/25 Menswear
In a time of crisis, how can we positively promote slow values adapted to changing consumption patterns? Two major axes reveal our approach:
1. Redesigning beautiful, timeless, urban or authentic essentials with a focus on know-how. A fantasized look at the past is the inspiration for a more fluid and unisex tailoring where comfort rhymes with elegance. In parallel, environmental challenges are the impetus propelling a more sustainable and natural approach to the outdoors.
2. Doubling down on creativity, optimism and innovation to design versatile, clever products. New digital tools such as AI boost the imagination of tech. With zero borders, you can play the warrior hero or adopt a more sensitive persona ... another way to erase boundaries and blend genres!
Golden Age. Running counter to the idea of "always more!" and the prominence of casual style, nostalgia for a fantasized past impels us to embrace timelessness, quality and simple design. Chic and iconic are the key words for a more sustainable approach to fashion.
Unlimited Constraints. Overproduction and the accelerated pace of digital innovation drive limitless creativity, whether it be digital or physical. Embrace a feel-good lifestyle based in freedom and engagement.
Epic. In an over-connected and uncertain world, there is a pressing need to fight and take urgent action. Between real and virtual, the focus is on reactivating the mythical hero figure and working to make tech more responsible.
Adaptation. Climate change forces us to adapt, to dream of a better world in harmony with nature, and invent new models between joyful sobriety and slow-paced inventiveness.
Peclers Paris is a leading lifestyle trend-forecasting agency focused on building brands through the expertise of an international team of designers, strategic planners, futurists and consultants. The company has headquarters in Paris, Los Angeles and Shanghai.