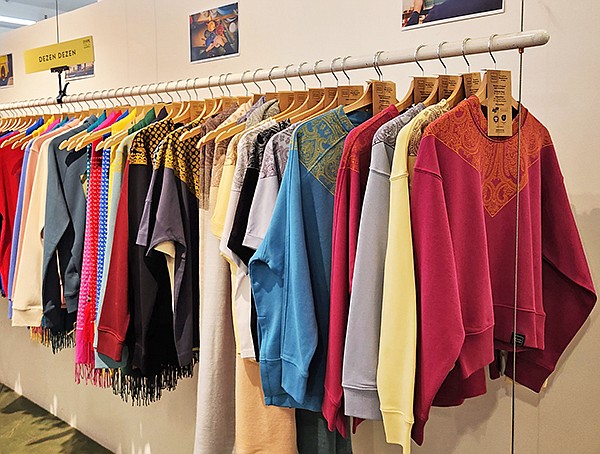 TRADE SHOWS
INSPR ITALIA Expands Italian Artistry to the West Coast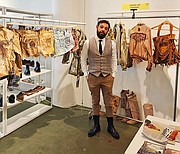 Buyers headed to downtown Los Angeles March 12–16 for Los Angeles Market Week, with Brand Assembly at the Cooper Design Space and Designers and Agents at The New Mart welcoming brands from Italy for INSPR ITALIA. The showcase of small-to-medium-size businesses boasted old-world garment legacies blended with Italian style. It was presented through a partnership with the Italian Trade Agency in collaboration with Confindustria.
Brand Assembly and D&A hosted 30 brands during the March 13–15 INSPR ITALIA, before the roadshow heads to Miami for Cabana and Dallas Market. The roster of brands will change to align with the region in which each INSPR ITALIA event takes place. The Los Angeles show brands included Alessandro Aste, Alysi, Antura Accessori, Artico, Athison, Bsbee, Ducanero, Etici, Fracap, Halmanera, Henry Beguelin, L'aura Borse, Laboratorio Mariucci, Lavi Couture, Mimì et Mamà, Moma Shoes, Momoni', Of Handmade, Pomandere, Sesa Shoes, Shoto, Suprema, Transit Par Such and Voile Blanche.
"They represent the Italian heritage, the craftmanship, the family-owned companies that are not big or famous brands. You have a product that is tailor-made, very detailed. They have flexibility and quality," said Paola Guida, deputy trade commissioner of the head of the division for fashion and beauty at the Italian Trade Agency.
Guida also explained the inclination toward sustainability. "We are eco not because it's a trend but because it is a necessity," Guida said. "We live in the same places where we produce."
Reaching the West Coast buyer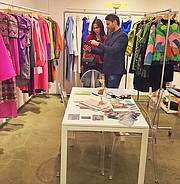 At the WhyCi Milano booth, Elena Ghisolfi welcomed buyers interested in Merino sweaters, viscose, silk with wool and embroidered pieces. The show was important for Ghisolfi to lay the foundation to build strong, meaningful relationships with buyers.
"They have a different feeling when they work with us rather than the big companies. They come to Italy to visit us. They can see our site, our showroom, and they can see our shops," Ghisolfi said. "We like to have relationships with people."
Despite Los Angeles' reputation as a denim city, Olga Fontanillas-Desi, owner and CEO of the ODV Group in New York, was in town to represent Florence, Italy–based Shaft Jeans. Although this might seem to be a bold move, Fontanillas-Desi noted that the brand's pieces were meant for a discerning clientele that values rich fabrications such as a luxurious corduroy.
"It's fashion. This is about the textures and the fabrics. It's back to the 1970s, and the company was started in the '70s," said Fontanillas-Desi, who also represented Ploumanac'h. "A lot of flare [is popular], and people like the fabrics Shaft uses."
Buyers bypass big names for Italian boutique brands
For many West Coast shoppers with disposable income, less is often more when they think about their everyday fashion choices, as Elizabeth McQuiston, owner of the Seattle high-end retailer Willa, explained.
"She wants her friends to say, 'Oh, my god, where did you get that,' but it can't be at a department store. She wants unique, but she isn't going to wear something super flashy with a massive brand name on it. She wants high-end luxury. Our customer is more into timeless classics," McQuiston said.
McQuiston was impressed by Dezen Dezen, a Trieste, Italy, silkscreen-printing business whose third-generation owner, Marco Cernogoraz, rebranded in 2014 with an expansion into luxury streetwear such as sweatshirts, T-shirts, scarves and bomber jackets.
"We wanted to explore the American market since we have a lot of American tourists coming to Trieste," Cernogoraz explained.
Traveling to L.A. Market from Aguascalientes, Mexico, Patricia Rodriguez, owner of Punto Fashion, searched for Fall pieces to draw in customers. Rodriguez thought Giovanna Nicolai would resonate with her clientele of women whose ages range between 20 and 50.
"I try to find special things because I live in a small town so I prefer expensive, exclusive and unique goods," Rodriguez said.
Leanna Drammer of Los Olivos, Calif., is preparing for an April launch of her women's contemporary and resort-driven boutique Lou Los Olivos. She was happy to shop the Italian brands that align with her store's European influence.
"Cashmere is always my favorite. It's always a go-to. You can't go wrong," said Drammer. "Anything that feels really luxurious and soft and, also, natural fibers."
As the owner of Barrack 22 and Nobel Rags, a retail operation with a charitable component, at San Diego's Liberty Public Market, Courtney Shaddow is accustomed to selling at the higher end of the apparel market. While visiting the Karma of Charme booth, Shaddow was impressed with the footwear displayed by the brand's owner, Emanuele Palombari.
"That is cool, California, West Coast. What's great is that his price point isn't bad for the quality," said Shaddow. "It's bohemian California."