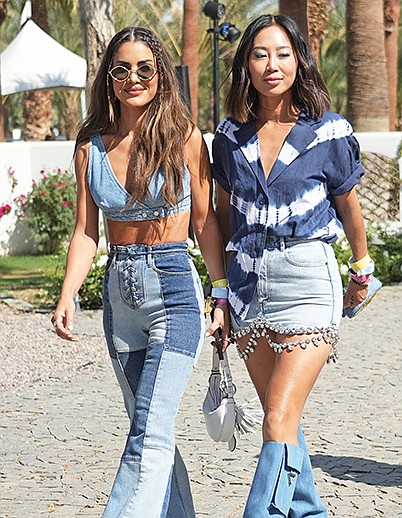 FROM DESIGNER TO DENIM
Designer Desert Looks and Cool Coastal Denim Heat Up Summer Style
Every spring, music lovers head to the California desert for the unofficial start to the summer concert calendar with events such as the Coachella Valley Music and Arts Festival and the Stagecoach Festival, while locals and tourists alike head to the Los Angeles coast to take in the surf.
Revolve Group returned to the desert April 15–16 with the sixth edition of its Revolve Festival in Thermal, Calif., as the fashion retailer celebrated its 20th anniversary. The festival was centered on music, but attendees were focused on fashion.
Looks included an array of maxi dresses in sleek, single-shoulder silhouettes; long-sleeved sheer fabrications with shimmery details; and spaghetti-strap styles reminiscent of the 1990s. Bright neon colors appeared in attention-grabbing teeny crop tops and miniskirts in psychedelic prints. Double-denim pieces made strong vintage statements.
Along Los Angeles' Venice Beach and Santa Monica, denim featured prominently at the pier and in the skatepark. Layers remained important for warmer days that began with cool mornings and ended with breezy evenings. Blazers and ballet flats dressed up casual jeans. Visitors who wanted to tap into the local spirit opted for cozy hoodies that celebrated hometown Dodger baseball.
Double denim appeared in light acid-wash looks with black jeans and bra tops paired with matching miniskirts. Beachgoers also chose two-tone jeans to complement blue-hued bikini tops, ankle-length hippie skirts, retro cargo styles and fashionable—yet comfortable—overalls.