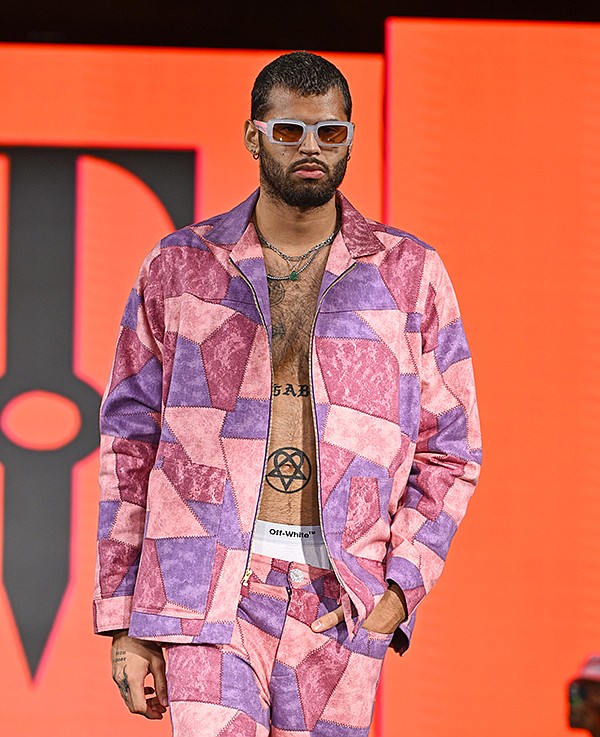 TRUTH BE TOLD
Art Hearts Fashion Features California Designers During NYFW Presentation
Los Angeles–based Art Hearts Fashion produced its New York Fashion Week show at the Angel Orensanz Foundation Center Sept. 7–10 with a schedule that included a number of California designers during its Spring/Summer 2024 showcase.
Kentaro Kameyama channeled his brand of minimalism into black, white and greige for his eponymous label. Kameyama designed garments that resembled modern takes on Roman togas. Designs appeared with traditional long hems and updated, belted minidress styles.
At Tell the Truth, Rainy Womack showcased vibrant pieces in flowing yet masculine silhouettes. A patchwork jacket and pants relied on a colorful blend of bubblegum pink, grape and raspberry. Pairing black, baggy slacks with a distressed, ribbed sleeveless sweater in a fiery red, Womack took men's fashion beyond traditional designs but retained classic details. 
Former New Yorker and current California-based designer Melissa Pellone unveiled her Pellone Collection with glamorous pieces such as a long, sheer mock-turtleneck dress overlay in lace that revealed a mini with a sweetheart neckline. Pellone's softer side was found in a long, strapless silhouette with a red-and-black color-blocked top and white skirt with ruby and pink florals.
For her eponymous brand, Coral Castillo showed gowns with braided, thin-strapped bra tops and flowing floor-length skirts in different hues including a light turquoise. Castillo's two-piece gown featured a royal-blue top with a center cutout and sheer skirt in black over brief-cut bottoms.
"We had a huge spotlight on Mexican and Latin fashion designers and fashion collections as well," said Art Hearts Fashion founder Erik Rosete, who noted the event brand's growing popularity in Mexico. "As a proud Mexican-American founder and owner with a majority Mexican and Latin team, I wanted to spotlight all of the innovation that so many Mexican designers and brands are contributing to the fashion world."
The Art Hearts Fashion Sept. 8 show closed with Mister Triple X, Rosete's Los Angeles–based brand, which showcased the designer and entrepreneur's blend of sultry pieces. In addition to the alluring swimwear for which it is known, Mister Triple X presented elegant looks such as a smoke-colored floor-length dress with attached floor-skimming cape.