California Apparel Employment Creeps Up in June, Domestic Apparel Prices Fall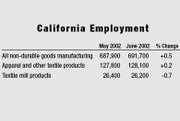 California's unemployment rate held steady from May to June at 6.4 percent, reflecting positive signs of economic recovery, according to a report released by the Employment Development Department (EDD).
State manufacturing, transportation, and public utilities and services jobs were down by 5,000 in June, although those losses were primarily in the areas of electronic equipment and industrial machinery, the report said. There were 128,100 people employed in the apparel and other textile products sector, down 3.3 percent, or 4,400 jobs, from the same time last year. Textile mill products employment was at 26,200, down 1.9 percent, or 500 jobs, from last year.
Still, June's number for apparel jobs represented a slight uptick from May's figure of 127,800. But textile jobs dropped off by 0.7 percent in June from May's 26,400 count.
"Apparel industry employment is still undergoing some losses, but it will most likely see a very slow increase over the next few months, especially around Christmastime, when Wal-Mart, Target and Kohl's will have a great season, and everybody else will have to work hard for it," said Los Angeles County Economic Development Corp. chief economist Jack Kyser.
According to the EDD, employers' payroll employment in California grew by 4,400 jobs from May to June, for a total of 14.7 million.
For the month of June, unemployment in Los Angeles County was at 343,200, or 7.1 percent; Riverside County, 44,500, or 5.7 percent; San Bernardino County, 48,100, or 5.7 percent; San Francisco County, 29,900, or 6.9 percent; and Alameda County, 50,500, or 6.5 percent.
Apparel and textile employment is not the only sector to be affected by economic setbacks. Overall domestic apparel prices have fallen 0.4 percent since June 2001. Several industry sources say increased consumer confidence during early summer spending caused a slight uptick in domestic producer prices, which saw an increase of 0.2 percent from May to June. U.S. textile production increased 0.3 percent in June but was still 1.2 percent lower than in June 2001.
Wholesale prices for domestically produced women's apparel declined 0.4 percent from May to June; the EDD report also showed a 1.0 percent decrease for the year. Prices for women's, missy and junior dresses increased 0.2 percent in June but declined 1.8 percent from the same time last year. Wholesale prices for women's, missy and junior swimwear were not available for June; however, prices were flat from April to May, with a decrease of 4.3 percent from the same time last year.
"Apparel prices tend to be self-reinforcing," explained Carl Steidtman, chief economist at Deloitte Research in New York. "Most consumers' expectations are set on their most recent experience, so in a declining environment consumers tend to take a wait-and-see attitude and hold off for better bargains." —Claudia Figueroa