San Francisco Fashion Week 2006: Erin Mahoney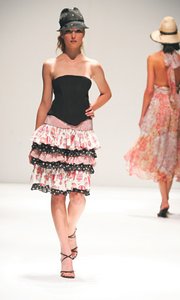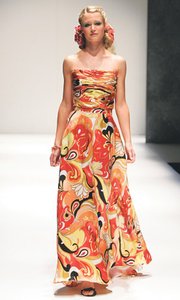 Silk was the fabric of choice for Erin Mahoney, showing her Holiday 2006 and Spring 2007 collections, which were reminiscent of a lavish costume party. Her designs centered on cocktail and garden dresses that utilized rich fabrics such as silk and satin, and bursts of color.
"My theme was a formal garden party crashed by gypsies. There are lots of greens, flower prints, paisleys and big wild prints," said the designer, who studied creative arts and dance at San Jose State University, where she took costuming, giving her a taste for the theatrical.
Dresses ranged from prim and proper knee-length dresses made of light Pima and baby cotton to floor-length gowns with strapless and shirred tops. Made-to-match tiny hats topped many of the outfits, adding another theatrical element.