The On Sunset High Fashion Boutique to Close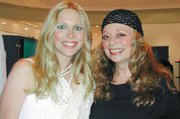 Lauralee Bell, left, announced Nov. 2 On Sunset boutique will close. She is pictured in a 2004 photo with former business partner Shauna Stein, who left the store in 2008.

Los Angeles boutique On Sunset served as a prominent spot for high fashion. However, the five-year-old boutique will close after Dec. 1, said On Sunset owner Lauralee Bell.
Bell announced Nov. 2 that the boutique, located in Los Angeles' prominent Sunset Plaza retail district, will be shuttered. Bell planned to close the store because juggling the duties of running a boutique with the demands of a family and a show business career were too taxing.

Until 2006, she starred in soap "The Young and The Restless." She also co-produces "Family Dinner," a comedy series which appears on the Funny or Die website. The rough retail market also was a factor in closing the shop. The job of selling high fashion had become tough, said the boutique's office manager, Nadine Zanotti. "Business is just not happening," Zanotti said.
On Sunset will hold sales for its high fashions which includes pieces from labels Blumarine and Moschino later this month. It also will sell the fixtures and mannequins from the 2,800-square-foot store.
Bell started her career in fashion retail in 1999 when she opened boutique On Beverly with pioneering specialty retailer Shauna Stein. They renamed the store On Sunset when they moved it to Sunset Plaza in 2004. Stein resigned from the business in 2008 and relocated to her family home in Utah. Bell said she will miss the fashion business. "But there is no sadness here. I've worked with such incredible women." There was a staff of more than five full- and part-time workers at On Sunset.