Buzz on QVC's Academy Awards Party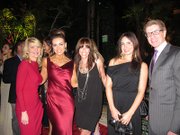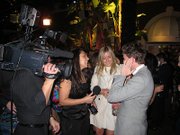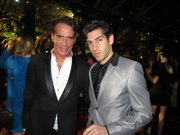 From left Angie Simmons, Lisa Robertson, Karen Zambos, Rachel Pally and Mike George at The Buzz on the Red Carpet party.
It's awards season in Los Angeles and gala Academy Awards parties are sprouting up all over the place.
But there was only one awards party devoted to shopping.
It was multi-platform retailer QVC's The Buzz on the Red Carpet, which went off was at the Four Seasons Hotel in Beverly Hills on Feb. 23.
Kim Kardashian and her mom/Svengali Kris Jenner were spotted at the party as well as Lisa Rinna and her husband Harry Hamlin. L.A. couture designer Lloyd Klein and stylist George Blodwell made appearances too.
Along with the party's champagne sipping guests and glamorous women clad in cocktail dresses and gowns, QVC celebrated Los Angeles designers at The Buzz on the Red Carpet.Debuting QVC collections was party guest Rachel Pally with her RP by Rachel Pally line. Also taking a bow was QVC line Belle Gray by Lisa Rinna and Nicole Richie Collection, designed respectively from the L.A.-based Lisa Rinna and Nicole Richie. Attending the party was L.A.-based designer Karen Zambos who recently debuted her QVC line KZ by Karen Zambos.
Pally said she was thrilled to be starting her first line on QVC. "It's such a powerful retailer," she said of the multi-platform retailer headquartered in West Chester, Penn."They take contemporary fashion and make it accessible. But they're not dumbing it down."Wholesale price points for Her RP by Rachel Pally line were $74 to $110, which were about the same as wholesale for her Rachel Pally line.
Mixing with the crowd was the very friendly top management from QVC such as Mike George, Claire Watts and Angie Simmons.
George said that the party was QVC's version of an Academy Award's red carpet.Party segments will be broadcast Feb. 24 on QVC special show, which also will be called The Buzz on the Red Carpet. "We'll take them behind the scenes," he said of QVC's audience watching The Buzz on the Red Carpet. "They'll see what celebrities go through at the Oscars, learn more about the behind the scenes fun, and see red carpet fashions."
Celebrity merely happen to be one aspect of QVC fashion and not the most important element. "We bring you a person behind the product," George said. "We don't rely on a celebrity product. It's about the great designer, great inventor or business owner, whoever has the great story to tell and a great product. If it also happens to be a celebrity, it's a win/win. They bring a fan base and high level of engagement to the story."
Interviews and filming took place all over The Buzz on the Red Carpet party.
Designer Lloyd Klein and singer Mohammad Molaei. Molaei will sing at Lloyd Klein's next runway show, scheduled for March.