Rose Apodaca, Kelly Cole To Open La Brea Shops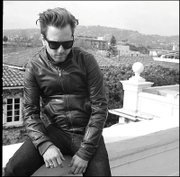 Kelly Cole pictured on the roof of the Il Borghese building in Los Angeles. Photo by Aaron Stern.
An eternity, actually 18-months ago,I wrote an article about the new hipster development District La Brea, and how it was going to bring a lot of cool shops to La Brea- then nothing happened.
Talk about delayed gratification, looks like a bunch of shops and restaurants will be opening at the District, which is located across the street from the pioneering American Rag fashion emporium.
Next week designer and man about town Kelly Cole will open his new Kelly Cole boutique at the District. It will be located at 175 S. La Brea Ave. By the end of the summer fashion writer extraordinaire Rose Apodaca will open her second A+R boutique at 171 S. La Brea Ave.
Rose said she and husband Andy Griffith will focus on selling furniture at the LaBrea A+R. They decided to move in after District developer Madison Marquette recruited their store to the development.
"We had no interest in opening a second store this year," said Rose who runs the other A+R shop on Abbot Kinney Boulevard in Venice. "But everything fell into place." She specifically liked the indie vibe growing on La Brea.
Kelly will be a big part of that indie vibe. You may remember his shop Lo-Fi, located on Fairfax Avenue, north of Melrose Avenue between 2002 and 2007. He closed the shop to concentrate on wholesale, his interior design biz, deejaying and developing the Kelly Cole brand. He opened a shop for Kelly Cole on the site of the Denim Revival boutique in December 2010, but closed it down July 6 to make the La Brea move.
"The new store is way more about a lifestyle," Kelly said of the shop which will showcase his home furnishings, elite vintage T-shirts, leather jackets, as well as Kelly Cole denim, T-shirts and accessories for men and women.
"The boutique's thrust will be about developing new product and using it as a laboratory for new ideas," he said.