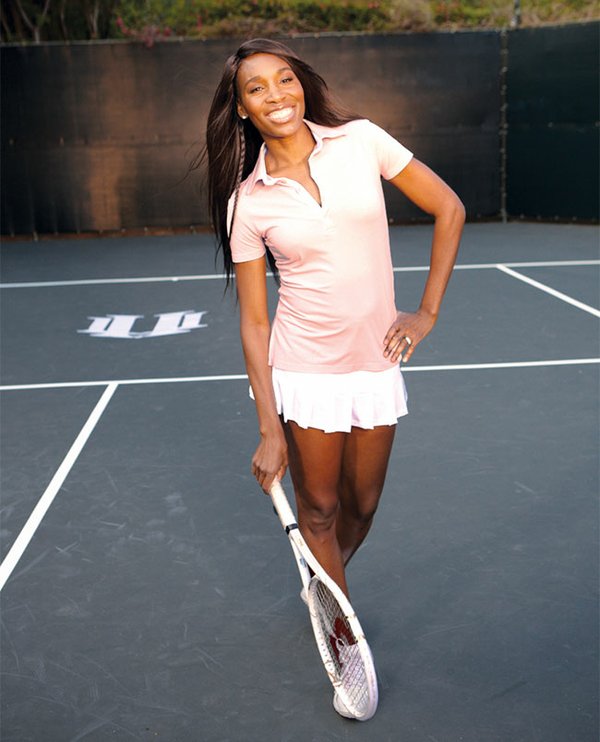 DESIGNER PROFILE
Venus Williams' EleVen Is Made in LA
Venus Williams, who turns heads as much with her flair for style as her 125-mph serves, believes if you don't look good, you won't play well. The tennis pro contends that looking good even enhances athletic performance.
"It gives you that extra confidence in your step," she said. "Of course, you want to win the match so you can come out another day looking great!"
For the relaunch of her EleVen sportswear label, the Los Angeles native returns to Southern California to produce her collection, which bowed on the runway earlier this year in New York. It has been a busy time both on and off the court for the tennis star, the owner of 43 singles titles, seven of them Grand Slams. Right after the U.S. Open in September, she debuted her Spring/Summer 2013 line at New York Fashion Week. And she recently wrapped up the designs for next Fall's collection. Look for more florals, geometric prints and even tie dye.
"My vision is about moving in style," Williams said in a phone interview. "I feel like so much of our lives is activewear, loungewear. You're wearing it every day, and you should be able to have choices on how you look."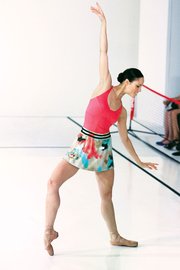 Pieces currently for sale on the company's website (elevenbyvenus.com) include a four-button polo, gray-and-white geometric print Capri leggings and sports bra, and a black-and-white block tennis dress with rose-colored grosgrain ribbon trim. Anything she wouldn't wear herself doesn't pass the test. "Is it really me? If it isn't, then I scrap it and start over," Williams said. That said, the Spring '13 collection will include a few shirt styles for men, and Williams plans to add more menswear in the future.
For Spring '13, the palette consists of black, white, peach and powder blue, some with geometric accents. Monet's paintings of the garden at Giverny inspired an Impressionist-looking floral print. "For me, inspiration comes from within," Williams said. "It's finding who you are and bringing it to life."
Williams said she sees her customers not just as tennis players but "people who are thinking about what they want to wear. They want to have a choice and want to keep moving and staying healthy, and they're looking to have a healthy lifestyle." Still, the fabrics include some special features for the sports-playing consumer, including UV protection and moisture management, said Ugo Capasso, who owns UV Insieme, which produces EleVen's clothing in downtown Los Angeles. Capasso's company produces clothing lines for Harley Davidson and other private labels and chain stores, including Target, Kohl's and JCPenney.
EleVen's wholesale price points range from $20 for a T-shirt to $44 for a tennis dress, Capasso said. The lines haven't been shown at trade shows—just at the Sony Ericsson Open in Florida last spring. The new line, which will be available in January, will be sold at pro shops and at several websites, including Tennis Warehouse, Midwest Sports, Tennis Express and EleVen by Venus.
Sports Chalet stores have signed up for the Spring 2013 line, and Capasso said he is in discussions with more sporting-goods retailers and would also like to get EleVen into department stores.
Sportswear on the runway
Williams' Fashion Week runway show had a slightly different twist from most. Athletes and dancers sported her designs while playing tennis, dancing, boxing, working out—and sweating. "It was an awesome show, really fun, and the clothes looked really good," Williams said.
She said she didn't have time to get nervous beforehand, owing to her summer tennis calendar, which included the French Open, U.S. Open, Wimbledon and the Summer Olympics (where she picked up her fourth gold medal). It also helped that she already had EleVen's Spring 2012 relaunch under her belt.
"Especially after that line came out, I was a lot more confident," she said.
Williams said she thinks through the entire design process, and while the finished product represents her vision, sometimes she has to compromise for budgetary or other practical considerations. Her design partner, Barbara Clarke Ruiz, sometimes reins her in, too, she said, laughing.
"Our process is without any red tape; it's very organic," she said. Williams, who turned 32 in June, is used to juggling a lot of balls. She earned a degree in fashion design from the Art Institute of Fort Lauderdale and also heads her own interior-design firm. Over the years, she and sister Serena Williams have had their on-court fashions often generate as many headlines ("The beads! The skimpy dresses! The earrings!") as their powerful groundstrokes.
Venus officially took the fashion plunge in 2007, when she debuted a collection of classic tennis dresses and other sportswear with Steve & Barry's, the now-shuttered chain retailer based in Port Washington, N.Y. In recent years, EleVen took a back seat as Williams added to her trophy case. She never gave up fashion design, though. Williams would step onto the court in her own creations, which included such professional sportswear firsts as lace, mesh and crystals. And she made the best-dressed lists of both Vogue and Forbes magazines.
In 2010, Williams partnered with New York–based Ralph Lauren on a capsule collection and with New York–based flash-sale site Gilt(www.gilt.com) to make available dresses she had worn on court. She has never entered into a licensing deal, according to her website. With the relaunch of EleVen (so named, as she has explained, because 11 is one more than a perfect 10), the collection is back in Los Angeles.
Venus Williams met UV Insieme's Capasso through Serena Williams. Capassso won Venus Williams over with his belief that the clothes should be made in the USA—an idea that has gone over well with consumers and made a lot of sense for Williams, who is from the Los Angeles area (born in Lynwood and raised in Compton), Capasso said.
"I sold the concept very strongly to Venus," he said. "I think it was very important. Los Angeles is still the capital of the fashion business on the manufacturing side, and I'm here, so it's a lot easier."