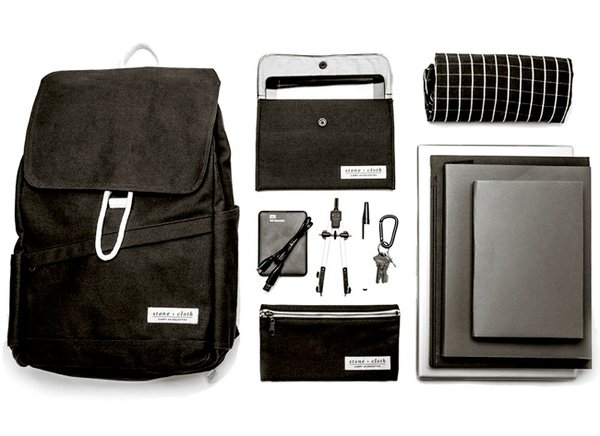 STONE + CLOTH
Stone + Cloth: From Kilimanjaro to Downtown Los Angeles
Traveling to an underprivileged foreign country can be an enlightening reality check, and, in the case of Matthew Clough, his hike in 2008 up the highest peak in Africa, Mount Kilimanjaro in Tanzania, inspired the mission for his accessories company, Stone + Cloth.
During the long climb, Clough learned that his hired porter, named Benson, didn't earn enough income to put a child through school.
"I was just about to graduate from design school and wanted to use those skills to honor my experience," Clough said. He bought a sewing machine when he returned stateside and began constructing a mountain-inspired rucksack that became "The Benson." Since the brand's launch in 2011, the minimal canvas Benson backpack is the best-selling item in the Stone + Cloth range.
Through the brand's partnership with the Knock Foundation, a charity and non-governmental organization that organizes education, healthcare and clean-living projects in Tanzania, a portion of the Stone + Cloth profits is donated toward scholarships for children in Tanzania near the Mount Kilimanjaro summit.
"Our goal is to grow up to be a brand that advocates for education on a global scale and uses commerce as a way to do so. We're really passionate about leaving this world better than we found it and hope that we find like-minded people along the way that believe in this vision as well," Clough said.
As a growing start-up brand, it was important to Clough to check in on his production runs often, which was one reason he chose to manufacture all of Stone + Cloth's products in downtown Los Angeles.
The canvas, waxed canvas, twills and brass hardware materials are sourced from across the United States and Asia.
"I think the advantage in producing close to home is the ability to build solid relationships with the people that make your products. We've been able to build great friendships that allow our business to succeed," Clough said. Stone + Cloth has been carried by Nordstrom and more than 50 specialty boutiques. Stone + Cloth's backpacks and totes are sparse in external design but feature internal padded laptop sleeves and convenient pockets for traveling light—perhaps inspired by Clough's long hikes carrying only the essentials.
"We love simplicity, so we put just the right amount of features on our products—and nothing more," Clough said.