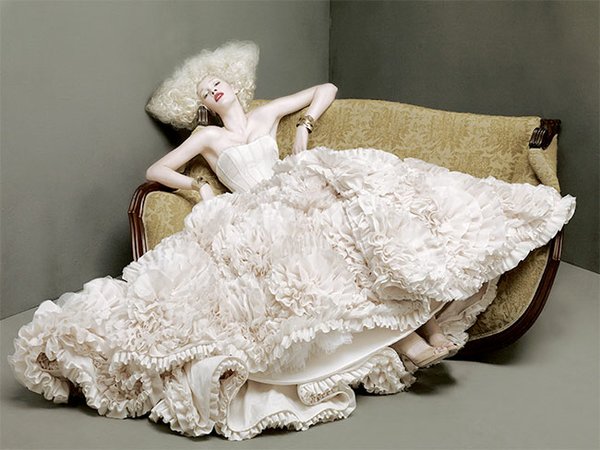 REBIRTH
The Return of St. Pucchi
Rani Totman's retail business has a good sense of timing.
In 2007, she let the lease run out for the flagship of her St. Pucchi bridal line. Subsequently, she ducked some of the pain of the Great Recession.
Recently, she reopened a flagship for St. Pucchi, but instead of relocating in Los Angeles' Westwood neighborhood, she opened at the exclusive Sunset Plaza retail district, nestled between West Hollywood, Beverly Hills and Los Angeles.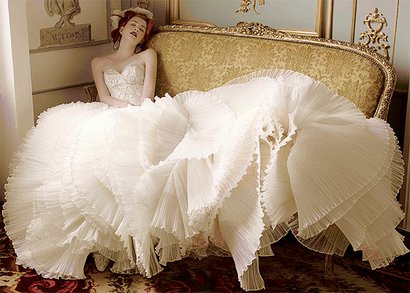 Helping with her choice to move to the area, Sunset Plaza owner Francis S. Montgomery II wanted a bridal store in his retail district, which includes branded boutiques for Zadig & Voltaire, Hugo Boss and Armani A/X as well as leading independent fashion boutiques such as H. Lorenzo and Nicole.
Totman moved into her new flagship boutique in August. Taking over the former Roberto Cavalli space, she gave the real estate an exquisite treatment. She used feng shui to bring the space harmony and good luck, and Phillipe Starck mirrors and furniture gave the space an elegance. Totman noted that this location will most likely serve as the only flagship for her 28-year-old bridal line.
Sold in specialty bridal stores across the United States as well as Japan, Kuwait, Australia and the United Kingdom, St. Pucchi has been worn by celebrities such as musician Alison Krauss as well as Candice Romo, wife of Dallas Cowboys quarterback Tony Romo; Naomi Lowde, wife of actor Jason Priestley; and Monique Idlett, wife of hip-hop producer Timbaland, for their weddings. Totman said she needed a retail presence to develop a direct line of communication between her and her stylish brides, but she doubted she would open other boutiques. "I want to do what I do and do it best without being everything to everybody," she said of her choice to open an atelier, not a boutique chain.
Educated in India and born in Thailand, Totman introduced wedding dresses constructed out of handmade Thai silk when she debuted her St. Pucchi line in the mid-1980s. Her line also dared to experiment with color. Instead of traditional ivory, St. Pucchi offers wedding dresses in shades of blush and red, which are popular in Asia, as well as traditional white and other hues, including butterscotch.
St. Pucchi, named after Totman's 19th-century ancestor, also specializes in customized wedding dresses. Custom looks can be defined as anything ranging from crystals and beading to bolero jackets and overskirts that a bride can remove after the wedding ceremony. Retail price points range from $4,000 for a simple St. Pucchi dress to $20,000 and up for customized clothing. For the future, all of the line's silks will continue to be handwoven at Totman's family's plant in the Bangkok area. "Thai silk is one of the few silks that is hand woven," she said. "When you see how it is made on a loom, it takes a lot of energy to produce."