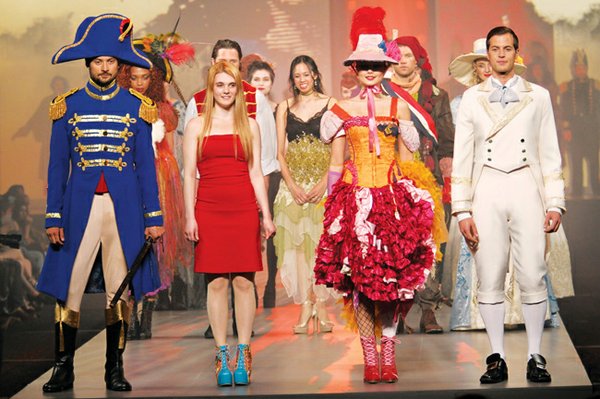 FIDM DEBUT 2013
All-Stars, Alumni at Fashion Institute of Design & Merchandising Show
The scene: The Fashion Institute of Design & Merchandising presented its Debut 2013 Fashion Show to an audience that included fashion- and entertainment-industry heavyweights. Oscar-winning costume designers Colleen Atwood and Mark Bridges—along with fashion designers Kevan Hall, Karen Kane, Nick Verreos and David Paul—turned out on March 13 at Santa Monica's Barker Hangar to show their support.
What: FIDM Debut 2013 Fashion Gala
When: March 13
Where: Barker Hangar, Santa Monica, Calif.
A cocktail soiree kicked off the evening, followed by a scholarship awards presentation and dinner as FIDM's advanced fashion and theatre costume design graduates presented their collections along with students in the interior and textile design programs. More than 100 garments and design projects from students participating in the honorary program were presented in the runway show. A presentation of "Les Miserables"–inspired costumes by theatre costume design graduates was a theatrical beginning to the runway extravaganza. The segment was followed up by a stunning "Red Carpet Inaugural Ball Gowns and Jewels" collection by students mentored by fashion designer and FIDM alum Kevan Hall. Vilaiwan Fine Jewelry by FIDM alum Joe Vilaiwan adorned the gowns.
Photo Gallery
FIDM Debut Gala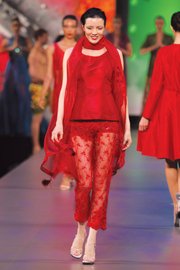 Fashion Institute of Design & Merchandising Debut Fashion Show. Barker Hanger, Santa Monica, CA.Saturday, March 23, 2013.
A highlight of the evening was the presentation of the advanced fashion design students collections on the runway. There was a wide variety of designs from contemporary womenswear to activewear, men's and women's streetwear as well as a collection of childrenswear. Inspiration ranged from the vibrant Indian culture to feminine flowers and destruction versus reconstruction.
The event also included the "Signal Snowboards Design Challenge," in which graphic design students created designs for snowboards handcrafted by the Huntington Beach, Calif.–based snowboard manufacturer. Inspired by fashion design student Kelly Knagg's collection of Winter action-sports attire, the designs were unveiled on the runway and carried by models, including professional snowboarder Pat Garvin and Signal team manager Joey Yorba.
"Chairing Styles"—an exhibition held in collaboration with the Cotton Board, Cotton Inc., Cad Fab printers and several chair manufacturers—presented the work of students in the textile, fashion and interior design programs who created matching dress and chair ensembles. The annual scholarship fundraiser benefits the FIDM Scholarship Foundation.