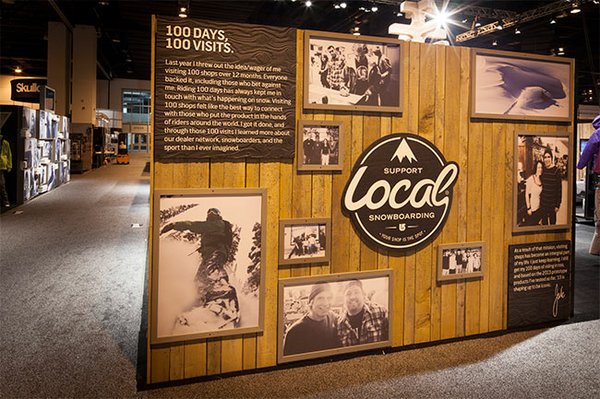 ENVIRONMENT
Greenspace: Making Trade Show Booths More Eco-Friendly
Before Rob Roth founded Greenspace, an eco-friendly trade show exhibitor production company, he worked for another company that built trade show displays.
One of his biggest projects was for a video-game company. For them, Roth had to work out the logistics of assembling a 50,000-square-foot, three-story booth that was accessible by an elevator. The materials were shipped to the E3 video-game convention in 85 semi-trucks. It required 200 men to set the exhibition up.
"It was a multimillion-dollar booth that they used for three days, and then they redo it [with another model] the next year. Each year we purged the warehouse. After you got done building, we'd be taking 20 to 30 semis to the dump—very wasteful filling the landfill up," Roth said.
After those kinds of experiences, Roth decided to make his new company, Greenspace, based in Hillsboro, Ore., rooted in eco-friendly practices.
He credits being influenced by his daughter and son-in-law, both of whom were environmental-studies majors at the University of Oregon at the time he was planning his next career move.
From printing on recycled paper to sourcing booth materials that are repurposed or recyclable, Roth said, the difference with Greenspace compared with a typical exhibition company is that "when we are rooted in green, everything we do is with that in mind."
Many of Roth's clients come from the action sports and outdoor industry, such as Burton snowboards, Keen outdoor footwear and Prana activewear, where environmental concerns are part of their brand philosophy.
Building and logistics
The traditional method of building a trade-show exhibit, according to Roth, uses materials that take into account a company's budget and its concept of the booth.
"When you say 'disposable booth' it means when you're done with it, take it to the dump. It has to come from the company that's managing it to say, 'We're going to recycle all this stuff,'" Roth said.
Greenspace chooses building materials that are sustainable, recyclable and repurposed and have as little environmental toxicity as possible. For example, Roth sources Oregon wood that is certified by the Forest Stewardship Council (FSC). The lumber is treated with coatings that have no urea formaldehyde, so when it ends up being recycled for another purpose, there are no toxins.
He admits that there isn't a green solution to everything. Water-soluble and low-VOC paints are better but not perfect. When it comes to laminates and carpet, there is no 100 percent clean alternative.
In addition to the materials, Roth examined the logistical problems that an exhibitor must solve. Like a traveling circus, all of the components of a trade show booth must travel by truck and easily pop up and be torn down.
"Truck space is valuable space. We design things that fit inside crates and crates that fit inside trucks," Roth said.
Closing time
Greenspace's booths last an average of three to five years on the trade show circuit. Roth said that traditional booths with high-tech, glossy looks are more prone to damage. Greenspace's look is "not so pristine," Roth said. "Knicks and dings are part of the look and feel. It could potentially last a bit longer."
Trade show producer Designers and Agents, which offers turnkey booths for its shows, employs several eco-friendly measures such as recyclable utensils for dining and less paper waste for marketing. Ed Mandelbaum, co-organizer of the show, agrees that eco-friendly means not only recyclable components but also longevity.
"The reality is that the most important consideration is that booth systems are reusable and flexible and have the durability and functionality for the long run. What does not work is using 'eco materials' which are trending and give a show the look of sustainability but, in fact, do not provide the durability and flexibility for repeated use," he said.

At the end of the booth's life, Greenspace acts as the waste manager. Some clients, such as Keen outdoor footwear, reuse the trade show–booth furniture pieces in the company's offices and retail spaces. One previous booth for snowboard brand Burton was 95 percent recycled.
"We have 250 recyclers that we use where we can recycle everything from stretch wrap, acrylic, electronics, glass—everything. When you build a standard wall panel that has laminate on it, we send them to a place that chips them up, and they are used for paths and walking trails," Roth said.
Roth said that it is more labor-intensive and costly to source unique, eco-alternative materials and recycle after use. However, because of Greenspace's logistical efficiency, Roth ensures the bottom line is not a higher cost than the traditional methods.
Greenspace also has an affordable-rental program, which offers necessities such as chairs, reception desks and specially developed wall systems that are thinner and lighter.