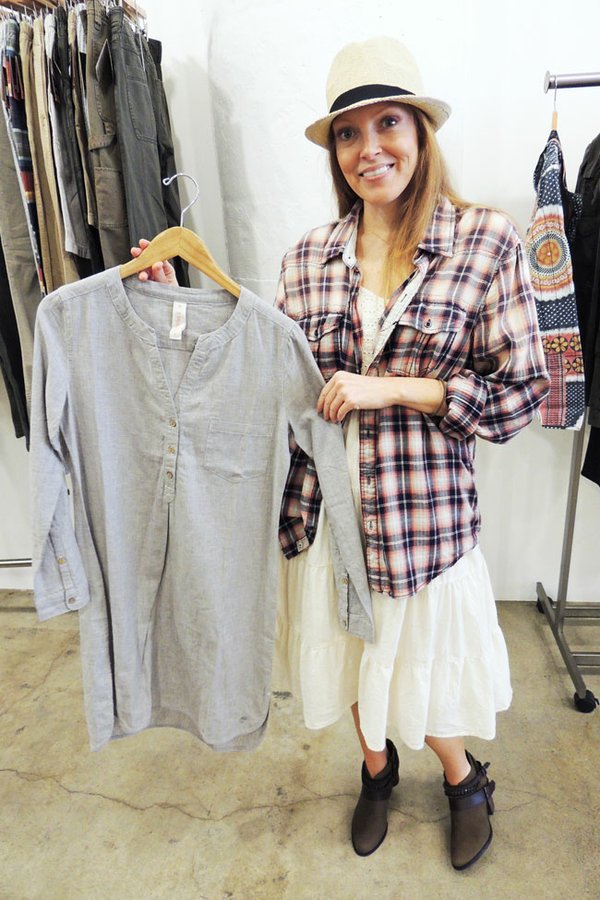 DRAWING IN LOCAL BUYERS
Small Holiday/Resort Market in LA
Always the smallest market on the calendar, the Aug. 4–7 run of Los Angeles Fashion Market drew local buyers and a handful of bigger retailers looking to get orders in before the big trade shows in Las Vegas later this month.
"This market is a little bit different from other times because there are not a lot of buyers coming because of MAGIC," said John Ha, the regional sales and account manager at the California Market Center showroom for Miilla, a trendy and sophisticated misses line that wholesales for $24 to $32, and Monoreno, a young contemporary label, whose wholesale price points range between $17 and $28.
"I made 30 to 40 appointments with stores to see the lines, but you have to do that," he noted. During a busier market, he can count on getting 30 to 40 new customers from walk-in traffic.
Some showroom representatives reported steady business for Immediate goods while others said buyers were prepared to place orders for Spring '15 goods.
Light traffic at the CMC
The CMC reported an increase in attendance over last year, but, like most showroom buildings, traffic at Market was light. Most boutique owners and store buyers, especially those located outside California, were waiting to attend MAGIC and the surrounding suite of apparel trade shows that take place Aug. 17–21 in Las Vegas. In addition, this fashion market was competing with several other out-of-state apparel shows such as the Intermezzo Collections and Moda Manhattan shows in New York.
Valerie Hambas—whose self-named showroom carries labels such as Custo Barcelona, Hanky Panky, Trybe and Krazy Larry—was disappointed by the quiet buyer turnout.
She made appointments and had some walk-in business, but this August market week paled in comparison with other markets held at different times of the year. "Fortunately, we have some amazing lines, but unfortunately this was not a market that was as busy as we would like," she said, observing there was a lot of competition from other LA Fashion District buildings and other shows around the country. "I don't know what the remedy is."
Even though Los Angeles Fashion Market at the CMC officially began on Monday, Aug. 4, Hambas said her busiest day was Sunday, Aug. 3, when showrooms had the option to open their doors a day early.
Many showroom owners and managers are seasoned enough to know that the August fashion market is nothing to get excited about. "The way I describe this market is 'the calm before the storm in Las Vegas,'" said Mike Bowling, who is corporate sales and showroom manager at the IC Collection showroom for the misses label, manufactured in Los Angeles.
Down the hall from Bowling was Jennifer Hutton, whose showroom carries Canadian labels such as Maison Coupé and Michael Tyler and U.S. labels such as Fantazia and Impulse California. She was more concerned about getting ready to display her lines at the Womens Wear in Nevada show, which takes place Aug. 18–21 at the Rio All-Suites Hotel and Casino in Las Vegas, than tending to store buyers. "The Los Angeles market has changed dramatically over the years with the closing of more showrooms. It's harder to drive people to the markets," Hutton said.
At the Necessitees showroom, with its bright pink walls on the CMC's fifth floor, buyer traffic was inconsistent for the line of T-shirts, knit dresses and jackets, but it existed. "Monday was good. We saw a little less than 12 stores, and we opened some new stores," said Hallie Shano, the label's director of sales and design. "We are seeing a big trend of online retailers shopping the market. They want domestically made goods that have a quick turn. Because we are made in LA, we can turn in four to six weeks."
Quiet at The New Mart
Despite having meetings with a few big accounts such as Dillard's and Piperlime, Jackie Bartolo, owner of the Jackie B Showroom in The New Mart, questioned the need for an August market.
"This market is not necessary," Bartolo said. "It conflicts with MAGIC and Intermezzo."
Bartolo said there was more money to be made in August on the road, showing clients' work to retailers at their stores. "If you don't go on the road on the West Coast, forget about it," she said.
Eme Mizioch, owner of the Joken Style showroom, also thought her time in August might be better spent on the road. "I'm not quite sure that we should have a market before MAGIC. Maybe we should have it afterwards or not at all," she said.
Mizioch did introduce a new line for her showroom during the August market. Gramicci is an eco-friendly apparel line headquartered in Agoura Hills, Calif., that designs clothes for mountain climbing. Wholesale price points range from $12.50 to $80 for the line, which focuses on making clothes out of sustainable fabrics.
Steady at the Cooper
The August market was the occasion for a big move for the Noella Showroom. It moved from suite 632 in the Cooper Design Space to suite 1013, said Lien Vets, Noella's owner. Her showroom space had almost doubled to 1,700 square feet from 800 square feet.
"My collections needed more breathing room," she said. The move coincided with the anniversary of Noella, which started business in August of 2013 and represents lines such as American Retro, Essentiel and Sachin & Babi.
For Vets, August business was slow, but the second day of the market was busy. "People are in vacation mode," she said. On Aug. 5, she said, she was busy all day, but Aug. 6 was quiet.
Israel Ramirez of Cooper's Siblings Showroom said that business was better than a typical August LA Fashion Market. "It was steady. We saw more people than we usually do," he said. He also said that most of his clients were just getting around to ordering Fall merchandise. "People have been ordering closer to the season," he said. Siblings represents fashion lines such as Veronica M and Tiare Hawaii.
The Cooper's Agent Icon and By Land + Sea showrooms also reported good business for a small market. "It was a typical August," said Alicia Rodrigo, partner in the Agent Icon showroom. "But all of our appointments came."
Andie Verbance of By Land + Sea spent the first two days of the market working the Intermezzo trade show in New York. When she returned to her Cooper showroom on Aug. 6, she introduced her new line, LBT LBT. The Spring '15 season of the Danish line is inspired by menswear and also features some sportswear elements.
Sunday strong at the Gerry
Even though August is notoriously slow for Los Angeles Fashion Market, showroom reps said that traffic was busier than last August. Those who did particularly well had their Spring 2015 merchandise in stock and were able to sell it to buyers.
For many, Sunday turned out to be the best day to be open. "We were slammed on Sunday," said Bea Gorman of the Salt & Pepper Showroom. She said all its labels were showing Spring.
Greg Brown, who just opened a new showroom for the label La Pateau, said the market was "just okay." But he was able to open accounts with at least four to five new stores for the label, designed by Daniel Habibian in New York. His colorful print-driven dresses, skirts and tops that wholesale for $59 to $109 have found a good market in New York and Miami. Now the designer is branching out to California.
Relaxed atmosphere at Lady Liberty
Buyer traffic came in "highs and lows" at the Lady Liberty building, said Tracey Burton, co-owner of The Globe Showroom.
"A lot of buyers want to see pre-Spring with Spring," she said, explaining that she would only be taking Spring merchandise to show at ENKVegas later this month in Las Vegas.
The August market was proving to be good for accessories lines such as Bloom, Nancy Caten and Push Mataaha, Burton said.
Kristen Aguilera, owner of the One Showroom, said many major accounts were making appointments to visit the showroom after the Las Vegas shows—"which is new." Still, several key retailers such as Piperlime and Revolve turned out for the August market, Aguilera said, adding that business was good for several of her lines, including Los Angeles–based Bellen Brand and her own line, Vala.
"Our LA designers made it happen," Aguilera said.
Aguilera shares her space with the Kris Mesner Showroom, which represents lingerie lines such as Stella McCartney, Eberjay and Miel. Starting with this market, the Joey Showroom, which was previously at the Cooper Design Space, also moved into the 6,500-square-foot space.