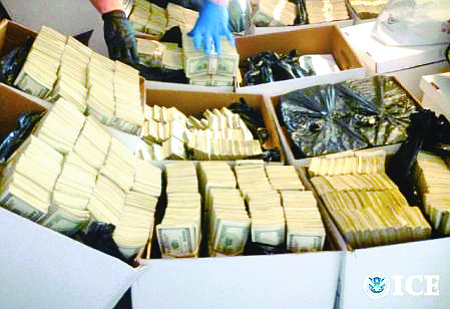 MANUFACTURING
2014 Newsmakers: Federal Raid in Los Angeles Fashion District Uncovers Drug-Money Laundering Scheme

Federal agents in September raided some 70 LA garment companies and residences in an investigation undercovering a Mexican drug money-laundering scheme that had been going on for years right in the heart of the Los Angeles Fashion District.
So far the raids have raked in nearly $100 million in cash and confiscated bank accounts, including $35 million in cash at a Los Angeles condo and $10 million in cash at a Bel-Air house. And the investigation by multiple U.S. agencies—including the Federal Bureau of Investigation, U.S. Immigration and Customs Enforcement and the Department of Treasury—continues.
All this cash comes from a money-laundering scheme between two Mexican drug cartels and several Los Angeles clothing and textile importers.
Messengers would drop off large sums of cash at a garment company. The garment company would use the money to buy clothing or fabric in overseas factories. The clothing and goods ultimately ended up in Mexico, where they were sold for Mexican currency and kept by the cartels.
Three people from QT Fashion were arrested. Another four people from Pacific Eurotex were arrested after an indictment alleged they received laundered money of at least $370,000 in bulk cash. Two other people associated with Yili Underwear and Gayima Underwear were arrested.
The investigation into money laundering was months in the making, beginning in May 2013. Federal agents used confidential informants to identify money brokers who were dropping cash to fashion-district businesses. Undercover agents then started posing as the money droppers to get an inside view of what was happening.
Days after the September raid, federal officials posted a seizure notice for an $8 million mansion in Pasadena, Calif., whose owner is listed as Nancy Yih, president of LA Idol Fashion.