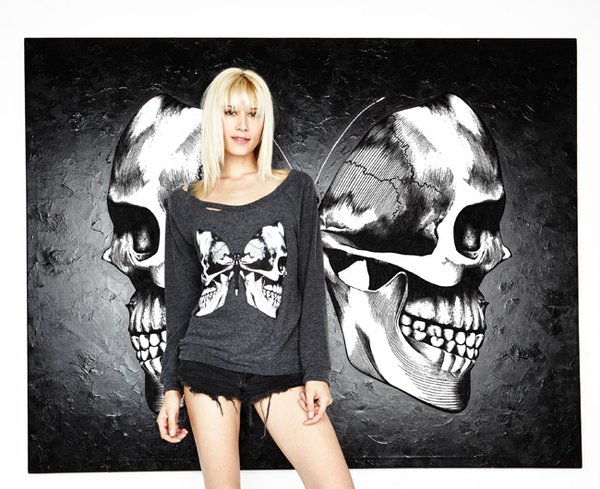 LAUREN MOSHI
Lauren Moshi Marks 10 Years of Fashion
The Lauren Moshi brand of T-shirts was touched by a beginner's luck that never faded.
The brand was founded by arts-school graduate Lauren Moshi and her brother, Michael Moshi. Among its first deals was with the star-making boutique Kitson on Robertson Boulevard in Los Angeles. Lauren Moshi's T-shirts were later seen on the backs of headline-making celebrities such as Paris Hilton, Sarah Jessica Parker, Beyoncé, Mila Kunis and Charlize Theron.
Now marking 10 years in the clothing business, the Lauren Moshi company today runs a 2,300-square-foot flagship and art gallery at 107–109 Robertson Blvd. and sells its brand at more than 1,000 boutiques around the world.
Michael, a high-school dropout and now chief executive of Lauren Moshi, said future plans for the brand include increasing its wholesale business for its graphic clothing line. The company also hopes to increase the wholesaling of its graphics-free basics brand Michael Lauren, launch a menswear brand, open more branded boutiques around the United States and introduce his sister's art to more galleries.
The brand launched at the end of 2003 when Allen Moshi, their father and a jeweler, agreed to loan the siblings $50,000. The money came from Michael's college fund and a savings fund set aside for Lauren, who graduated from the Otis College of Art + Design.
Michael said that he was one of those kids with no interest in high school and saw the business as an avenue to leave school. "You have to work hard at what you are good at and focus on it," he said of his forte, entrepreneurship.
Lauren and Michael started their venture with a handbag line called Moshi Moshi, which failed. They later transferred their efforts into clothing, all of which featured Lauren's giant streetwear-style drawings of skulls, lipstick marks, animals and flowers.
"Lauren Moshi's take on streetwear was a hit. Unlike some now-defunct brands of a decade ago, its popularity has not flagged because Lauren Moshi's images are easy to connect to," said Lauren Yerkes, divisional merchandise manager for e-commerce emporium Revolve Clothing. "Between animals, peace signs, kissy faces, jewels and more, it is all relatable to every girl."
Even during tough economic times, the line showed strength. During 2008, many clothing companies were suffering due to the implosion of the housing market and the ensuing recession. But Michael said the brand's sales more than doubled that year. He and his sister kept demand high by keeping inventory low.
Lauren spends her time developing hand-drawn graphics for the brand. Michael is in charge of making the clothes—specifically, basics such as tanks, pants, sweaters and dresses, many with long sleeves made out of materials such as cashmere and MicroModal.
The brother-and-sister duo say the key is to make clothes that will drape well on the wearer's body. The brand's clothing, which wholesales for $40 to $130, is made at the company's headquarters in Commerce, Calif.
For the Spring/Summer '14 collection, the line will expand on Lauren Moshi's graphics with all-over prints or by taking her graphics and spreading them all over the garment.
For more information, call (323) 888-8838 or email michael@laurenmoshi.com.