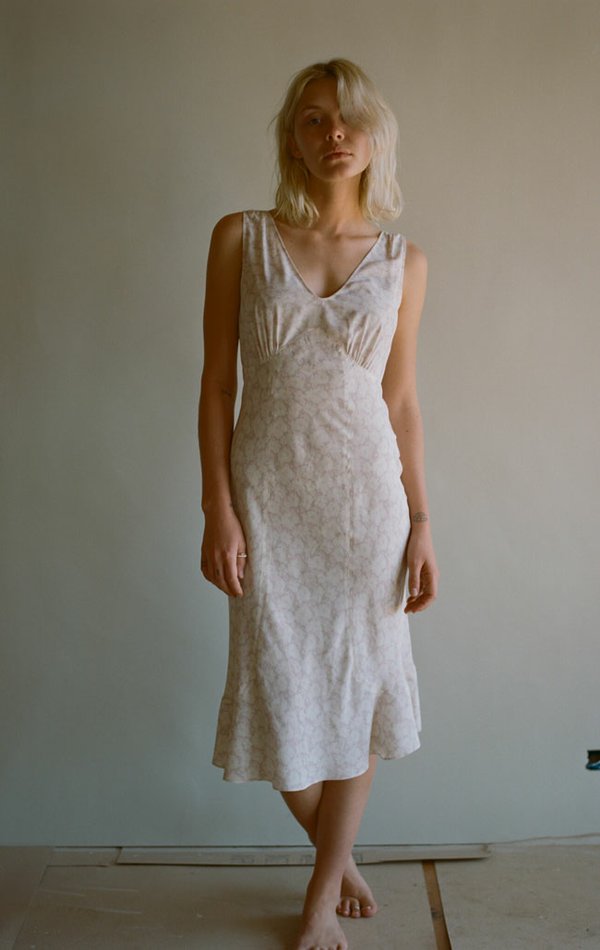 LILY ASHWELL
Revisiting Vintage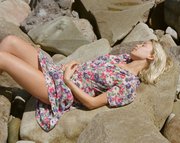 Los Angeles–based fashion designer Lily Ashwell creates demure, 1940s-inspired pieces with an understated sexiness. Her collections are dress focused but also include separates—dungarees, skirts, tops and knits.
Ashwell debuted the line in 2012, selling exclusively through the Lily Ashwell website. The ethereal pastel-colored pieces are largely inspired by her upbringing. Ashwell, the daughter of British painter David Ashwell and shabby chic designer and author Rachel Ashwell, was exposed to the sentiments of vintage early on.
"My mom would drag my brother and I to flea markets every Sunday when we were growing up. I grew up completely immersed in vintage everything, and I always gravitated toward the clothes. My grandma was an antique-doll collector and made the most incredible dolls clothes from antique fabric. Her aesthetic has had a powerful effect on me and my work. I sometimes see my collections as life-size versions of her little doll outfits," Ashwell said.
Ashwell studied design at Central Saint Martins College of Arts and Design in Londonbut left to begin her first design collection. "I knew nothing about the industry when I began, so the past few years have been a huge learning curve for me. I'm finally starting to feel like I'm standing on solid ground and know my way around," she said.
After her fifth season adhering to the traditional fashion calendar, Ashwell decided to approach things differently. She currently releases monthly limited-edition collections on her website.
The silhouettes are simple and timeless, she said. Many of the pieces are versatile so they can be styled into different wardrobes. The floral-print dresses and petite polka-dot tops produce a dreamy narrative that can be worn from day to night.
The limited-edition flocked silk, ruffled "Jules" long-sleeve top can easily be paired with distressed Levi's jeans or the "Kenny" skirt, which has a touch of floral embroidered along the seams. Ashwell uses mainly silk, linen, cotton and rayon in her collections. "I often experiment with different washes to achieve an interesting, lived-in hand [look]," she said. Ashwell finds all of her fabrics in Los Angeles, where she manufactures the line. Her clothes are classic but very detail-oriented, she said, so she prefers being in close proximity to the factories. "I need to be hands-on with the process. I also love where I live, and it feels good to be a part of the community and provide employment," Ashwell said.
Retail price points range between $78 for a capped-sleeve baby tee to $158 for a knee-length dress and $178 for a detailed top. The 1940s bias-cut silhouette is one of Ashwell's favorite shapes to play with. "I find it to be flattering on any woman," she said. For trims, Ashwell uses a vintage, English cotton lace that adds a touch of femininity. She is also a big fan of corozo buttons because they look like beautiful, old ivory buttons but are actually made from a nut, Ashwell said.
As for new ventures, Ashwell just relaunched her site as an online concept shop last week. "I wanted to show my collections in context and create a lifestyle around the brand," she said. In addition to her customary pieces, Ashwell will be launching three separate components to add to her brand. She has an ever-growing archive of vintage clothing, so she decided it would be fun to launch a "Lily Ashwell Vintage" edition, which includes special pieces reflecting her brand ethos. "Found Objects" is a lifestyle platform that will contain "little tchotchkes" to support the vision of the brand, she said. Ashwell is also an artist, so "The Gallery" section will be an online destination to exhibit and sell her work along with the work of like-minded artists. "The goal is to create an all-encompassing experience to support the collections," Ashwell said.
For more information, visit www.lilyashwell.com or contact blaire@lilyashwell.com.