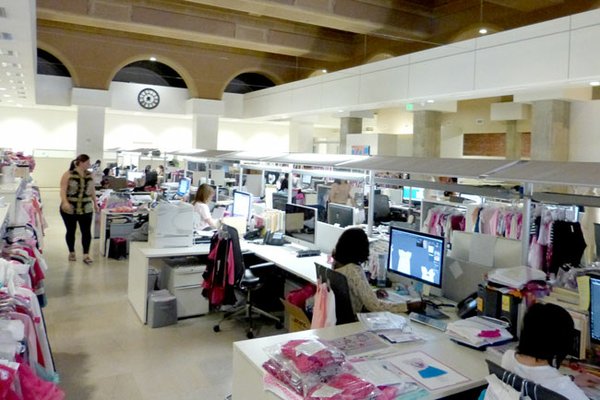 TECHNOLOGY
With PLM, Evy of California Gets a Jumpstart on the Design Process
For many apparel companies, Product Lifecycle Management (PLM) software is seen as a tool to aid in production. But when Evy of California added NGC's NGC PLM about two years ago, the company found the software changed the way the design department operates.
"Almost everything we make—if not everything we make—is made to order," said Kurt Krieser, chief executive officer of the Los Angeles–based company, which produces apparel for major retailers such as Walmart, Target, Macy's, Dillard's, Kmart, JCPenney and Kohl's. "Our product needs to be developed to create an order opportunity for a specific customer."
Much of Evy's business is with licensed characters such as Sanrio's Hello Kitty and Disney's Elsa from "Frozen."
"One of our challenges as a licensee is to differentiate the product from one customer to another," Krieser said. "In other words, Walmart has a different purchasing opportunity—although similar if it's the same character, whether it's Hello Kitty or if it's a Disney princess—but the garment itself is different, and the graphics are different and the presentation is different in order to not confuse the marketplace with product."
When Evy designers begin working on a new item, they need to know who the customer is and where it will be produced, which will affect the cost, lead time and, in some instances, compliance.
"Our designers are tasked with creating product that we can actually produce for our customers over the lead time they need, at the cost they need and at a margin that's acceptable to make Evy sustainable," Krieser said.
NGC PLM requires Evy designers to identify every component in a garment at the onset of the design process.
"You need to know the weight [of the fabric], you need to know the content, you need to know the country of origin, you need to know the cost," Krieser said. Before implementing PLM, Evy designers would hand off a swatch to the fabric sourcing department, which would identify the fabric and go in search of production yardage.
"In this system, all the items that are available for use are in the system already," Krieser said. "If you want to add a new item—a new trim, a new fabrication, a new weight, whatever—you need to go to the sourcing department and say, 'I need a new product.'" The sourcing department begins working on it before the design process begins.
"So you can imagine how cool it is on the day that we get the order—we have every bit of information," Krieser said. "That's game changing for us. We're doing all the work upfront. We're talking nickels and dimes and pennies difference in costing that we need to be within in order to hit the target pricing of our product. "We need to be very accurate if our customers are going to buy 20,000 to 60,000 units of a style."
Training time
Training on NGC PLM took seven months, and Krieser acknowledges that the shift to PLM was challenging for some of his designers, who saw the new system as added work for them.
"The reality is the amount of work at the design level is probably about the same, but when you do the work it's entirely different," he said. "Rather than doing it at [time of] order, we now do it at the point of creation."
Additionally, some designers didn't want to have to identify all the components in the garment if they weren't certain the garment would be purchased.
"If we never sell it, that's lost effort," Krieser said he was the thinking at the time. The reality was even if one style was dropped, the components entered into PLM remain in the system and would likely be used for other styles going forward.
"[The designers] found out over time that creating the database was initially a pretty big deal, but now it's easier and quicker [to design in PLM]," Krieser said.
One big change with the adoption in PLM, Krieser said, was the skills needed for Evy's design assistants.
"Our level of design associates and designer assistants escalated," he said. "[These are] better job positions with more skills required. Just to be a designer who can sketch doesn't cut it anymore. We need people who can define the product and make it work. It has greatly systemized what we do."
With more capable design associates and assistants, Evy's designers now have less detail work to do and can spend time on other responsibilities, such as meeting with clients, Krieser said.
"This is hugely beneficial for my business," he said.
Today, there are 106 PLM users among Evy's staff of 180, most of whom are based in the company's loft-like headquarters in downtown Los Angeles. The rest work in Evy's New York showroom, its offices in Mexico and Shanghai, or its distribution center in Commerce, Calif. Evy also has an office in Seattle, which handles all the screenprinting for sample garments.
Selecting the solution
Before implementing PLM, Evy was using a manual system it had created on its own. The company was looking for a PLM solution that would integrate into its ERP (enterprise resource planning) system, NGC's Web-based ERP solution NGC ERP, previously called Redhorse.
"We've been a longtime user of Redhorse," Krieser said. The solution tracks everything from orders to invoices to inventories.
"We needed simple integration into our ERP's systems," he said. "We have pictures in there, we have color swatches, we have definitions. We have all these things that can be imported into our database so we know what the product is and we don't have to enter it again."
Not every company uses PLM in the same way, Krieser said. Evy will design the product in PLM and create the tech packs with all the information about the garment and all the components needed to create it.
"All that information is stored on a style and season basis in PLM," Krieser said. "When that style is purchased by the customer, it's imported into our Redhorse program, and all the data is carried forward. At that point, we know the yield, we know the grade rules, we know the sizing, we know all those things from the way it was designed from the ground up."
If the garment is part of a full-package production order, Evy's sourcing department will use the information from PLM to negotiate the price," Krieser said.
"If we are producing the garment ourselves—that is, buying the fabric, hiring a factory to do cut, make and trim—then we have to source the fabric and we have to know exactly how much to buy, how much trim we need, how many care labels we need, and everything is carried forward from the design level."
Evy produces apparel in about 11 countries, including China, Mexico, Guatemala, Indonesia and Vietnam.
No matter where the garment is produced, PLM helps Evy's team ensure all the details—from a bartack on the corner of a pocket to doubled-stitched belt loops or cross-stitched buttons—are recorded in the database. Plus, PLM keeps track of all the necessary approvals needed to create each garment.
"Do we have approval for the artwork from the licensor? Do we have the approval from [the] lab that we're required to get? All the little checkmarks that we have to check off. The system has been very helpful in tracking all the must-dos to make sure they're done before we go to the next step."
That level of detail in the database also allows Evy to duplicate products.
"We're able to take a style, put new artwork on it and carry over a majority of data," Krieser said. "That's especially helpful when you're doing hangtags and care labels and hangers, because they're customer-specific, and it keeps us from making mistakes."
20M+ garments per year
The next phase of Evy's PLM implementation is to use the system to track the progress of production.
"That is something that has been on our agenda for some time, but we have not implemented it," Krieser said. But he noted that tracking production will require all of his factories to participate in the process.
"It involves going to the factory, training them, making sure the data they're entering is the truth, the whole truth and nothing but the truth. And also [you need to be] able to audit that data and [make] sure that what they're entering is entered in a timely basis."
For many apparel companies, adding PLM is a way to streamline the design and production process, eliminate costly mistakes, and save money, but Krieser said Evy had done much of that work even before adding PLM.
"We make more than 20 million garments a year," he said. "It was way too much to document and verify all these processes [manually]. If you get a product that is adopted by a Walmart and you sell 700,000 to 800,000 units and you can't find the fabric—it's a disaster. It's so far beyond that now. I think the regimentation that was required is facilitated by PLM—with a little critical supervision. The system is supervising itself. You have to get the data in. So you're not sitting there saying, 'Why didn't you tell us this? Why isn't this entered? Why don't you have the paperwork?' All that has gone away out of our system."