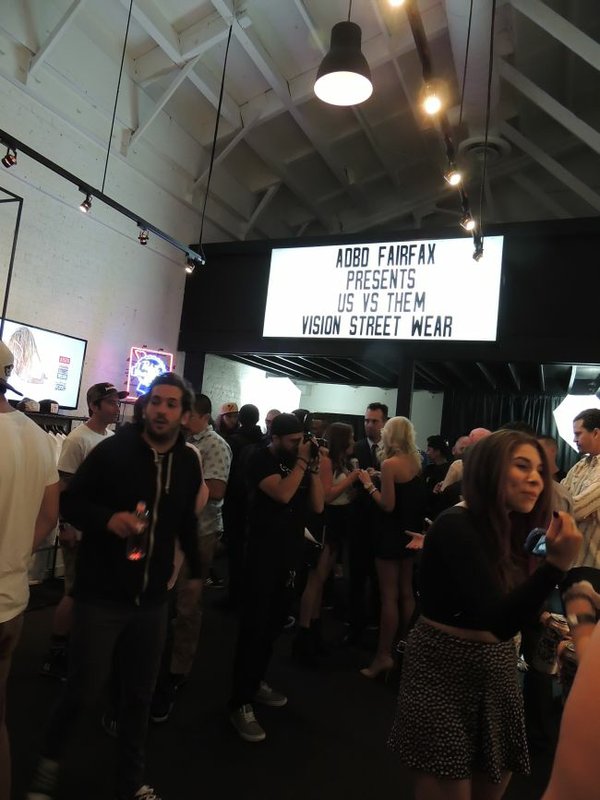 Vision Street Wear's Double Hit
Call it double vision.
Vision Street Wear, the recently relaunched heritage streetwear brand, debuted, count 'em, two new limited edition capsule brands on June 27 at the ever-so-hip Fairfax Avenue in Los Angeles.
One collaboration teamed up Vision with Us Versus Them. For some '80s redux Ts, Vision worked with brand development agency ADBD. The double debut party was held at ADBD's storefront and creative space.
For the Us Versus Them collab, Vision offered, among other things, a high top sneaker bearing the Us Versus Them logo of a palm tree and a machete. James Banuelos, the owner of Us Versus Them, said the collab was a great mix of vintage and new. "I wore Vision as a teenager; skateboarding launch ramps, pools, quarter pipes and back yard half pipes," he said. "To me, the brand has a ton of heritage and really embraced skateboarding, BMX and the music scene back in the day. I reached out to Vision thinking that it would be a rad juxtaposition between the brands, mixing a brand with a legacy with our more emerging brand. Both brands have similiar sensibilities and together support skateboarding, BMX and music."
ADBD's Adam Derry also thought his work with Vision mixed future and past. "It's future vintage," Derry said. "It started in the '70s, but it captures the now."
ADBD X Vision will be available at ADBD until the end of July at ADBD 430 N. Fairfax Ave. The Vision Street Wear x Us Versus Them collab will be available at select retailers.