Developer Rick Caruso Names New Marketing Communications Officer
Public-relations veteran Judy Johnson was named as the chief marketing and communications officer for Caruso Affiliated, the Los Angeles real estate development company that owns, manages and develops such shopping centers as The Grove in Los Angeles and The Americana at Brand in Glendale, Calif.
Johnson will start her new job April 14 and report to Rick Caruso, the company's founder and chief executive officer.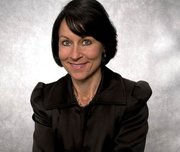 The position of chief marketing and communications officer is a new one for Caruso Affiliated. Johnson will direct the company's communications, marketing, public relations, strategic alliances and entertainment initiatives, Caruso said.
"We have robust acquisition and development plans and are excited about the future," Caruso said in a statement. "To manage this exceptional growth, and as part of our aggressive five-year plan to double the size of our company, we are bringing Judy aboard to keep us at the forefront of the industry as retail evolves. The position of chief marketing and communications officer is critical, and, with Judy's strong track record of positioning major brands in an increasingly cluttered marketplace, I know she will add value to our organization very quickly."
Johnson has worked in public relations for 30 years. She was at public-relations giant GolinHarris for 17 years, where she was the president of the western region. Some of her clients included Amazon.com, Disneyland, Forest City Enterprises, McDonald's and The Ritz-Carlton.
Along with running The Grove and The Americana, Caruso is redeveloping street-front retail in Pacific Palisades, a Los Angeles suburb, and continuing to develop The Miramar Beach Hotel and Bungalows in Montecito, Calif. He also is planning to develop more high-rise, mixed-use projects in the Los Angeles area.