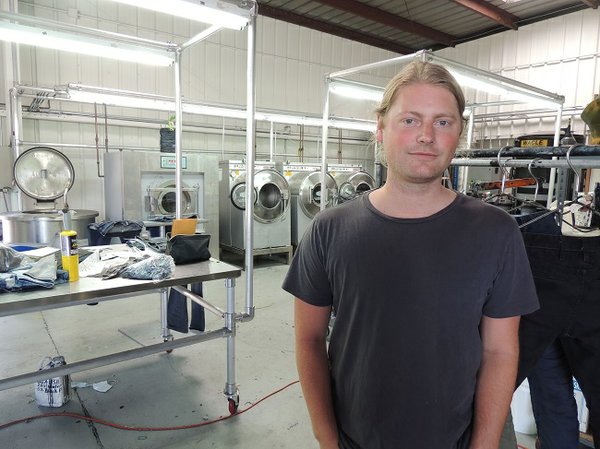 NO POTASSIUM, NO PUMICE
Denim Makers Look for Manufacturing Alternatives
Designers for Tortoise Jeans are wrapping up the final touches for their Holiday/Resort '14 women's line in their of­fices in Paramount, Calif., about 17 miles southeast of down­town Los Angeles.
Like Tortoise's men's line, which debuted in Fall 2013, the women's line features unique hues, rinses and washes. With the jeans' lines and whiskering, these new garments look like they have been a part of a wardrobe for years.
Lukus Eichmann, founder and creative director for Tor­toise, hopes that fashion-savvy people embrace the look of the women's line and that it is placed at influential retailers such as Ron Herman and Barneys New York, where the men's line took a bow.
He also hopes that apparel companies embrace the way that Tortoise's men's and new women's lines are produced. With its Eco Prk wash facilities, also based in Paramount, Tortoise is made in a way that cuts much of the waste of water, energy and use of toxic chemicals that environmentalists have com­plained about for years.
"I've had a lot of guys at trade shows come up to us and say, 'You don't use potassium? You can't get that contrast. You don't use pumice [stones?] You can't get those highs and lows on the seams,'" Eichmann said. "We have our skeptics."
Tortoise is one of a handful of apparel com­panies that are experimenting with new environ­mentally friendly ways of making denim and other clothes. They range from boutique lines such as Tortoise to Levi Strauss & Co., one of California's and the world's most dominant denim labels. However, these efforts represent a minority of denim production, said Roger Wil­liams, executive producer of River Blue, an up­coming documentary that evaluates some of the environmental issues of denim production.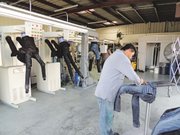 "The typical manufacturing and dyeing of denim is very toxic," Williams said. He hopes that leading brands such as Levi's will eventually influence the entire market to work with more environmentally friendly production methods. In 2012, Levi's introduced the denim line Water < Less, which cuts the use of water in its production processes. The khaki line Dockers Wellthread collection also took a bow, and it is ex­perimenting with making socially and environmentally sustain­able apparel from a pilot site in Bangladesh.
"They are going in the right way, but the output of their Water < Less jeans is very small, compared to their overall output in jean manufacturing," Williams said.
Levi Strauss & Co. has saved more than 770 million liters of water, enough to provide drinking water for New York City for a month, by making more than 13 million Levi's Water < Less products, said Marisa Giller, a Levi Strauss & Co. spokesperson.
"We're constantly working to expand sustainability initiatives within all our product lines, so that consumers don't have to shop for a separate line of environmentally friendly product. Our end goal is to build sustainability into everything that we do, and reduce the impact on the planet of all of our products," she said.
Eichmann was a whiz kid of denim. His first denim line, Saddlelites, received glowing press in Vogue in 2003 and was placed in retailers such as Saks Fifth Avenue. A decade later, Eichmann's fashion-forward looks are sewn up with eco pro­duction. The Eco Prk wash facilities use the environmentally friendly Wiser Wash production practices. Also building a more ecologically sustainable production are the ozone ma­chines made by Greentech Corp., also in Paramount.
Greentech has a patent pending for its ozone machinery. The ozone re-creates and improves washes that have tradition­ally been produced by acid washing, stone washing and potas­sium sprays, which Myung Koh, the engineer for Greentech, contends have been environmentally harmful.
With Greentech's methods, machines use lower temperatures and get the job done in less time, and Greentech contends that its machines use 85 percent less energy than traditional wash facili­ties. The company also claims that it uses 80 percent less water than traditional laundries. Greentech recently licensed its green ozone machines to a wash facility outside of Seoul. It also plans to license its machines to a wash facility in Brazil.
Since it uses Greentech's ozone production and the Wiser Wash method, Tortoise doesn't use some of the chemicals tra­ditionally used in denim production, such as formaldehyde, which it deems harmful.
Tortoise jeans will retail from $325 to $600. Eichmann said that the eco-friendly production makes them a bit more expen­sive, but what really sets the cost is the materials and the special craft and work put into the jeans to make them unique.
Dotan Shoham is a Los Angeles–area apparel executive who runs the Pacific Blue Inc. dye house and manufactures the Gypsy05 clothing line, which has been sold at Saks Fifth Avenue and is scheduled to open its first branded boutique on Los Angeles' Robertson Boulevard on May 31.
His company has worked with Greentech. Gypsy05 does not use chemicals deemed harmful, and Shoham is experimenting with using solar energy to heat water tanks and dryers in order to cut gas and electricity use.
Energy savings are invested in human capital. Shoham and his sister and Gypsy 05 co-founder Osi Shoham employ 100 or so workers to hand-dye the brand's clothes with environmentally friendly low-impact dyes. Shoham estimates the added labor costs result in a 25 percent price increase for the consumer. But he also believes that the workers' added at­tention give each Gypsy05 item a unique look. "People will pay more for that," Shoham said. "If the clothes look exactly the same, no one will get it. The added value is the look. That is the difference."
Swedish brand Nudie Jeans also focuses on making eco-friendly clothes. Henrik Lind­holm, Nudie's corporate social-responsibility manager, said the entire line of jeans has been 100 percent organic since 2012. The best way to produce organic clothes is to start with the basic ingredients. Nudie makes most of its fashions with or­ganic cotton. "When you talk about big impacts, in general it is in the growing of the cotton," he said in a phone call from Sweden, where the company is based. "With conventional cot­ton cultivation, it is chemical intense, it is labor intense, a lot of pesticides are used," he said.
To ensure that Nudie's products meet high standards, the denim is confirmed as organic by Global Organic Textile Stan­dards (GOTS). Nudie also runs inspections of its subcontrac­tors to ensure that workers are treated well. It also recommends consumers not to throw away their jeans. Rather, it recom­mends them to repair jeans at Nudie shops or recycle them into new items such as denim rugs, which Nudie makes. "We're not content with just organic cotton," Lindholm said. "We want to have an impact with the whole lifecycle of the jean."