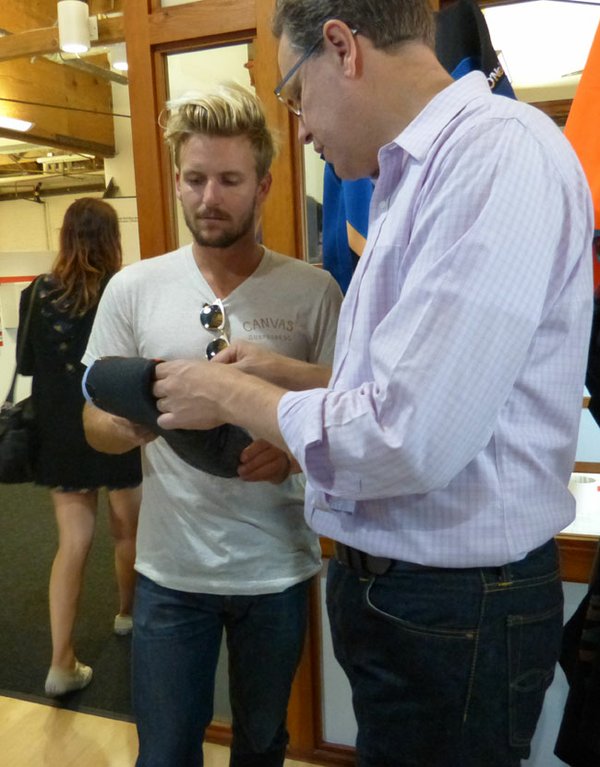 AVERY DENNISON
Opening a RBIS Design Center in LA's Arts District
Apparel designers, retailers and manufacturers looking for branding inspiration have a new resource in the Arts District in downtown Los Angeles with the opening of Avery Dennison Corp.'s Retail Branding and Information Solutions (RBIS) Customer Design and Innovation Center.
On Sept. 25, the RBIS team hosted a party to celebrate the opening of the 15,000-square-foot space. Guests had a chance to tour the facility, which houses a library of branding and research materials. Visitors can browse through RBIS's custom embellishments and analysis tools to help create "intelligent, creative and sustainable designs that help communicate the power of their brand." There's also a ping-pong table downstairs and views of LA's burgeoning Arts District on the second floor.
Shawn Neville, president of Avery Dennison RBIS, said he wants the new design center to help companies explore "the future of mass customization" and "inspire them to push the envelope."
According to Neville, apparel represents 3 percent of all consumers' purchases, and that's something he hopes to help change by encouraging apparel makers to step up their branding by creating "innovative and unique packaging, labeling and embellishments."
"We want to push every brand to create something exciting," he said. "We're a branding company, not a labeling company."
Visitors to the space can see some of Avery Dennison RBIS' new and propriety technologies, such as Agility Stretchable Blocking Black, a proprietary heat-transfer technology that eliminates excess dye and discoloration in sublimation-printed fabrics without impacting stretch and recovery. The company's Denim Durable solution is applied to pocket materials prior to washing and finishing, which allows the brand to affix a permanent logo to a pocket. Denim Durable solution gives manufacturers the opportunity to brand a product without using removable tags or labels.
Avery Dennison RBIS also has sustainable solutions for packaging for apparel, footwear and accessories, such as a plant-based bioplastic, which can be used in place of petroleum-based polyethylene (PE). The company also can create branding products with 100 percent recycled polyester yarn and Forest Stewardship Council (FSC)–certified paper. All of these are showcased at the LA design center, along with Avery Dennison's Greenprint tool, which helps customers understand of the environmental impact of their branding and packaging.
"The CDIC is a place where our customers can integrate art, science and sustainability through our proprietary trends and creative services while leveraging our leading edge capabilities, including brand protection, RFID and high-definition digital graphics," Neville said. "We do this through the lens of our Greenprint sustainability tool, which helps customers reduce their environmental impact."
The Los Angeles Design Center joins Avery Dennison's two existing Design Centers. The Miamisburg, Ohio, center, which opened in 2010, focuses on information solutions, such as RFID (radio-frequency identification). The Sprockhövel, Germany, center, which opened in 2011, showcases all of the RBIS capabilities and served as the model for the LA center, which features specific spaces dedicated to denim, surf and active apparel.
"Our new center in the heart of Los Angeles gives Avery Dennison RBIS a strong platform to partner with the unique California design community and helps elevate all aspects of apparel and footwear branding," said Deon Stander, vice president and general manager, global commercial and innovation, Avery Dennison RBIS.
The new space, which is now the base for about 30 RBIS employees, was also designed with the entire Avery Dennison team in mind, Neville said.
"It's also for our people," he said. "I want them to be inspired."