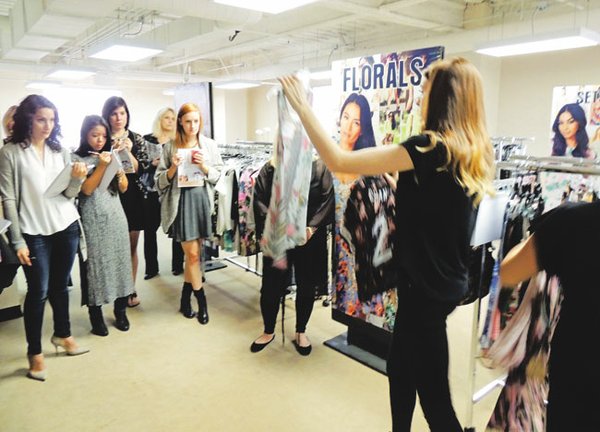 SPRING 2015 FASHIONS
Go Sports Luxe, T-shirt and Distressed
"Everybody has a crochet pant." "Sweatshirts will be amazing this season." "We're loving the sweatshirts." "Europe was all about the destructive jean."
These were some of the predictions and observations on next year's juniors fashions to come out of the Barbara Fields Spring-Summer 2015 Trend Presentation.It was produced by the Barbara Fields Buying Office and took place in Suite 855 of the California Market Center in Los Angeles during a series of presentations Oct. 6–8. Fields shared her findings with delegations of buyers from retailers such as The Buckle, Gordman's, JC Penney, Citi Trends, Rue 21, Stitches and Gabriel Brothers during the talks. She has been producing biannual trend presentations since 1981 and bases her forecasts on what is trending in fashion capitals around the globe. The past three months, she has been frequently traveling to London, Barcelona and New York.
While there was no indication of a major market change on the horizon, such as the advent of the skinny jean, Fields and her staff forecast the trends that she believed could make or break a retailer in 2015.
Denim with a joggers silhouette and tapshorts will be popular. Licensed tees, especially with Disney characters from movies such as "Frozen,"will be important, as well as tropical prints, floral prints and anything on a romper. "We're loving rompers," Fields said.
Also popular will be horizontal stripes and T-shirts, shawls, and shirts with colors of the American flag. Juniors clothes inspired by sports merchandise, as well as activewear will be a major trend running from Spring to Fall 2015. The one trend to continue its popularity from 2014 is sports lux, or juniors clothes with a sports merchandise or activewear inspiration.
During the presentation, Fields made forecasts on specific time periods when certain trends will hit the shop floor. Tropical prints are forecast to be most popular between March and April. Outfits made out of white clothes, however, have a shorter window—April through May. The optimum time to stock denim in stores will be December through April; for drawstring pants, December through February; for kimonos, January through March.