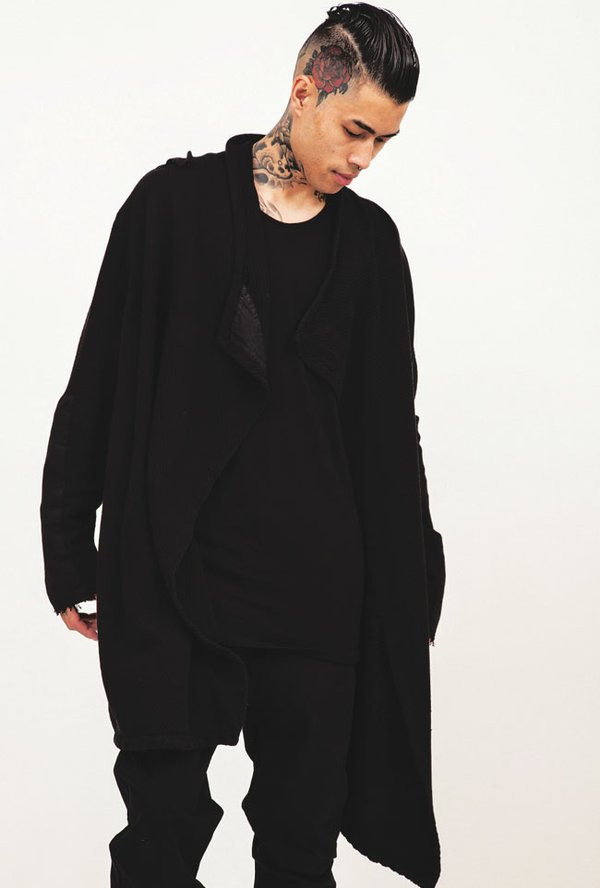 RETAIL
The Celect: Dramatic Style for Multi-line shop
Independent, multi-line retailer The Celect prides itself on its diversity and trying out new ideas, but some things don't seem to change this six-month-old boutique.
When the boutique opened on Valentine's Day, the first item sold was a cape by Paris brand Damir Doma Silent. A couple of seasons later, the cape continues to be the boutique's top-selling item, said Murphy Martines, who runs the shop with his wife, Carrie Martines, at The Lab specialty retail center in Costa Mesa, Calif.
"Unisex is one of the looks that we've been pushing this season," Murphy Martines said. "The cape is a good example. Both men and women can wear this same look." Also called a unisex jacket, the piece is made by Damir Doma Silent. It retails for $467.
The cape is black. It drapes loosely around the body and features long sleeves. To dramatic effect, it falls to the knees.
The Celect's most popular brands are Rick Owens Drkshdw and Damir Doma Silent. The boutique's name is a riff on the word Select and the Martineses' plan to offer unique, designer looks with an avant-garde edge in Orange County, albeit with a contemporary price point.
However, there's only a handful of independent boutique, multi-line retailers in Orange County these days. The couple wanted to join this small niche because they believe that there is a market for this sort of retail for the affluent sections of Orange County.
"I take a lot of risks in business," Murphy Martines said. "It paid off for me in the past. Doing something different in this day and age is what you've got to do to be successful."
Shaheen Sadeghi, founder of The Lab, said he took a chance on the novice retailers because the Martineses have a unique eye for merchandise. "Retail is very challenging in today's market," Sadeghi said. "Only the very best curators of product and cool will survive. Celect does a fantastic job of making the hard choices and offering very exclusive and select brands."
The Martineses come from a manufacturing and design background. Carrie Martines was a former designer for Volcom's women's line. Murphy Martines ran men's contemporary line Copy,which is currently on hiatus. He hopes to reintroduce it on the shop floor of The Celect later this year. They are looking for partners to build their e-commerce business at www.thecelect.com.
"We want to create something no one else has," Murphy Martines said.