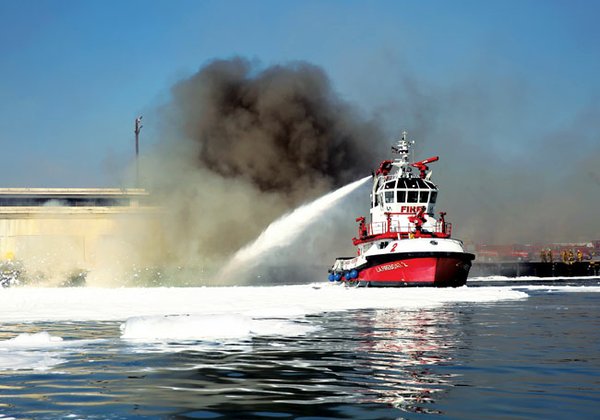 PORT OF LOS ANGELES FIRE
Adding to Cargo Congestion Problem
A fire that engulfed an old wooden wharf nearly the length of three football fields at the Port of Los Angeles was completely contained by early morning on Sept. 24, port officials said.
But the fire, which started at 6:40 p.m. on Monday, Sept. 22, at the Pasha facility at Berth 177, caused the Port of Los Angeles and some piers at the Port of Long Beach to shut down their cargo-container terminals for at least one full shift on Tuesday because of the smoke coming from burning creosote and wood.
Most of the cargo-container facilities at the Port of Los Angeles closed down at 9 p.m. on Monday for the evening shift and for the Tuesday day shift, which starts at 8 a.m. By 6 p.m. on Tuesday, almost all the cargo-container terminals at both ports were up and running for the evening shift.
The closure only added to the already congested nature of the ports, said freight forwarders. "It is so congested at the ports right now, it is like pulling teeth to get containers out of there," said Josh Owen, president of Ability Tri-Modal Transportation Services, who said port congestion problems have been ongoing for the last 2½ months.
"It really created a problem for us," said Michael Johnson, trucking operations manager for the Port Logistics Group. "It put us back even farther."
Port of Los Angeles spokesperson Phillip Sanfield said that no cargo-container ships had to be diverted because of the fire. One ship that was expected to dock at the APL terminal had to anchor for a few hours while it waited for another cargo-container ship to be unloaded at the berth where it was scheduled to dock. "The terminals are using extra labor shifts to make up for lost time to get ships sent on their way," he noted.
At the nearby Port of Long Beach, three piers were shut down during Tuesday's day shift, said Long Beach port spokesperson Lee Peterson. The three piers—Pier A, Pier F and Pier T—work with shipping companies such as the Mediterranean Shipping Co., Zim and the Orient Overseas Container Line. "Everyone now has to make up time all through the chain," Peterson said.
The Port of Los Angeles fire, started by a welder's torch, permeated a pre–World War II wharf that holds a facility that imports and exports steel.
On Wednesday, workers were in the process of dismantling the wharf with a backhoe to make sure there were no lingering embers that could cause another fire. "We are demolishing the wharf and cleaning the debris out of the water," Sanfield said.
The burned wharf is one of the few wooden wharfs left at the port, which is 20 miles south of downtown Los Angeles. Nearly 75 percent of the port's wharfs are made of concrete.