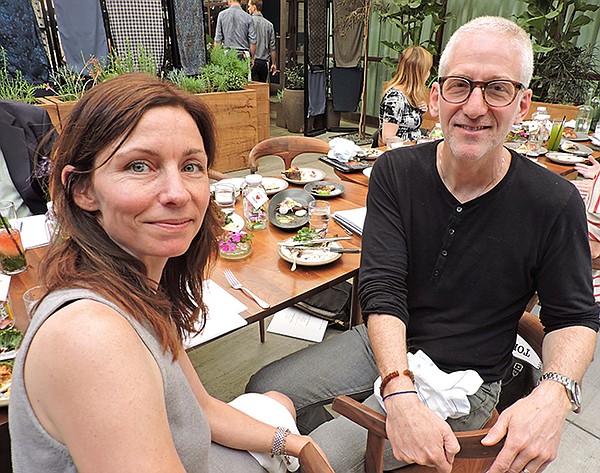 BRAND EXTENSION
Fred Segal to Bow in Tokyo
Fred Segal, a boutique compound best known for infusing a luxe sensibility in Los Angeles' casual lifestyle, opened its first international location on April 17 in Tokyo—and it will be different from anything that the pioneering boutique concept has done, said Paul Blum, Fred Segal's chief executive officer.
Blum and his executives are placing a Japanese aesthetic on a retail destination that has been identified with Los Angeles fashion since the Kennedy administration.
"We want the focus to be on the local consumer," Blum said at a reporters' lunch on April 13 at Hinoki & the Bird, an eatery that mixes Japanese ingredients with American food in Los Angeles' Century City neighborhood. "It has to be relevant to the people who live there," Blum said.
Located in Tokyo's Daikanyama section, a district of luxe boutiques, Fred Segal is offering some brands not sold at Fred Segal compounds on Los Angeles' Melrose Avenue, Santa Monica or the group of Fred Segal boutiques that debuted at the SLS Hotel, which opened on the Las Vegas Strip last August.
The Los Angeles–area Fred Segal compounds have no business relationship with the Las Vegas and Tokyo boutiques, which were developed, owned and operated by Sandow, a New York–headquartered company that acquired the worldwide rights to the Fred Segal name. Blum works for Sandow and has the job of opening Fred Segal compounds around the world and in the United States.
The Tokyo Fred Segal does not look like any other Fred Segal or anything in its posh neighborhood. The store was built on the grounds of a disused railway. It will offer a Fred Segal shop, a Fred Segal Man shop and a new concept called Fred Segal Mart. It will offer a restaurant compound, which will offer new American foods to the novelty-crazed Tokyo consumer.
One of the mart's new food concepts will be Blue Star Donuts, a Portland, Ore., gourmet donut restaurant. Fred Segal Mart also will offer cold brewed coffees and something very Los Angeles—gourmet dishes served from a parked food truck. (There are no plans to drive the food truck to different locations in Tokyo, Blum said.) Other companies doing business in the former railway space will be a restaurant run by Japanese beer label Kirin and Tartine Bakery, which is scheduled to open in the space later this year. They will operate independently of Fred Segal.
While the boutique compound houses an antique surfboard, Blum said the architects did not want stereotypical Southern California looks to be built into the space.
The look of Fred Segal Tokyo was designed by Aesthetic Movement, a Long Island City, Queens, N.Y.–based company that specializes in retail spaces. The exteriors are lined with wood slats, Blum said. "It doesn't look like other buildings in Tokyo," Blum said. "Each room will look like a different shop."
In a concession to Tokyo sensibilities, the Fred Segal boutique will stay open later than the Los Angeles store does. Blum also found that Tokyo consumers are impressed by Fred Segal's decades-long luxe/casual heritage and studied up on the brand. "A lot of them knew more about Fred Segal than some Americans," Blum said.