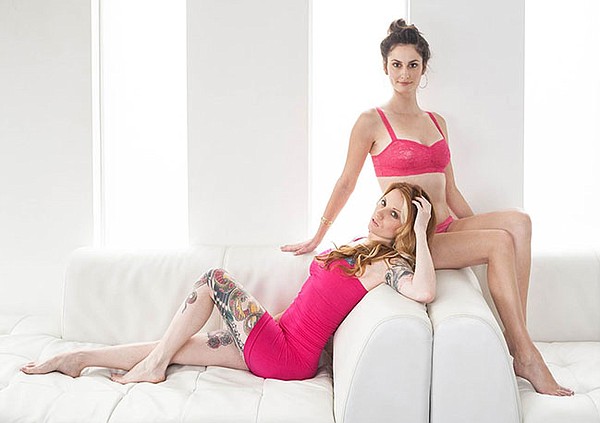 JEWEL TONED
Yesterday's Shapewear Is Over
Rachael McCrary thinks shapewear's reputation needs to be salvaged, and she believes that she has a solution with her West Hollywood, Calif.–headquartered brand, Jewel Toned.
"When women talk about shapewear, they view it as negative purchase," McCrary said. "It makes them think they were getting older. It makes them feel that they are not in ideal shape. We wanted to make body-positive garments."
McCrary's recipe for shapewear she considers more fun? Think bright colors; silhouettes reminiscent of the little black dress, the iconic garment; light to medium control in the shapewear; and a garment that is not binding.
Women in their 20s and 30s have purchased the Jewel Toned shapewear, McCrary said. They are attracted by the bright colors such as emerald green and blush pink. The brand's best-selling piece, the slip-like "Major Mini" dress, comes in bright colors and also comes in the always-fashionable black. The "Major Mini" has a built-in bra and is intended to be used as a layering piece. Unlike traditional shapewear, Jewel Toned is meant to be occasionally seen. Also, the compression piece leaves no indentation on skin because the nylon garments are made without seams. It was also intended to be comfortable.
Jewel Toned also makes body suits as well as bras and panties. Retail price points range from $15 to $59.
The new brand got a vote of confidence from a venture capital firm. In February, it raised $1 million from Singularity Investments, which runs offices in Los Angeles; Dallas; Lagos, Nigeria; and Beirut, Lebanon.
The round of funding will be used to secure inventory, expand the brand's website (www.shopjeweltoned.com) and strengthen its e-commerce as well as build the brand's marketing efforts.
Currently, much of the brand's garments are sold at shopjeweltoned.com. McCrary hopes to sell the brand through mobile commerce and social commerce.
"We're interested in growing in a non-traditional way. We'll change with the needs of the shopping climate," she said. Jewel Toned recently released a shopping app in Japan. Later this year, it plans to expand its wholesale to up to 60 select boutiques.