TRADE SHOW
Agenda: Wrapping Up the Season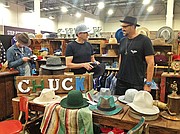 The summer season for the Agenda trade show seems like a fast-paced sprint.
Agenda—which focuses on streetwear, action-sports and fashion brands—starts the season in July with its anchor show, in Long Beach, Calif., which fills much of the sprawling Long Beach Convention Center. Later in July, it shifts coasts with a New York show. Then the season wraps up in Las Vegas in August when the show joins the other Modern Assembly shows at the Sands Expo & Convention Center in mid-August.
At the Aug. 17–19 run of Agenda's Las Vegas show, many of its vendors, such as Manny Martinez of Champion USA, were looking for end-of-season business.
"We make important contacts in Long Beach and New York. We come out here to finalize orders. We have to back up people's investments," Martinez said.
Despite many vendors looking to wind the season down, a few brands took their Agenda trade-show bows at the Las Vegas show. They included Japanese streetwear brand AAPE by A Bathing Ape, Montreal-headquartered Bandit-Ism, Focused Space, ICNY Sport, IVI, basketball-inspired Brand Black and Boy London. Karol Jacob of Bandit-Ism said that Agenda's final show for the season started on a high note.
"The first day was crazy," she said. "The second day was cool." The third and last day of the show was quiet, she said.
Networking also is an important part of the event, said Dean De Costa, sales manager for 101 Apparel, which is headquartered in Santa Ana, Calif. "If sales were made or not made, you got to stay in touch with everyone. You've got to be shaking hands. You can't go wrong," De Costa said. "There's no end to networking. You never know if there's a collaboration to be had."
John Putnam of Los Angeles–based Putnam Accessory Group used the Las Vegas show to exhibit a new look for his headwear brand Chuck Quality Goods. The booth featured an Americana look with mementos of the brand's history as well as the many designs of its caps, fashion headwear and wool fedoras.
"It was the best show we ever had. We've written 100 orders, opened 200 brand new accounts. The gasoline is on," he said.
Another brand known for its caps, Official, headquartered in Sacramento, Calif., found steady traffic, said Jason Maggio, the creative director for the brand. Headwear business declined slightly during the last six months, he said. There might have been a decline because headwear retailers were digesting some of the merchandising decisions of the recent past. "A lot of buyers invested too heavily in bucket caps, and they're sitting on [the inventory,]" he said.
Maggio forecast that the retailers will run through the inventory soon.
"It's a healthy thing," he said of a dip in business. "It allows retailers to get rid of their stock. It will let them start new in 2016."
The top-selling cap at Official's booth was what some have called the "dad cap," a baseball-style cap with an unstructured crown and a molded visor.