RETAIL
John Eshaya Moving to The Village at Westfield Topanga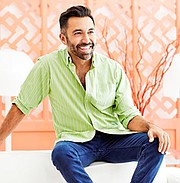 After 18 months running a JET John Eshaya specialty boutique near Los Angeles' Fairfax District, founder John Eshaya confirmed that he will move the shop to the upcoming The Village at Westfield Topanga. The open-air retail center is scheduled to open Sept. 18 in Canoga Park, Calif., located 26 miles north of downtown Los Angeles.
Aug. 29 was scheduled to be the last day of business for the 700-square-foot store, located at 8369 Beverly Blvd. in Los Angeles. Eshaya said the lease of the Beverly Boulevard shop was scheduled to expire by the end of 2015. As he was thinking of his next move, representatives of The Village showed him the open-air retail center in June.
"It's going to have a cool mix," he said of the shops at the upcoming center, which will include locations for specialty shops M.Fredric and Jonathan Adler. "We have tons of clients who live in that area. It's a great opportunity for us."
The 1,100-square-foot JET John Eshaya shop at The Village will feature a larger selection of the brand's men's line. It will continue to sell the brand's lifestyle collection, which includes women's tops, sweaters, jackets, dresses, sweats and denim. Eshaya manufactures his label in Los Angeles.
Eshaya will continue to run a JET John Eshaya boutique at the Fred Segal compound at 500 Broadway in Santa Monica, Calif. While the Santa Monica shop is located a 20-minute drive from the Beverly Boulevard shop when traffic is light, Eshaya said he believes it is good real estate strategy to run two Los Angeles–area stores located just 10 miles away from each other. "People don't leave their neighborhood because of traffic," he said.
The Village at Westfield Topanga store will look much like the Beverly Boulevard shop. Eshaya and his staff will move the Beverly Boulevard shop's furniture, tables and shelving to the new location. "We're recycling everything," he said. "I'm big about not wasting. Let's move it and re-create."
The interior-design credo is reminiscent of Eshaya's fashion history. In 1987, while a part-time salesperson at Ron Herman/Fred Segal compound on Melrose Avenue, Eshaya started selling reconstructed denim shorts. In upcoming years, he maintained a two-track career. He developed the JET John Eshaya line into cut-and-sew and other categories while climbing up the executive ladder at Ron Herman/Fred Segal. In 2008, he left his position as vice president/women's buyer at Ron Herman Fred Segal to open his first JET John Eshaya shop at Fred Segal Santa Monica.