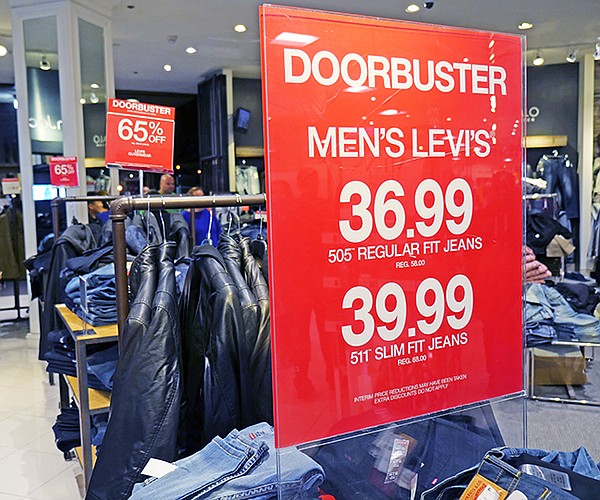 HOLIDAY 2015
Black Friday Weekend: E-Commerce Up, In-Store Sales Down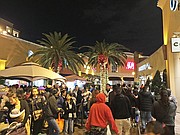 The first major shopping event of the 2015 holiday retail season is over, and analysts say business was great for e-commerce. However, business declined for bricks-and-mortar retail.
E-commerce market-research firm comScore, headquartered in Reston, Va., said that digital business was stellar. Consumers spent $1.1 billion online on Thanksgiving Day. Online spending on Black Friday was $1.66 billion in desktop online sales, which was up 10 percent over last year.
ShopperTrak, a Chicago-headquartered e-commerce firm, released a statement on Dec. 1, which found that business for physical retailers declined on Thanksgiving. Retailers took in an estimated $1.76 billion on Thanksgiving Day, which was a 12.5 percent decline compared to the same day last year. Consumers spent $10.21 billion at bricks-and-mortar retailers on Black Friday, which was an estimated 11.9 percent decrease compared with the same day the previous year.
The market researchers still forecast that sales for physical retailers will increase 2.4 percent during the 2015 holiday season. Bill Martin, ShopperTrak's founder, also stated that the success of holiday business does not rely on the performance of a single day.
"It's important to view the decrease in context. There are several contributing factors, including fewer available store hours on Thanksgiving Day and a later Hanukkah, which is anticipated to push sales into December," Martin said.
The National Retail Federation, a Washington, D.C.–based trade group, said more than 151 million people shopped during Thanksgiving and Black Friday weekend, according to a Nov. 29 statement.
The average amount spent per person was $299.60, according to the NRF. More than half—51.6 percent—of gift purchasers said they bought a clothing item during the Black Friday weekend.
Some retailers say the next few weeks will be a tough wait until people rush to malls and boutiques for last-minute gifts. Others forecast that they will enjoy steady business until a week before Christmas, when their stores will enjoy a spike of shopping. Market researchers and Wall Street analysts are parsing shopping data and forecasts to determine whether business for the holiday season will turn out to be good or whether the biggest shopping season of the year will be a disappointment.
Black Friday was a big day at South Coast Plaza, the Costa Mesa, Calif.–based luxe retail center, where 200,000 people passed through the mall, said Deborah Gunn Downing, South Coast Plaza's executive director for marketing.
At Los Angeles' Beverly Center, retail traffic was slightly up compared with Black Friday last year, said Susan Vance, marketing and sponsorship director for the Taubman-owned mall. Lines were long for the center's fast-fashion and juniors-oriented emporiums, such as Uniqlo, XXI Forever and H&M. Shoppers also lined up early to take advantage of Macy's doorbusters. Vance noticed an increase in attendance of tourists—mostly Chinese nationals, whose tour groups took them to the center to shop the Black Friday sales.
The Citadel Outlets, just south of downtown Los Angeles, reported full parking lots during the weekend, including a 1,000-space, nine-level parking structure that was unveiled on Nov. 20, said Traci Markel, the center's director for marketing.
Markel said that shoppers were attracted to the outlet mall for its low prices. Brand-name clothing is sold 30 percent to 70 percent off full price at the Citadel's stores. Weather also cooperated. After hot temperatures pushed back demand for outerwear during October and November, it got cold in the Los Angeles area around Thanksgiving. People wanted to buy sweaters and outerwear, Markel said.
Another lucky break was the lack of rain during shopping hours on Thanksgiving weekend. "We're keeping an eye on El Niño," she said of the weather system forecast to drench the West Coast in the next few months. "Los Angeles doesn't like rain. If we can stave off rain, sales can stay strong throughout December."
For street-front boutiques such as LASC in West Hollywood, Calif., Small Business Saturday, the day after Black Friday, was a day devoted to shopping at independent retailers, said Don Zuidema, co-owner of the men's boutique. Zuidema noted that business was good on Small Business Saturday, which was Nov. 28. He also forecast that business would climb during the holiday retail season.
"Our holiday business is usually slow until around the 15th of December, and then we see a big uptick in sales as customers prepare for the holidays. The business continues for the week between Christmas and New Year's since so many people are on vacation, visiting Los Angeles. There are many parties for the New Year," he said.
Business exceeded forecasts at e-commerce emporiums Revolve and Forward by Elyse Walker, according to Michael Karanikolas, a cofounder of both emporiums. He and Michael Mente, another cofounder at Revolve and Forward, originally predicted that sales would double over last year. But sales tripled.
Revolve rarely does promotions, Mente said. But it offered 20 percent off assorted items, which attracted more shoppers. The e-commerce emporiums' Thanksgiving and Black Friday weekend's business increased because more shoppers purchased goods through e-commerce and m-commerce (sales placed via mobile phone and tablets), Karanikolas said.
Half of Revolve and Forward's sales came from mobile devices, Karanikolas said. "When half of sales comes in from mobile devices, it paints a compelling picture of how the consumer is continuing to change," he said. A desire for convenience is boosting an increase in shopping through smartphones and other mobile devices. Karanikolas noted that the increase of m-commerce echoed his sites' traffic through the rest of 2015. Throughout the year, half of his sites' shoppers made purchases through mobile devices.
While the excitement from Black Friday is still fresh, Wall Street analysts have not been nearly so enthusiastic about holiday retail sales.
The NRF forecast that winter holiday retail sales will increase 3.7 percent compared with last year, when sales increased 4.1 percent. In a statement, Matthew Shay, the NRF's president and chief executive officer, said there are plenty of bright spots in the U.S. economy: U.S. unemployment is low, just 5 percent, according to the Bureau of Labor Statistics. But Shay forecast in an Oct. 8 statement that American shoppers would make purchases "prudently and deliberately."
In a Nov. 30 research note, Liz Pierce, an analyst for Brean Capital, said that while shopping centers were busy during the Black Friday weekend, retail traffic did not reach "the shopping frenzy of seasons past." There were no "must-have" items that precipitated changes in wardrobes like there have been in the past.
Because 2015 was the hottest year on record, most consumers have not purchased outerwear and warm-weather clothing for the year. Most retailers are still working through their cold-weather inventory, despite offering generous discounts during Black Friday weekend, she said. "Have the sales even made a dent?" she asked in a separate interview.
She also thought that the sales offered by retailers were not much different than the ones offered through the rest of the year.
"Your 'Buy One, Get One 50 Percent Off' sale is almost every day of the year. What is so special about that?" Pierce said. "Maybe we're at an impasse. Retailers must get off a merry-go-round in terms of promotional craziness," she said.