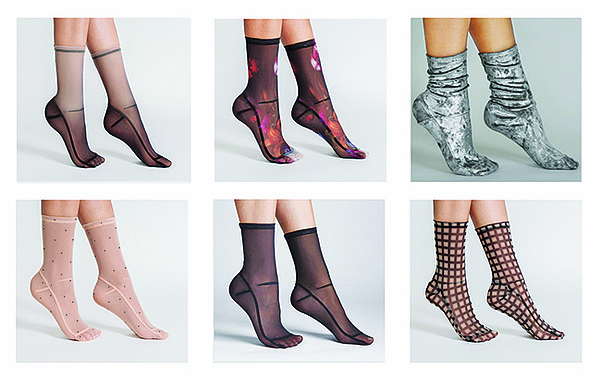 DARNER
Darner: L.A. Company Seeks to Build a Better Sock From Scratch
Los Angeles is known as a denim and T-shirts town, but when a handful of well-connected manufacturers were asked about producing socks in Los Angeles, most said that they knew little and/or had not heard much about the manufacturing of socks in their hometown, which is one of the bigger manufacturing centers in the United States.
Downtown Los Angeles' American Apparel Inc. makes socks. But for the most part, many Los Angeles–area manufacturers say that socks are produced elsewhere. For basics such as the sock, Asian factories can make millions of them by flexing the strength of a few factories, according to interviewed manufacturers.
Enter the label Darner. Its Los Angeles–area designers, Harold Kuhn and Roxanna Beatrice, had been brainstorming ideas for making unique, luxe socks. But they didn't want to deal with the high minimum orders some overseas factories demand. So the designers decided to try to build a product from scratch. "There was no formula for us to follow," Kuhn said. He had previously worked as a designer for emerging labels such as Odilon. Socks were a new category for many of the independent fashion boutiques the label wanted to work with. Many had not ordered socks for the store before.
"We heard that it was not done in LA," Beatrice said of socks manufacturing. "I wanted to do something locally in Los Angeles to support the economy here, to do something ethical [manufacturing] and to do something hands-on. We wanted to do something that would stand out."
Part of starting from scratch meant building a different kind of sock. Instead of making Darner socks on tubular knitting machines, the way most socks are constructed, Kuhn and Beatrice worked with a lingerie patternmaker to cut and sew socks.
After a lot of trial and error, they came up with a high-end, sheer sock. They put prototypes of the sock on an Instagram account, and a few stores expressed interest, said Beatrice, who does not use her last name professionally. The stores reordered frequently, she said. "They wanted Immediates. We were always in production, and we always had socks," she said.
The materials they use include a mesh, a bamboo rayon and, for some categories, velvet. Florals and art-deco designs are printed on some socks. The visages of Andy Warhol and Barbie are printed in Darner's entry into the recently debuted Barbie x Andy Warhol collection.
The label has been sold at prominent Los Angeles–area boutiques such as Ron Robinson, Fred Segal and Kin. Darner's men's and women's socks come in a few sizes, which the designers called Women's 1 and Women's 2 and Men's 1 and Men's 2. Wholesale prices range from $14 to $20.
The collection made its debut at the Ron Robinson boutique in Santa Monica, Calif. Ron Robinson selected vendors to participate in the collection. He chose Darner because he felt it was were doing something unique.
"They've gone beyond the typical," Robinson said. "Making a tailored, fitted sock out of silklike fabric with contemporary prints is making a statement!"
For more information, email info@darnerlosangeles.com.