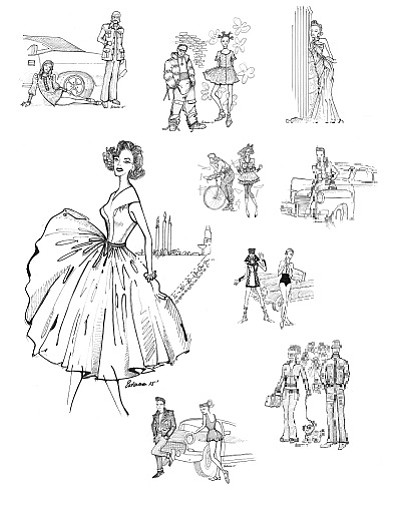 70 YEARS OF STYLE
70 Years of Style
THE 1940s
At the time the paper launched, Hollywood was at the peak of its power. The moneymaking machinery was at work in the translation of glamorous frocks from the silver screen to wearable clothes for the masses. Designers Gilbert Adrian and Irene were just two of the big-name motion-picture costume designers who lent their names to clothing lines that allowed regular folks the opportunity to dress like their favorite movie stars. After costuming early film stars such as Pola Negri, Gloria Swanson and Greta Garbo, costume designer Howard Greer opened his custom atelier on Sunset Boulevard, where he launched a ready-to-wear collection specializing in "after-five" dresses. Paris-born Jean-Louis was another costume designer turned fashion designer. After a stint with Hattie Carnegie, he headed to Hollywood, where his designs helped define the look of glamorous stars such as Rita Hayworth (see the "Put the Blame on Mame" gown from the 1946 film "Gilda").
During the '40s, Oakland, Calif., native Bonnie Cashin began working with designer Oleg Cassini at 20th Century-Fox before decamping to New York and ready-to-wear with her own line, The Knittery. Later, at Coach, she served as founding designer of the luxury leather-goods collection. The iconic San Francisco–based brand Lilli Ann got its start in the '30s and rose to prominence in the '40s with its Paris-inspired coats, suits and sportswear known for fine workmanship. Also in the '40s, Ukrainian tailor Nuta Kotlyarenko—known as Nudie Cohn—moved to California, where he designed haute Western wear for everyone from Roy Rogers and Dale Evans to Elvis Presley and Gram Parsons in his Nudie's of Hollywood shop on Lankershim Boulevard in the San Fernando Valley.
THE 1950s
In the 1950s, teenage fashion was the talk of the town. The broadened ideals and morals of postwar parents created a rise in the younger generation's quest for cool clothes. In movies such as "Rebel Without a Cause" and "The Wild Ones," young people found moody, angst-driven icons to aspire to and dress like. Meanwhile, back in the city, mothers and debutantes turned to designers Don Loper and Peggy Hunt to dress them in afternoon frocks and cocktail confections. For the very well-to-do, there was William Travilla, designer of Marilyn Monroe's "Diamonds Are a Girl's Best Friend" gown in "Gentlemen Prefer Blondes." In the 1950s, he opened his ready-to-wear business, Travilla Inc., in California.
It was also in the 1950s that James Galanos launched his ready-to-wear business with a $500 startup loan from costume designer Jean-Louis. As well, several California companies were also shaping what we wore on the weekends. Cole of California, Rose Marie Reid and Catalina offered swimwear inspired by high style. This was the decade that Koret of California launched, offering moderate sportswear made from permanent-pleat cotton fabrics.
THE 1960s
In 1960, designer Richard Blackwell, better known as "Mr. Blackwell," began publishing his annual "Worst-Dressed List." Glamorous gowns still ruled for celebrities and socialites alike. James Galanos' fabulous frocks were worn by first ladies Jacqueline Kennedy and Lady Bird Johnson as well as all of their well-heeled contemporaries. When Marilyn Monroe sang "Happy Birthday" to President John F. Kennedy, she did it in a Travilla gown. During the '60s, he launched his own ready-to-wear collection, as did Helen Rose, the costume designer of "Designing Women" and "The Bad and the Beautiful." Rose sold her wares at the House of Helen Rose in Beverly Hills. This was also the era of the space race, op art, mod design and, of course, hippies and flower children. Rudi Gernreich, the local-boy-made-good in fashion, achieved international recognition with his spare, unisex looks of the era. Similar styles for the fashion-forward were born in California from the minds and spirits of free thinkers and progressive dressers. In San Francisco, Linda Gravenites draped rock stars in velvet and feathers while in Southern California Holly Harp opened the doors to her boutique in 1967. Soon Harp served up easygoing jersey confections with ruffles and precious prints to rock stars' wives and mistresses (although, hopefully, not at the same time). It wasn't all glamour and glitz and over-the-top fashions in California, however. Baseball player Jack Hanson, who played for the Los Angeles Angels of the Pacific Coast League, opened up Jax on Newport Beach's Balboa Island, and the store became known for its slim-flitting "Jax Slacks," worn by Janet Leigh in "Psycho" and Mary Tyler Moore in "The Dick Van Dyke Show." They were purportedly a favorite of Marilyn Monroe.
THE 1970s
California of the 1970s saw the king of sparkle and shine, designer Bob Mackie, making Cher and other fabulous glamour girls glimmer under the spotlight on television every week in sequins, beads and little else. Meanwhile, California's sun and surf crowd had its own style, thanks to surf labels such as Ocean Pacific, Gotcha and Hang Ten. Fashion fanatics flocked to boutiques founded by pioneering retailers such as Fred Segal, Theodore's Herb Fink and Giorgio's Fred Hayman in this glitzy decade. Edith Flagg was creating "the California look" and David Hayes was designing at De Graff of California. Women picked up smart blouses and coordinated sportswear from West Coast labels such as Teddi of California, Fred Rothschild, Joy Stevens and Wayne Rogers. Infinity was making short jumpers and mini dresses at its factory at 127 E. Ninth St., which is now The New Mart showroom building. California manufacturers—such as Sun 'N Sand and Tom Boy of California—jumped on the red-hot jumpsuit trend. For outerwear, there were fur-trimmed coats by Jet-Set and leather jackets by Remy. Young women purchased trendy juniors styles by Irene Kasmer, Byer California, Juli California, Jody of California and its sister label, Tootique of California. Some women favored the crisp, utilitarian and practical look of sportswear made from synthetic fibers such as polyester, nylon and triacetate marketed under the brand names Fortrel, Dacron, Encron, Orlon, Arnel, Trevira and Qiana. Others preferred the romantic "Prairie" look inspired by Victorian and Edwardian styles created by designers such as Bonnie Strauss, Jessica McClintock at Gunne Sax and Sue Wong at Young Edwardian by Arpeja. The romantic look carried over to vintage-inspired accessories by 1928 Jewelry. The popularity of disco gave rise to sexy, body-conscious fashions such as the dancewear-inspired line Flextard, designed by early aerobics aficionado Gilda Marx. Swim brands such as Sirena and Catalina got in on the dancewear-inspired trend, as well, with disco-inspired swimwear and coverups.
This was also the era of denim as Levi's shifted from counterculture to everyday uniform, and labels—such as Sasson, Dittos and Chemin de Fer—made the new phrase "designer jeans" a true fashion statement.
THE 1980s
In the 1980s, New York's Donna Karan and Italy's Giorgio Armani were empowering women with their bold silhouettes and linebacker shoulders, but California designers took a more casual and romantic leap forward. Jessica McClintock, Karen Alexander and Esprit's Susie Tompkins offered up the ladylike, girly and tomboy looks that better suited sunny lifestyles and laid-back attitudes. In Southern California, surf brands such as Body Glove, Quiksilver and JimmyZ—along with skate shoe brand Vans—were pioneering a new action-sports lifestyle trend. And BUM Equipment, LA Gear and Bongo were making casualwear über cool. Thanks go to Georges Marciano for setting the designer-jeans trend with its signature three-zip style. The French expat's influence helped to drive a Los Angeles–based denim market that included well-known brands such as Z. Cavarrici, Bongo and Bugle Boy. While on television, the ladies of "Dynasty" were personifying '80s-fashion excess in designs by Nolan Miller. Magazine readers were following Kelly Gray on her international adventures as documented in the ads for her family's high-end label, St. John Knits.
THE 1990s
By the 1990s, Californians wanted a simpler, pared-down look to counter all the excess and affectations of the '80s. Local grassroots clothing lines began to pop up and slink into major retailers. Fred Segal's iconic multi-store boutique became ground zero for new labels such as Trina Turk. Richard Tyler held court while customers flocked to him for everything from simple but playful slipdresses to ultra-tailored suits that followed the line of the body. Brands such as Carole Little, Karen Kane and David Dart created a new workplace casual while club brands such as Mark Wong Nark and Lip Service dressed an edgier set. But it was Los Angeles–based brand Cross Colours that introduced the new category of urban streetwear with its red, green and gold designs. This was also the decade of The Gap, the San Francisco–based denim retailer that expanded nationwide in the 1970s, In the '90s, The Gap took a sophisticated turn with its "Individuals of Style" print ad campaign, featuring era icons such as Sharon Stone, Lenny Kravitz and Anthony Kiedis. It then ushered in a khaki revolution with its 1998 television ad "Khaki Swing."
2000s AND BEYOND
The millennium brought with it a renewed passion for everything Hollywood. Celebrity stylists ruled the day with their far-reaching powers and access to top designers. They became instrumental in deciding which runway looks would end up red-carpet winners. Mega-powerful super stylists Rachel Zoe, Andrea Lieberman and Lou Eyrich became almost as famous as their clients. TV's "Project Runway" gave us a local winner in its third season with Jeffrey Sebelia, a Los Angeleno who now produces La Miniatura, the celebrity-favored edgy clothing line for children. (Only in California do kids need to show how edgy they are.)
LA–based Pamela Skaist-Levy and Gela Nash-Taylor invented the sexy sweatsuit for their Juicy Couture brand and introduced a new take on contemporary that was girlie, irreverent and fun. This was also the era of luxe casual brands such as T-shirt makers Michael Stars, James Perse and C&C California as well as the ubiquitous graphic tees of Ed Hardy and Christian Audigier. The new millennium also brought a new take on designer denim, thanks to Frankie B.'s Daniella Clark, who took the denim rise to new lows and helped usher in the premium-denim era, which included brands such as Earl Jeans, 7 For All Mankind, Lucky Brand, True Religion and JBrand. The future holds many more surprises and triumphs for California fashion, and California Apparel News will undoubtedly be there to document every step of the way with its inimitable flair.
About the authors
Sarah Bergman is the manager of the renowned Los Angeles vintage emporium, "The Way We Wore" as well as a longtime collector and student of all things sartorial. She doesn't so much consider herself a slave to fashion as much as an indentured servant.
Known as the "the fairy godmother of fashion inspiration," Doris Raymond is the owner of The Way We Wore vintage boutique in Hollywood. For the last three decades, Raymond has made her expert knowledge and vast collection of vintage, antique and designer clothing available to a coterie of fashion designers, celebrities and fashion insiders, as well as costume designers, museums and private collectors. The retail boutique caters to vintage collectors and fans, as well as haute couture and contemporary fashion designers. Details culled from her collection have shown up on runways from New York to Milan. She has worked with many award-winning costume designers including Arianne Phillips, Lou Eyrich, John Dunn, Michael Wilkinson and Mark Bridges.
Raymond and her dedication in the field of fashion is at the heart of the Smithsonian Channel documentary series "L.A. Frock Stars." In early 2016, The Way We Wore will be launching an e-commerce site called Voguely Familiar. Designed to open the world of vintage to the budget-minded shopper, the site will feature fabulous finds from around the world as well as designer clothing priced at $99 or less.
About the illustrator
Los Angeles native Estevan Ramos has been involved in the Fashion world more than half his life. He shifted his focus from architecture to fashion, receiving a degree from the Fashion Institute of Design & Merchandising. At FIDM, he received some of his first recognition in fashion design and illustration including participating in competitions in Paris and Tokyo, being featured in Vogue and receiving the coveted Bob Mackie scholarship award for design.
In addition to working as a designer and creative director for numerous juniors and contemporary clothing lines, Ramos designed an eponymous collection that sold in retailers worldwide including Barneys new York, Nordstrom, Beams in Tokyo and Roz Clarke in London. Currently, he works on independent projects in styling, custom design and illustration.
Ramos was excited to take on the 70 Years of Style project. Growing up the youngest of 9 kids, he's has seen, heard, created and experienced so many fashion trends from his siblings, parents, relatives and personal experience throughout the years. He said he is always inspired everything in the world—especially his family and friends.