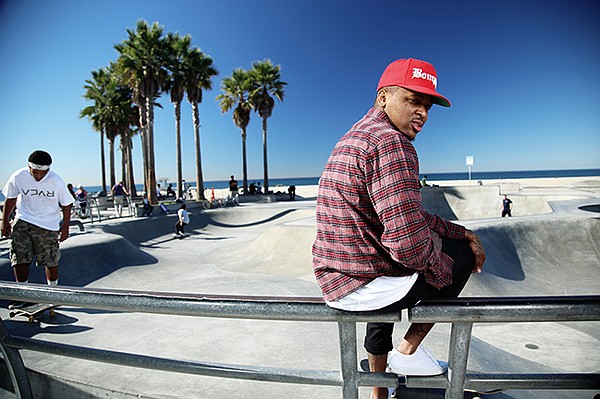 YG X RVCA
Retro Street for PacSun Exclusive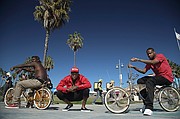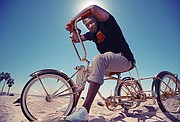 The music of tattooed rapper YG shot up Billboard charts in 2013. In 2015, he's starting on a fashionable note thanks to a partnership with RVCA, one of the leading lifestyle, fashion and action-sports brands to come out of Orange County, Calif., in the past decade.
The rapper and the lifestyle brand put together a capsule collection called YG X RVCA. Beginning on Jan. 15, the line will be sold exclusively at select stores for Pacific Sunwear of California, a mall-based retailer known as one of the most prominent retailers for action sports and streetwear.
The inspiration for the nine-piece line is the Los Angeles street look of the mid-1990s, said Rick Lohr, RVCA's vice president of merchandising and design. "It's crisp chinos, coach's jackets and nice flannel," Lohr said. What gives the collection a special RVCA and YG look is the bandanna print with the YG logo, designed by the brand's design staff and repeated throughout the collection.
Other looks include chino pants, a baseball jersey and T-shirts. Retail prices for the capsule collection range from $36 for T-shirts to $75 for pants and $90 for coach's jackets. After it's sold out, there will not be a second capsule collection for YG X RVCA, Lohr said. But there will be an opportunity for previews for those going to the Agenda trade show in Long Beach, Calif.
YG is scheduled to perform Jan. 5, after the first day of the show, and some of the capsule collection's pieces will be on display at the concert.
RVCA also will be exhibiting at Agenda, and on display will be the Fall '15 collection. It was the first collection entirely overseen by Lohr, who joined the brand on Feb. 28, 2014.
The Fall '15 collection will feature many RVCA looks that have become part of the DNA of the brand. It also will offer collections and styles that will be completely new.
RVCA will introduce a new denim program at Agenda. In the past, RVCA denim only offered one fit, which was updated once a year. However, for Fall, it will unveil a denim program with five fits for men and women. Its washes will be updated every season, Lohr said. One of the fits is called "Daggers," and it is a clean, straight leg with a light taper.
At Agenda, RVCA also will be introducing a women's loungewear line called "The Sunday Collection." It's an 11-piece line that features bralettes, non-denim shorts called soft shorts, knit pants and leggings. RVCA tested some pieces in Spring '14 and deemed the tests a success. "It's a complete collection," Lohr noted.