RETAIL
December Seen as Modest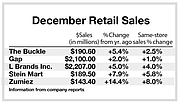 December retail sales results were described by analysts as good but modest.
While total results for the holiday 2014 retail season had not been formally announced—the National Retail Federation is scheduled to release sales figures for the entire 2014 holiday season on Jan. 14—December sales results seem to confirm a holiday business that was forecast to be solid but not break records.
"Santa delivered this Holiday season with most retailers reporting December comps/Holiday sales/4Q14 earnings beating modest expectations," Ken Perkins, president of the Boston-area Retail Metrics, wrote in a Jan. 8 research note.
Gap Inc., the largest specialty-store chain in the world, reported a same-store-sales increase of 1 percent in December. (It also reported results for holiday 2014. Gap Inc.'s same-store sales increased 3 percent for November and December.)
Zumiez Inc., a burgeoning mall-specialty store for action-sports apparel, posted same-store sales of 8 percent for December. Stein Mart Inc., a Florida-headquartered off-pricer, reported same-store sales of 5.8 percent in September.
Pacific Sunwear of California Inc. reported on Jan. 8 that its December same-store sales increased 9 percent. The mall-based specialty chain typically reports its sales results quarterly. The Anaheim, Calif.–headquartered chain took the opportunity to update its financial outlook for the fourth quarter of its 2014 fiscal year. It forecasts that its same-store sales will increase 6 percent and that its non-GAAP loss from continuing operations per diluted share will be in the range of $(0.12) to $(.11) compared with previous guidance of loss of $(0.17) to $(0.12).
Retailers, Wall Street analysts and mall managers seemed to see December as a month when mall parking lots were full and business was defined by promotions.
Shoshana Puccia, senior marketing manager of the Santa Monica Place retail center in Santa Monica, Calif., said retail traffic grew solidly throughout the holidays. Christina Riojas, marketing manager of the Glendale Galleria retail center in Glendale, Calif., estimated that traffic increased compared with holiday 2013.
Retailers such as Macy's were offering generous promotions such as 25 percent to 65 percent off selected items in the week before Christmas. The holiday retail season started with generous promotions and ended with retailers offering discounts to attract consumers, said Jeff Van Sinderen, a retail analyst with financial-services firm B. Riley & Co. "I think that [2014's holiday] will go down in history as a highly promotional season for the apparel business," he said.