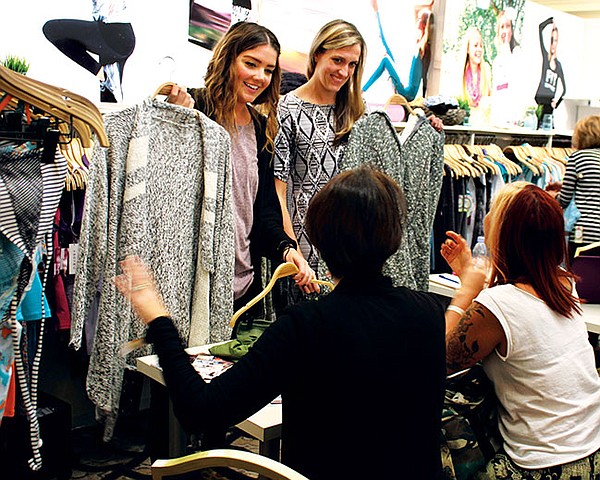 SHOWS OUTGROW OC VENUE
Active Collective Debuts Alongside Swim Collective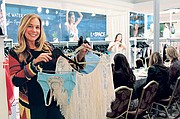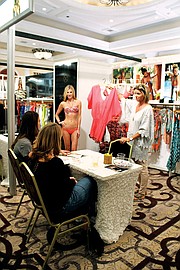 Buyer attendance doubled over last August's edition of Swim Collective, according to Executive Show Director Shannon Leggett. The show ran concurrently with the hard-launch debut of Active Collective at the St. Regis Monarch Beach Resort in Dana Point, Calif., Jan. 15–16. With a maximum total capacity of 130 exhibitors, the shows were sold out months in advance.
"We experienced a fantastic turnout this edition," Leggett said.
Although very little buyer crossover traffic was reported between the Swim and Active shows, brands that offer both categories appreciated the co-location to show their Spring and Summer '15 collections. Noteworthy retailers in attendance included Neiman Marcus, ShopBop, Amazon.com, MGM Resorts, Bloomingdale's, Nordstrom, Gilt Groupe and Everything But Water, plus others from over 22 states.
"Buyers have been very happy with this show," said Debbie Martin, national sales manager of L*Space by Monica Wise, who reported seeing over 30 accounts the first day, including The Venetian in Las Vegas, Butterflies and Bikinis and Sundance Resort. "There has been a great energy to this show, and buyers are writing. While we have seen many local and national accounts, we feel there has been a lack of international buyers, though," Martin said. "We had a very good show and were able to establish new relationships, which is always exciting."
Raj Manufacturing—who manufactures and represents Ella Moss Swim, Hurley, Reef, Splendid Swim, Luxe and Next—also reported that buyers were writing. "This show has been awesome for us, and we have connected with many new accounts," Giuseppe DeMasi, account manager, said. "This show has provided a nice cross-section of the industries."
Jacqueline Collins, owner of Kate & Lace, a lingerie and swim boutique in Westlake Village, Calif., reported attending Swim Collective "regularly." Although her boutique does not carry activewear, she was "happy" with the selection of swim resources at the show.
First-time exhibitors Camille and Jackie Brady, sisters behind the swim label Cami and Jax, who launched their line in April 2014 via an online store and bricks-and-mortar retail store on Montana Avenue in Santa Monica, Calif., decided to break into wholesale distribution via Swim Collective. "We heard good things about this show and decided to try it out," the sisters said. "It has surpassed our expectations, and we were able to meet with retailers such as Revolve Clothing, Great Shapes from New York and Diane's Beachwear. We have already signed up to participate in the August show and look forward to it."
Veteran Swim Collective exhibitor Odette Leach, retail merchandiser for ViX Paulahermanny and juniors swim line Sofia by Vix, reported being very busy selling Summer 2015 (which starts shipping in March) and High Summer (June through August deliveries). "This show has gone really well for us. We have had a mix of appointments and walk-ins," Leach said, and she reported working with retailers the Beverly Hills Bikini Shop, Molly Brown's and Diane's. The brands also plan to return to Swim Collective in August.
The debut of Active Collective included over 30 brands, including Trina Turk Recreation, Under Armour, Blue Life, LVR, Jetanna, Million Dollar Tan, Mika Yoga Wear, Ultracor and Radiant Active.
"It was nice they added activewear brands," said Cori French, a buyer for Revolve Clothing. "They have a good assortment here, and we have discovered lots of new brands."
Blue Life by Planet Blue, which introduced swim and active last year, reported "amazing traffic" in the Active Collective Show. "Buyers have been very receptive to the crossover," stated Cassie Palmeri, a sales representative for Blue Life. She reported working with Bloomingdale's, Nordstrom and Style Runner from Australia at the show.
Soybu, an activewear and yoga wear brand, was a first-time exhibitor and reported being happy with the turnout. "We have opened lots of new accounts and met with existing accounts," Chrissy O'Callaghan, sales manager, said. "We saw mainly regional buyers such as Amazon.comand KSL Resorts and enjoyed showing alongside like brands."
Swim Collective will next host a swim preview, June 23–24, with a select 30 exhibitors and 40 top buyers at the Hyatt Regency Hotel in Huntington Beach, Calif.