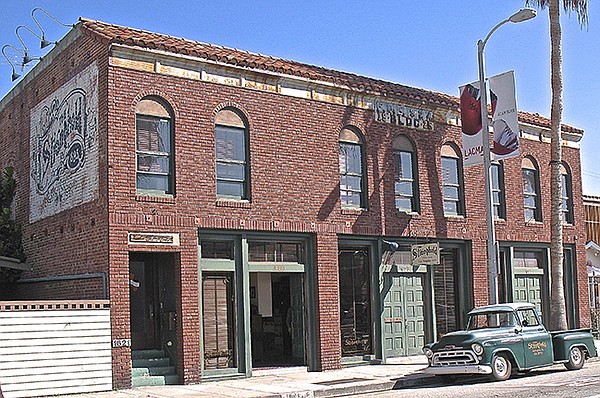 GOING STRONG
The Stronghold to Move Abbot Kinney Store, Plans Retail Expansion
The Stronghold, which bills itself as Los Angeles' oldest clothing label, will be making some new moves.
The 120-year-old label is scheduled to relocate its Abbot Kinney Boulevard store, also called The Stronghold. The label also plans to expand its e-commerce
and bricks-and-mortar retail in the next 12 months.
The Stronghold will move into a 1,200-square-foot space on the west side of a 3,600-square-foot building, which has housed its retail, design and
administrative operations since 2005. "We wanted to better utilize the building," said Michael Paradise, a proprietor of the heritage workwear and denim
brand. The building, located at 1625 Abbot Kinney Blvd., one of Los Angeles' premier retail streets, was constructed in 1925, Paradise said.
For a decade, The Stronghold housed its retail and storage in a 2,400-square-foot space on the east side of the landmark brick building on Abbot Kinney
Boulevard. It moved its administrative and storage facilities out of the building. A new retailer will move into the 2,400-square-foot spot. The new tenant
reportedly is Shinola, the up-and-coming Detroit-headquartered manufacturer of watches, leather goods and bicycles that has enjoyed laudatory press with
its mission to revive manufacturing in its long-suffering hometown.
Shinola did not answer an email requesting a confirmation of the tip by press time. Since 2014, it has run a store in Los Angeles' Silver Lake section.
The Stronghold's new store on Abbot Kinney will look just the same as its former space, filled with pre–World War II fixtures and furniture. However, items
in the new space will be spread over one big room rather than two rooms, which was the case in the former space, said Fred Manheim, another Stronghold
proprietor. "It's a much roomier feel. You go in and—bam, pop—everything is there," he said. "It's a new beginning. Maybe we'll call it another chapter for
The Stronghold."
"The feeling is that you are walking back in time into a pre–World War II space," Paradise said. "It's a whole other way of looking at merchandise. It was
a time when craftsmanship and excellence were valued and manufacturers had pride in what they were making," he said of the manufacturing era that
Stronghold showcases. There are also showcase brands with a similar aesthetic such as Red Wing, Alden, Lewis Leathers, Filson and Stetson.
The Stronghold sells workwear, jeans and a line of clothes based on the brand's early-20th-century looks. The Stronghold started business in 1895 in
downtown Los Angeles. Its jeans were worn by actors such as Charlie Chaplin in the 1936 movie "Modern Times" and Henry Fonda in the 1940 movie "The Grapes
of Wrath." Retail price points range from $200 to $500 for the clothes. The brand's fabrics are woven on vintage American looms in Japan. However, the
clothes are manufactured in Los Angeles.
The Stronghold brand shuttered in the 1950s, Paradise said. But he revived the brand with Manheim and Naoko Shirase in 2004. It opened its Abbot Kinney
store in 2005, long before the street vaulted into national consciousness in 2013, when GQ magazine called it "the coolest block in America."
Some of The Stronghold's future rests in downtown Los Angeles. Paradise forecasts that the brand will open a store in downtown's Arts District in the first
quarter of 2016. An e-commerce store will be launched this fall. The company also hired Josh Hurd, a new director of operations, on June 8.