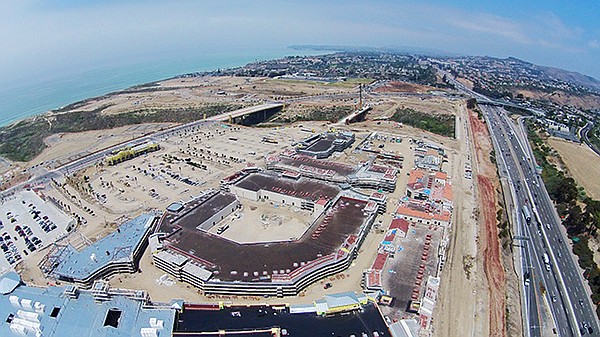 MALL REBOUND
After Long Drought, Mall Construction Back In Coastal SoCal
It is one of the rarest sights on the California coast: a new mall.
However, a handful of new retail centers are ready to make their debuts in cities where available land for construction is scarce.
The Outlets at San Clemente, a more than 325,000-square-foot project in San Clemente, Calif., is scheduled to open in October. It is the first major retail project to be built in more than a decade in San Clemente, a well-to-do hub of South Orange County.
About 25 miles down the coast, Caruso Affiliated, developer and owner of The Grove and Americana at Brand retail centers, proposed to build a 585,000-square-foot open-air lifestyle center in Carlsbad, Calif., another affluent beachside city. Across town, the Westfield mall-management company is spending $300 million to remodel the Westfield Carlsbad retail center, a space that has not seen a major remodel since the late 1970s. The mall's new look is scheduled to make its debut in 2016.
In Los Angeles County's South Bay, The Point will take a bow as an open-air specialty center on July 30. The 115,000-square-foot space is located in El Segundo, Calif., which is about 10 minutes from the beach.
Miles away from the beach, Westfield is scheduled to unveil its open-air The Village at Westfield Topanga, some 26 miles northwest of downtown Los Angeles. Independent Los Angeles–area boutique chains Varga and M.Fredric are scheduled to open locations there when the center debuts in Fall 2015.
Opening in November will be the new mixed-use center Pacific City in Huntington Beach, Calif. Located across the street from the beach, it will offer 191,000 square feet of restaurants and retail, including H&M, TankFarm & Co. and Irene's Story, said Linda Berman of Pacific City's developer and owner, DJM Capital Partners Inc.
The spurt of retail construction follows a drought for this business. No traditional regional malls were built in America from 2006 to 2012, according to the International Council of Shopping Centers. Since then, several regional malls have been built in the U.S., including City Creek Center in Salt Lake City; The Mall at University Town Center in Sarasota, Fla.; and The Mall at Bay Plaza in New York's Bronx borough. The Mall of San Juan also recently opened in San Juan, Puerto Rico.
Much of the current construction scene is rooted in multi-million-dollar remodels of existing malls and construction of new wings of exiting malls, said Ron Gordines, director of business development for Dickinson Cameron Construction, a retail and restaurant construction management company that runs a headquarters in Carlsbad. "There's a growth spurt going on in the past two years. It's at its peak right now," Gordines said.
There's been an increase in retail construction because the economy has been improving and there's been a release of pent-up consumer demand following the Great Recession, said Kimberly Ritter-Martinez, an economist with the Los Angeles Economic Development Corp. "New construction of any kind, with the exception of apartment buildings, has been extremely low for several years but has really picked up in some areas," she said.
One of those areas is industrial and warehouse real estate. In Los Angeles County, building permits have increased 33.3 percent for industrial real estate during the period between January and May of 2015 compared with the same time in the previous year. In Orange County, industrial real estate went up 51.3 percent. "A lot of the growth in industrial construction—especially in the Inland Empire—is warehouse/distribution space in response to the growing share of retail e-commerce," she said.
One reason for the lack of new retail-center projects is the lack of available space in affluent coastal areas such as San Clemente. "There is not a lot of undeveloped land in San Clemente," said Erik Sund, San Clemente's assistant city manager. "Vacant lots are few and far between."
However, population has been growing in well-to-do coastal areas. In San Clemente, the city's population increased from a little over 40,000 people in 1990 to more than 65,000 people in 2013, according to the Bureau of Labor Statistics. Developers feel that these areas are underserved in retail.
Steven L. Craig, the managing partner of Craig Realty Group, which developed The Outlets of San Clemente, said Orange County ranks as one of the top apparel-purchasing counties in the United States. With San Clemente being a hub of South Orange County, it was a highly attractive area to build a retail center, which will offer a full-price H&M store and 70 outlet retailers, including Calvin Klein, Cole Haan, Columbia Sportswear, Guess and Nike. It also will feature restaurants such as Ruby's, Panera and Jack's Urban Eats.
Adjacent to The Outlets, the Taylor Morrison company, headquartered in Woodland Hills, Calif., will build more than 300 residences. A boutique hotel also will be constructed in the area. And nearby, 2,700 homes are under construction in Rancho Mission Viejo. All are expected to be completed this fall.
Craig anticipates that the Outlets will draw customers from South Orange County as well as tourists and even international travelers going through San Diego and making their way to the Mexican border. "It will be a real amenity to the community," he said of his upcoming Outlets project for San Clemente and its neighboring areas. "They don't have enough retail."
However, developers are no longer able to construct malls with the relative ease that they had from the 1960s to the 1980s. Land is not only scarce, but consumers want something different, said Shaheen Sadeghi, developer of The Lab and The Camp specialty shopping centers in Costa Mesa, Calif., and The Anaheim Packing District in Anaheim, Calif.
"People are sensitive to what is coming into their community," he said. "In the past, a lot of developers have overpromised and under-delivered. A lot of their product has not been exciting. It wipes out the soul and the personality of our neighborhoods. … If not planned carefully, it can devalue our communities," he said. "We don't need retail centers that are about homogenization. They should be about personalization, customization and localization."