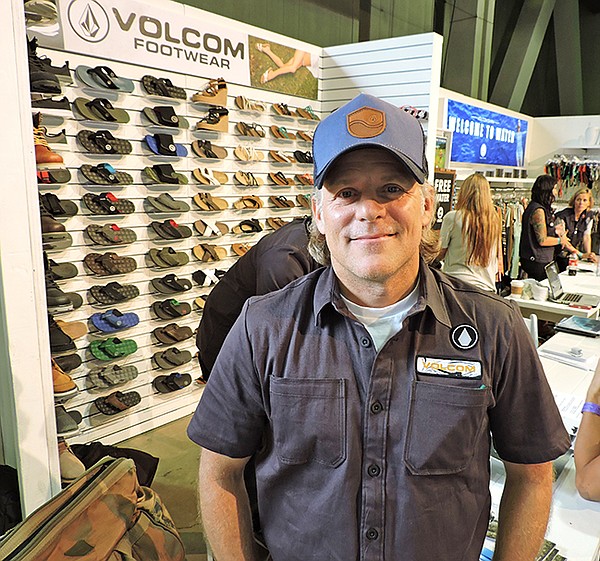 SHOW BUSINESS
Buyer Traffic Revs Up at Agenda
Aisles and booths were buzzing with buyers at the Agenda trade show, which ran July 8–9 at the Long Beach Convention Center in Long Beach, Calif.
The sprawling 300,000 square feet of the convention center's exhibit halls and adjoining spaces were filled to capacity as buyers for department stores and owners of small, independent boutiques browsed through the latest looks in action sports, streetwear, footwear, and men's and women's fashion.
"It's been really busy," Christopher Josol of the Flagship showroom said at the end of the first day of the show. "Our first appointment arrived on time at 9 a.m., and it hasn't slowed down since." Emily Blood of the Alpine Stars label said retail traffic slowed down during the morning of the second day but revved up by the early afternoon. Aaron Levant, Agenda's founder, forecast that 12,500 attendees would pass through the show. Attendance was estimated to have increased 4 percent. However, the number of exhibitors was even with the January show, at about 750 brands.
Retailers browsing the event included Nordstrom, Pacific Sunwear, Zumiez, Tilly's, Nasty Gal, Zappos, Jack's Surf, Need Supply Co., Pilgrim, Black Market, Bodega and Convert Man.
But one of the big topics of the 13-year-old trade show was the rebound of the action-sports business. Quiksilver, one of the major players in this field, made business headlines this year when it named a new chief executive officer, Pierre Agnes, to stop a decline in sales.
Sales for independent core surf and skate shops, the foundation for the action-sports business, have suffered, too. Sales measured by an index of independent surf and skate shops, kept by ActionWatch, a market-research group, declined 2.4 percent for the period of January to May 2015 compared with the same time in the previous year, said Cary Allington, an ActionWatch co-founder. "May was a really tough month with an apparel sales decline of 7.3 percent," Allington said.
But bright skies might literally be ahead for this business. Weather is warming up across America, and a lot of action-sports brands make clothes for warm-weather sports and activities, said Joel Cooper, chief executive officer of Lost Enterprises, which makes boardshorts, surfwear and fashion for men and women.
"Our business and our industry totally focuses on the weather," Cooper said. While the market is not controlled by weather like the ski business, the sales of boardshorts and T-shirts do benefit from sun. Weather has supported the action-sports business this spring, Cooper said.
"The kickoff for our business is Easter. It was incredible! Retail was great," he said. Retail declined in May, but with a warm summer ahead, he forecasts a good second half of the year. "Business has been good," he said.
Like the wider fashion and apparel business, action sports and related lifestyle labels also have been seeking to reconnect with customers and supporters after the Great Recession, said Richard Woolcott, founder of Volcom, another high-profile brand that exhibited at Agenda.
"This industry has had it good for a long time. Then we had to take a step back and reinvent ourselves; that's what's going on now," he said. "There's a new momentum, and sometimes it takes years to roll it out. … It's a good time for Volcom."
Volcom introduced its Slinger collection of boardshorts at Agenda. Men's fashion and performance underwear was a new category at the show. Neff, which developed a reputation in headwear, introduced its Kevin Durant Underwear Collection X Neff. Stance, which popularized the sock category in the streetwear and action-sports market, also debuted a men's fashion underwear line at the trade show.
Veteran and emerging labels made their trade show debuts at Agenda. Black Flys, an influential Orange County brand, ran its first Agenda booth during the past show. Handsome Me, an Australian brand, made its U.S. trade-show debut at Agenda. ICNY Sport, a New York brand, made its debut at Agenda Long Beach. Agenda veterans Element, DC and Lost introduced respective new lines Westgate, DC X Ben Davis and Sea Gypsies, a women's line.
Non-apparel exhibitors making a debut of the show included Go Pro cameras, Solé Bicycles and Olloclip, a company making photo lens systems for devices such as iPhones.
New looks trending at the show included tie-dye, crystal and cloud-style washes, which put unique treatments on tees and woven shirts. Cliff Haddadin of consulting group KKH Project saw T-shirts with longer hems as being popular as well as Hawaiian prints; short-sleeve, button-up shirts; and pants that leave a lot of room to show off fashionable socks and sneakers.
Danica Elbertse, a freelance designer, said she had not seen major changes with men's and women's fashions in the action-sports and streetwear world. However, surf brands were doing a lot of interesting work with neoprene fabric for women's looks. "It's been used as workout, surf and club wear," she said. "Now you have these three categories merging into each other."