SHOWROOM PROFILES
Showroom Profiles: Lila Clothing Co.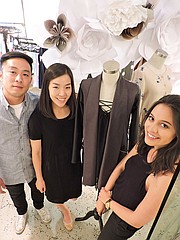 Lila Clothing Co.
California Market Center, Suite B511
(213) 614-2011
info@ilovelila.com
Women's fashion label Lila Clothing Co. wanted to make a bigger splash in its hometown of Los Angeles, so in June it opened a showroom at the California Market Center in downtown Los Angeles' Fashion District, said Ricardo Lee, the company's sales director.
The 3-year-old company's headquarters is located in downtown's Arts District. Yet busy buyers often don't have the time to leave the Fashion District. Lila Clothing opened a second showroom and took the brand's fashions closer to Fashion District–bound buyers, said Tanielle Lau, who works in sales and marketing for Lila Clothing. "We wanted to provide a space that was most convenient for customers, a space where they can easily access us and our line." she said. "We love direct communication with our customers, and this was one of the best ways of achieving that."
Lila Clothing continues to run a showroom at its Arts District headquarters. Buyers can make appointments at either showroom, Lau said.
Lila Clothing is manufactured in Los Angeles. It aims to make clothes that are feminine, sophisticated and on trend yet have a classic look, said Lidia Lee, Lila Clothing's designer. "We're known for floral prints," Ricardo Lee added.
The estimated 1,000-square-foot California Market Center showroom is currently displaying Summer, Fall and Winter collections. Wholesale price points range from $18 to $35, Ricardo said. Significant looks include the "Willow," a floral-print, long-sleeved A-line shift with crochet trim.
There's also the "Palmer," a long-sleeved, trapeze-style dress. There's the "Lila," a short-sleeved top with roll-up, cuffed sleeves, a V-neck and piping detail. Another important look is the "Sydney," a cape-like sleeveless dress made with a jersey knit.