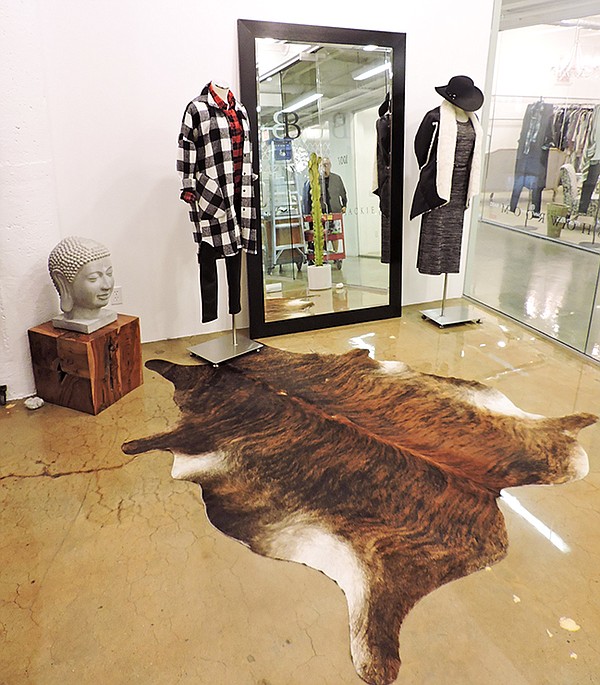 SHOWROOM PROFILE
Jackie B Showroom
The New Mart, Suite 1004
(213) 239-9109
The Jackie B Showroom is on the move. In the past year, Jackie Bartolo, the showroom's founder, hired two more salespeople to complete her current staff of six. She also added several more lines to her showroom's client list. The growth required more showroom space. She moved to The New Mart's 10th floor from the building's fifth floor, where she ran her showroom for the past five years.
The new space is designed by Bartolo as a Zen-inspired gallery, with cactus plants, ceramic Buddhas, a high-gloss flooring and unique Brazilian rugs. (Design is another passion of Bartolo's. It almost became another career. She built set designs of stores for high-profile TV programs such as "Seinfeld," "Beverly Hills 90210," "Party of Five" and "Instant Mom." However, the Jackie B Showroom has always been her primary focus.)
For the new showroom's debut market, Bartolo will be representing contemporary brands—most are headquartered in Los Angeles. Of her lines, Bartolo said, "They are part of a competitive price package where nothing retails over $200 in the showroom."
Lines include RD Style, a full collection of sweaters, outerwear, knits, leggings and bottoms. Some lines include PPLA, a bohemian-style line that features basics such as a swing top and T-shirts bearing graphics such as "Champagne S'il Vous Plait." The line Parson offers a sophisticated wardrobe of embossed blazers and dresses, two-piece outfits, leather skirts and skorts. O-2 features slip dresses and lace tops. Melody features faux-fur vests and jackets. Other Jackie B lines are I.Madeline, Biography and Pearle 88. It's a division of XCVI, a collection of fun, flirty, sophisticated dress in prints and solids.