RETAIL
May Sales Mixed as L Brands Reports Good performance, Gap Merely Okay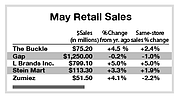 A brief hint of summer weather helped lift May retail sales, but, overall, most apparel retailers reported lackluster results for the month.
Adrienne Yih, a retail analyst for Janney Capital, said weather during May was warm and it released pent-up demand for clothing. But the demand flagged during the Memorial Day weekend, she wrote in a June 3 research note.
Ken Perkins called May's sales results uninspiring and sluggish in June 4 emails following announcements of sales reports. His market-research service, Retail Metrics, reported that May same-store sales rose around 0.5 percent in a year-over-year comparison. "These results were generally disappointing as there was no clear-cut bounce back in May sales from very lackluster results in March [and] April," he wrote.
L Brands was a big winner for the month. The parent company for Victoria's Secret and Bed Bath & Beyond reported net sales of $799.10 and a same-store-sales increase of 5 percent.
Gap Inc. reported a comp-store decline of 1 percent during May. It beat Perkins' estimate of a decline of 2.5 percent during the month. Gap Inc.'s Old Navy division lifted the company's performance when it posted a same-store-sales increase of 6 percent. However, Gap Inc.'s namesake Gap Global division reported a decline of 6 percent. The Banana Republic Global division posted a same-store-sales decline of 5 percent.
Zumiez Inc., the mall retailer of action-sports goods and brands, also posted May results, which Perkins considered unremarkable. Same-store sales declined 2.2 percent during the month. But net sales increased 4.1 percent to $ 51.5 million.
Zumiez also released results from the first quarter of its 2015 fiscal year on June 4. Net sales for the first quarter, which ended on May 2, increased 9 percent to $177.6 million compared with the same quarter in the previous year. Same store sales increased 3 percent during the quarter.
Rich Brooks, Zumiez's chief executive officer, said the results were in line with the company's expectations. "While the pace of our domestic business slowed more than anticipated in April, this was offset by strong sales gains in Europe, where growth momentum continues," he said in a company statement.
For its second-quarter guidance, Zumiez forecast a same-store-sales decrease ranging from a decline of 5 percent to 3 percent. Net sales are projected to be in the range from $179 million to $183 million.