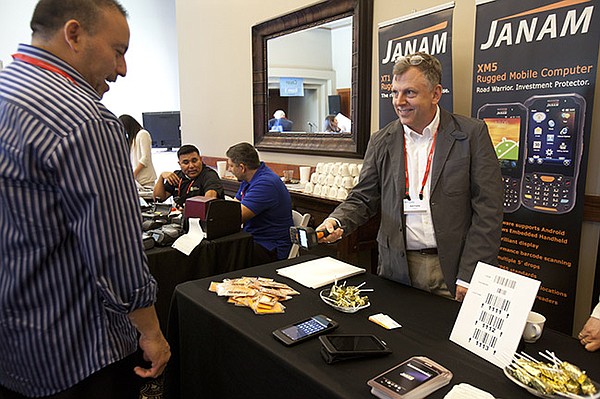 RETAIL | TECHNOLOGY
Keeping Up With the Shifting Retail Scene
Retail is an ever-changing landscape that is expanding to different horizons all the time. Many retailers are so baffled about how to be up-to-date and incorporate the maze of software out there that they don't know where to start.
But experts have one major piece of advice: Do nothing and you die.
Whether you should be sending out emails, setting up in-store events, developing a loyalty program or posting to Facebook, something has to be done. "The first thing I want to set in your mind is if you are unable to recognize and engage your customer across every channel, your competitor will," said Mike Mauerer, chief executive of Teamwork Retail.
Mauerer was speaking at a one-day seminar organized on June 4 by One Step Retail Solutions, a Glendale, Calif., company that improves retailers' operating efficiencies through technology. The seminar, called "Taking It to the Next Level," was held at the Old Ranch Country Club in Seal Beach, Calif.
Most retailers, Mauerer said, are attempting to build extensive customer email lists; posting information on various websites and channels such as Facebook, Twitter, Pinterest and Instagram; and monitoring their online shopping. "They are spending money like crazy on different things, and their staff is overworked trying to keep up with orders and synchronizing various sites," he said.
While many retailers think that this is embracing the omnichannel way of doing business, they're wrong. This is called multichannel.
To be truly omnichannel, the various systems have to work on one platform and talk to each other instead of acting as silos of information. That means that if a customer purchases an item with your mobile-phone app, they should be able to come into your store and return it without a hassle. The store employee should be able to call up the receipt at the cash register and see where the item was purchased and make the return easily, delivering something called "frictionless retail."
"Most retailers are multichannel today," Mauerer said. They need to be omnichannel, particularly when it comes to embracing shopping on smartphones and melding that system into the rest of the system. "Your customers spend more time on their phones than they ever will in your store," he noted.
Capturing consumer information
Customers are a retailer's most important asset. Communicating with them is paramount for conveying messages about promotions, new merchandise and special events.
"The thing that drives traffic more than anything else is email marketing," said Dan Jablons, owner of Retail Smart Guys, a retail consulting company based in the Los Angeles area. "For every dollar you spend on emails, you get $4 back."
But developing a good email list can be challenging. "You have to add it at the point of sale," Jablons advised. "But don't ask them, 'Would you like to be on our mailing list?' That is like saying, 'I have some extra garbage. Would you like me to drop it on your front lawn?' You have to make it worth something. Stop calling it an email list and start calling it a VIP list."
"If they think there is a VIP discount or they will be invited to a special event from being on the VIP list, they will give you their dental records," Jablons added.
That email list can be used to rustle up customers on a deadly slow Monday. "If you are freaking out about no traffic and you have to pay the rent, send out an email about a discount on sweaters and 15 people will show up," the retail expert said.
Another successful marketing tool is holding in-store events where proceeds benefit a local charity or organization. Being tied to the community and helping out wins over customers who will patronize your store because it is a part of the neighborhood. Attracting shoppers to an event can involve discounting items, having entertainment or serving food. "As a friend says, 'If you serve booze and chocolate, everyone will show up,'" Jablons noted.
Developing loyalty
The National Retail Federation recently conducted a study and found that the average American consumer belongs to 23 loyalty programs—from hotels and airlines to grocery stores and drugstores. "Customers want them," said Ron Friedman, head of Friedman Business Consulting.
He noted that the first loyalty program was developed in 1896 by S&H Green Stamps, with stamps given away with purchases and pasted into books later redeemed for products.
There are various kinds of loyalty or reward programs. Friedman believes that cash back after a purchase is the wrong way to go. "Wouldn't it be better to tell them about the $5 off before they come into the store?" he asked.
Friedman's favorite loyalty program is the gift card that can be used by anyone and shouldn't expire. Transferrable gift cards serve as a referral program to friends and relatives. Customers frequent you more often with a gift card in hand and spend more.
Target is an example of a retailer that gives away a gift card if a certain item is purchased. "When Target advertises this, the item is not on sale. So they get full price on the item, and you have to come back to the store to shop again," Friedman said.
Hiring and firing
Developing a good sales staff is essential to keeping customers coming through the doors. But how do you do that?
Jablons of Retail Smart Guys suggests auditioning potential salespeople. "Try a sample shift from 1 to 3 p.m. on a Saturday. Tell them you will pay them, and then see if they can start a conversation with a customer who comes into the store and then have them pass the customer on to the sales staff," he said. "You want to find out if they can start a conversation with a customer rather than having them walk around the store like Frankenstein."
Jablons also recommends writing a job description and using that job description as a template for training new employees. "Once you have hired them, the biggest mistake I see is that there is not enough time spent on training," he said.
If you have salespeople who are extremely funny, put them toward the front of the door. Also, train them to be knowledgeable about the products they are selling. "Every vendor has a story to tell, such as these sweaters were knit by monks in the Himalayas. So then your salesperson can tell the customer, 'These sweaters were knit by monks in the Himalayas.'"
And if you find out your new salesperson can't operate a cash register or point-of-sale system, don't keep them. "If you don't, your next career will be unraveling the crazy things they did at the register," Jablons explained. "This is the spinal cord of your business."