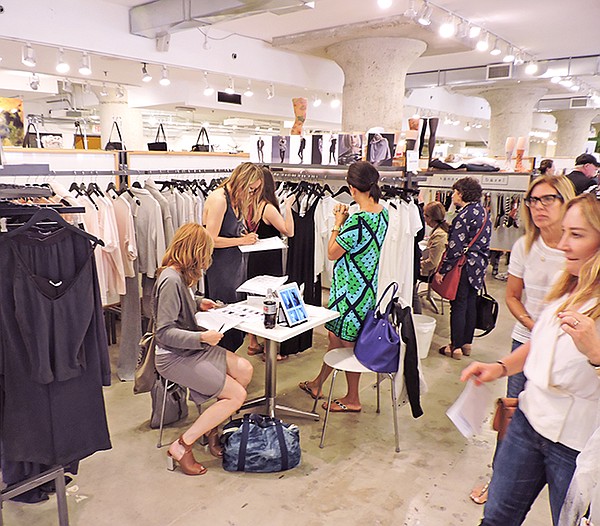 LA FASHION MARKET
LA Market Draws Low Foot Traffic But Committed Buyers
It looked like a typically lightly trafficked June market, but exhibitors reported seeing committed buyers from across the state and across the country—as well as a few from Japan—during the June 8–11 run of Los Angeles Fashion Market.
Those retailers had plenty to see, from the permanent showrooms at the California Market Center, The New Mart, the Cooper Design Space, the Gerry Building and the Lady Liberty Building to the temporary exhibitors showing at Designers and Agents, Brand Assembly and Select. There were also activewear brands showing at the second run of the CMC's Shape show as well as a small selection of high-end fashion and accessories brands showing at the independent Drop City show.
"LA market was pretty lively, actually," said Darrel Adams, owner of the Kin boutiques in Los Angeles, who shopped showrooms at The New Mart and the Cooper Design Space.
"I see a lot of new jewelry popping up and definitely fitness/sport-driven fabrics. California seems to set the trend with activewear."
Across markets there were reports ranging from landing strong sales to meeting with good potential buyers. Many said buyers were looking for Immediate deliveries to fill in gaps in inventory.
Adams said he is seeing signs of improvement in the economy but doesn't expect anything "major" to happen until after the presidential election in 2016.
Fred Levine, owner of the M.Fredric chain of stores, agreed that there are signs of economic rebound but said it's not reflected in apparel sales yet.
"The general state of the economy is certainly in recovery, but the apparel consumer is still holding back. Why? Probably partly due to unimpressive newness in design and partly due to the 'new era' of conservative spending," he said. "Apparel retail will probably remain real tough in the upcoming months, and retailers need to use their buying savvy and merchandising creativity to keep things alive."
Immediates strong at CMC
On the fifth floor of the CMC, which houses several contemporary and young contemporary showrooms, traffic was subdued but continuous.
"This market has been okay, but it has been kind of slow," said Valerie Ohl, the regional sales and account manager for two sister womenswear lines, Miila and Monoreno. "But I have had people come by every day."
She said most of her traffic was generated by appointments and then there were a few walk-in buyers. "Almost everyone who has come by has placed an order," Ohl noted.
Most people were buying Immediates and waiting until the big Las Vegas shows to place Fall orders for the lines. Miila is more contemporary, with wholesale prices ranging from $20 to $25, and Monoreno is for juniors and wholesales for $12 to $25.
This was the first fashion market as a CMC showroom for Lila Clothing Co., a 3-year-old young contemporary line headquartered in the Arts District of Los Angeles. Sales representative Tanielle Lau said the showroom opened the day Los Angeles Fashion Market debuted, on June 8.
She had seen several out-of-state buyers and had a few local buyers placing orders for Fall for end-of-August delivery, and some were inquiring about Holiday goods.
"This new showroom is very convenient for buyers," Lau said, noting that sales used to be based in the company's headquarters before the company decided it was time to branch out.
A few doors down, at the L on 5 showroom, Judy Kurgan, who represents several misses lines, said this fashion market hadn't been as busy as other fashion markets but everyone who had come into her showroom had written orders for deliveries at the end of July or August. "The lookie loos are not here," she noted.
Overtime at The New Mart
The LA Fashion Market was busy for The New Mart's Jackie B Showroom, and retailers kept the showroom open late, Jackie Bartolo, the showroom owner, said.
The showroom opened for market on Sunday, and Bartolo and her staff worked until 7 p.m. on June 7. The next day, the showroom staff was working with retailers until 10 p.m. On Tuesday, the staff worked late until 8 p.m. "Tonight, I'm leaving on time," Bartolo joked on June 10.
Business was very good with stores that showed up to the market, but Bartolo estimated that retail traffic was even with the June LA Fashion Market of 2014. Some retailers did not shop this market because they need to sell through their Spring inventory before they reorder. "A lot of people are waiting until MAGIC," she said of the sprawling fashion trade show and its satellite shows held in August in Las Vegas.
At the Joken Showroom, Eme Mizioch, the showroom owner, estimated that 75 percent of her sales at the June LA Fashion Market were Immediates. She does her best business at the main Spring and Fall markets. However, the secondary markets, such as June's Fall II and Holiday market, are typically devoted to Immediates. "I think we should call them Immediates markets," Mizioch said of secondary markets.
Business also was good for The GIG showroom. Stacey Gossman, the showroom's co-owner, estimated that the GIG's sales were 50 percent better than the June market in 2014. She also estimated that traffic was up 100 percent compared with the March 2015 LA Fashion Market, which she considered slow. "People shopped at that market. But at this market, more retailers were writing orders," she said. Her showroom introduced the PJ Luxe line.
The market also was a time for real estate moves at The New Mart. The UGG Australia showroom, which did business in suite 501, expanded into suite 502, said Ashleigh Kaspszak, a representative for the showroom building. French line Hotel Particulier made its debut in suite 411.
Cooper on the move
The June LA Fashion Market found the Cooper Design Space buzzing with some of its veteran tenants moving into new spaces in the showroom building.
The Siblings Showroom doubled its space to 2,000 square feet when it moved into suite 314. The Noella Showroom opened in suite 520, in a space that Lien Vets, the showroom owner, said had a roomier layout. By Land + Sea opened in suite 407, Goods and Services moved to space 1013, and LNA moved to 632. The Ted Baker London showroom was in the midst of a major remodel of its space on the Cooper's second floor.
After introducing their new space, the showroom owners and their colleagues gave "good" to "fair" grades to the June market.
For Israel Ramirez of Siblings, the show was good. "Traffic was great the first day but tapered off middle of the second day," he said.
A larger showroom led to an easier flow of people into roomier space, Ramirez said. Siblings did business with a core group of 50 stores that it typically does business with at markets. "They all came through," he said.
He saw Ambiance, based in San Francisco; Diane's Beachwear, headquartered in Torrance, Calif.; and Von Maur, the Davenport, Iowa–based department store chain with 30 stores in 14 states.
The Noella Showroom displayed the pre-Spring 2016 season for Essentiel Antwerp and Cosette. Vets, Noella's owner, said her showroom mostly saw regular accounts. "We saw a few new people. It's not a huge market for us," she said.
Cheryl Dufault of Cheryl Dufault Designs, which is headquartered in Huntington Beach, Calif., rented space in the Room showroom at Cooper for the market. Dufault said that she had a great market. "I did much better here in two days than I did in three days in Dallas," she said.
Room also exhibited women's fashion line Toupy during the June market and the Resort season of Duuya.
In the Cooper's Simon showroom, Peter Russell showed Holiday and Resort collections for THEPERFEXT, designed by Sable Banoun and Elyse Walker, owner of the prominent Elyse Walker boutique in Los Angeles' Pacific Palisades neighborhood.
Russell said that business and retail traffic was great.
"The first day of the market is typically the busiest," he said. "But the second day was out of control. It was nonstop until the end of the day."
Russell said he saw high-end specialty shops such as Michael Nusskern of Newport Beach, Calif.; Ron Herman and Traffic of the Los Angeles area; By George of Austin, Texas; and Katia of Houston.
Quiet on the Gerry front
Most showrooms at the Gerry Building felt this was a slow Los Angeles Fashion Market but there were enough specialty-store buyers to keep everyone particularly busy on Sunday and Monday.
"I really had no expectations, but I saw more stores than I expected," said Barbara Nogg, who has the Barbara Nogg showroom on the ninth floor. She said this market was better than a year ago, and she even opened some new accounts in boutiques as far away as Florida and Richmond, Va.
Many veteran showroom owners observed that the regional fashion markets are never going to be what they were years ago. Nogg believes the success of the Fashion Market Northern California trade show, which caters to specialty-store buyers in that area, has eaten away at the Los Angeles Fashion Market.
Many Northern California buyers are now shopping only in San Mateo at Fashion Market Northern California and skipping Los Angeles. "We now have two markets to make the one," Nogg said.
Lady Liberty
The June market was a flurry of business and action for The One Showroom at the Lady Liberty Building.
Kristen Aguilera, founder and owner of the showroom, estimated that her showroom's foot traffic increased 25 percent from the June LA Fashion Market in 2014.
"A lot of it is that our brands are growing," she said of the showroom's busy June market. "It's my team, too. We are on the phone from 7:30 a.m., sometimes earlier. There's a lot of persistence," she said. The One represents brands such as Blink, Fifteen Twenty and Red 23.
There's been a lot of news at The One. In March, Christopher Frye, who served as a fashion director for Bloomingdale's from 2006 to 2012, joined the company. In May, The One opened a permanent New York showroom. In June, it will start a remodel of the 6,500-square-foot showroom at the Lady Liberty. In July, Post and Beam, a public-relations company, will sublet space in the showroom.
The Park Showroom, also located at The Lady Liberty, reported a good market. Buyers from American Rag; West of Camden, a Corona Del Mar, Calif., boutique; and Bluer Than Indigo, a recently opened Portland, Ore., boutique, dropped by the Park, said Teisha Wheaton of The Park.
Focused buying at D&A
For most exhibitors at Designers and Agents at The New Mart, it seemed like a typical June market—and for some that was exactly how they like it.
"These little shows get a little more action," said Judy Hamburg, director of sales and merchandising for Jakett New York, a longtime exhibitor at D&A. "People are pretty happy and writing orders. Shows like this are more intimate. And you know you'll see the right stores who come back. And that's how you build a relationship. "
Hamburg and Jakett's director of sales, Gary Rosenblum, said they saw retailers from across the country, including buyers from Seattle, Colorado, Arizona and Texas.
"People like to shop this market," Hamburg said. "They can pick up items they can't find in a department store."
Rosenblum and Hamburg were showing Jakett's collection of "year-round" leather, suede and vegan-leather fashions. With wholesale prices starting at $65 for some of the vegan pieces and going up to $295 for leather pieces, Jakett is carried by high-end stores such as Joan Shepp, Emphatic Fred Segal and Tootsie's.
Another longtime exhibitor, Los Angeles–based Karen Alweil Studio, was showing a range of gift and home décor items from lines such as Sisters of Los Angeles, All Souls Mercantile, Bandolier and SCB Distributors.
"We saw a lot of people we knew, and we opened new accounts," said Laurel Alweil, who said she met with retailers from Los Angeles, Philadelphia, Colorado, Montana, Wyoming, Florida and Japan.
Mark Thompson, director of sales for Ojai, Calif.–based jewelry line Love Heals, another longtime exhibitor, said he primarily met with existing stores from across California, although by the second day of the show he said he'd opened two new accounts.
This season, D&A featured its Green Room section for up-and-coming eco-friendly and sustainable companies.
Misa Miyagawa, designer of the Los Angeles–based Botanica Workshop, an eco-friendly lingerie and loungewear line, had showed in the Green Room at the D&A show in New York, but this was her first time showing at D&A in Los Angeles. Miyagawa said she met with buyers from Hawaii as well as a store from Wyoming.
Botanica Workshop's lingerie is produced in Los Angeles from fabrics sourced domestically. Some pieces are dyed with natural dyes, including a bright yellow "Turmeric" shade, and a few pieces are made from reclaimed fabric.
"The biggest surprise is the people who I never thought would be interested in my line found me here," Miyagawa said. "I feel like my line is different from what is produced in LA."
D&A's Green Room was the first wholesale trade show for Lisa Siedlecki and Jennifer Silbert, designers of LA–based handbag line Rewilder, which is made from reclaimed materials. The current collection features bags made from a polypropylene fabric used for filtration in large commercial breweries with handles made from climbing rope salvaged from gyms. (Siedlecki didn't like the feel of a rope handle on a tote bag, so they split lengths of climbing rope and sew them together to make a wider and more comfortable strap.) The bags are overdyed using a dye process that does not require salt or bleach, and some styles are hand painted with salvaged house paint.
The material is lightweight, strong and easy to clean, Silbert said. "We look for materials that we can get a lot of. It's all salvaged and repurposed. There is potential in these materials."
Brand Assembly spreads out
Now in its third year, Brand Assembly returned to its space on the top floor of the Cooper Design space with a new layout that allowed retailers to easily browse among the higher-end apparel and accessories collection.
"It's been really strong," said Hillary France, co-founder of Brand Assembly. "We're up 15 percent to 20 percent from last June."
This season there were several new exhibitors at the show, including Tom Ford Eyewear, Dolce Vita footwear and Ceri Hoover handbags.
"We're excited about how the collection was received," said Ceri Hoover representative Kaela Kreysa. In particular, Brand Assembly retailers liked the Nashville-based handbag line's higher-end minimalist collection. "In Dallas, they liked the contemporary line," Kreysa said.
Nashville-based interior designer Ceri Hoover decided to launch an accessories collection after getting a good response to a cowhide clutch she made for herself.
"Two years later, we're in 200 stores," Kreysa said.
At Brand Assembly, Kreysa said she picked up "a handful of new stores, mostly West Coast, but we got some interest from a couple of stores from Japan."
The bags are produced in Tennessee, but the company just began working with a Los Angeles facility as well.
This was the second time at Brand Assembly for Los Angeles–based Calvin Rucker.
"We opened 11 new accounts at this show, and we saw our current accounts," said Joie Rucker, who designs the collection with Caroline Calvin.
"Brand Assembly is a great location for us because we don't have a West Coast showroom," Calvin said.
For Holiday/pre-Spring, the theme is "Edwardian Rock Garden," and the designers added new items, such as a pair of cupro army pants and a group of 100 percent cashmere sweaters.
"The other category we're excited about is day-to-night tops," Calvin said. "That's been really cool to watch that grow. Girls are coming into the stores and asking what's the new Calvin Rucker top."
For Elizabeth Lewis, owner of The Sydny showroom, the second day of the show was the strongest. She said she saw retailers from the East Coast, the South and stores from Western states such as Colorado.
"Everybody wants Immediates," she said, but added that retailers seem to be more confident. "People are excited to see Spring."
Shape enters second season
For this market, the California Market Center organized its second Shape trade show, specifically geared for athleisure and lifestyle manufacturers. The show held steady this season with a little more than 30 vendors, about the same as in March.
This was the second Shape show for Tiffany Noelani, director of sales for Jala Clothing, a yoga-inspired apparel line based in Redondo Beach, Calif. "The show has been good. We've met with new retailers," Noelani said.
Buyers came from far afield, venturing from out of state, but there were also local buyers who drove up from Orange County or were from Los Angeles.
"A lot of the contemporary stores are looking to bring in pieces that have crossover appeal," Noelani said. "They are looking for leggings that can be worn at the gym and then on the street. And then we have our more-activewear stores that want performance wear."
This was also the second Shape show for Sabrina Marquez, who produces her Sabrina M collection of leggings and tops from her San Diego headquarters.
She has a '70s vibe to her line with bell-bottom leggings with vivid graphics that are popular for wearing to music festivals. "Girls love bell-bottoms," she said, noting they appeal to an older customer in her 50s as well as to a younger consumer in her 20s. The look is very versatile, traveling from the gym to a night out on the town.
She observed that this second show was livelier than the first. Buyers seen wandering through the 13th-floor exhibition space were from the Ritz-Carlton Hotel, Torrid and Chico's, as well as from local yoga studios, she said.
After two days, she had gotten no orders but had an appointment with a buyer she hoped would be snapping up some of her leggings, capris, shorts or tops that wholesale for $17 to $62.
Katie Tomasetta launched her new Elektrix brand of athleisure wear made of eco-conscious fabrics in April and decided to try out the Shape show for one of her first trade shows. She said the show had been good but smaller than she expected.
Fortunately, she had appointments set up for buyers to see her line of leggings, pencil skirts and tops made of in-house designed plaids and animal prints. "The show has been good for making contacts, for marketing and seeing other aspects of activewear," Tomasetta said.
Accessories and apparel at Select
The California Market Center's temporary contemporary show, Select, returned to the CMC's Fashion Theater with a small group of apparel and accessories collections.
Among the new exhibitors was Indie Republic Design, a Newport Beach, Calif.–based nature-themed jewelry collection featuring gold and silver pieces with raw stones. Everything in the line is handmade in Southern California.
Designer Nikki Tena said she decided to exhibit at Select because she wanted to "get in front of my buyers."
"I like to be surrounded by brands I'd want to buy," she said.
Tena said she "got some great business and some great potential business," including meeting with stores from Colorado, Washington and Oregon as well as some from the East Coast. She also met with a few e-commerce retailers with a philanthropic mission.
Andy Gabler, designer for Nouveau Riche, also showing for the first time at Select, said he saw some great retailers at the show, including 10 from Beverly Hills.
"That's great because that's the consumer for me," he said.
Los Angeles–based Mofé has been showing at Select for three seasons, said Linda Park, chief executive officer of the 2-year-old handbag line.
"It's slow in terms of traffic but good for business," she said. "A lot of the same buyers from last time are reordering from us."
Most of the buyers were from Southern California, Park said. Many were looking for Immediates, but some were looking for Holiday as well.
"With accessories they always ask for Immediates," she said. "It's an add-on business."
Drop City
Drop City, the independent showcase at Henry Duarte's studio space on Los Angeles Street, continues to be an intimate sampling of high-end apparel and accessories lines.
Gilda Baker, owner of Gilda's in Newton Center, Mass., was among the retailers who dropped by the show, which featured collections by Beth Orduña, Danielle Welmond, Calleen Cordero, Peter Cohen, Rebecca Norman, Luisa Cevese Riedizione, Y&D and Ann Ferriday.
"I can always find new designers here that I can't find in New York," said Baker, who said she's been shopping the Los Angeles market for 25 years. She typically visits Los Angeles four times a year to shop the stores and meet with designers.
"LA has great new designers that aren't discovered yet," she said.