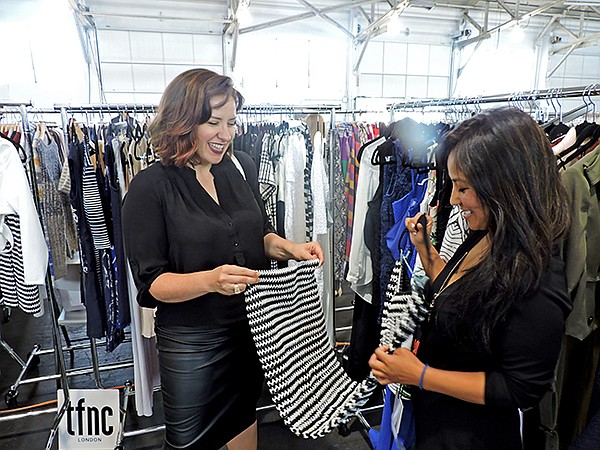 STEADY BUSINESS
Sold Out CALA San Francisco Show
When CALA San Francisco returned to Fort Mason Center's Festival Pavilion in San Francisco for its second run June 16–17, it also was the second time for the show's new open-booth format.
The 146 booths available at the space were sold out, said Robert Murtaugh, an organizer for the show. Approximately 624 buyers attended CALA San Francisco. This was compared to 388 buyers who shopped the show the same time last year, when vendors displayed their lines in hotel rooms at the Westin St. Francis Hotel in San Francisco's Union Square district. The trade event had an eight-year run at the hotel show but switched to the new open-floor format in March.
The increased buyer attendance at the recent show was seen as a vote of confidence in the open-floor format by vendors.
"We saw more people. There were more walk-ins," said Allison Zunich, an account executive with the Ginger Showroom, which has exhibited at CALA San Francisco for eight years. Rozalind Kolve of The Village Showroom estimated that her showroom's sales and traffic during the show increased 40 percent over last June. Vendors also said that the show had a relaxed pace. "It is a steady flow," said Vishaka Lama of Showroom Five21, referring to buyer traffic. "It was a great turnout," said Mikey Herlo, director of sales for Cotton Citizen. "You could take your time with each customer without any distraction."
The regional trade show is focused on high-end contemporary boutiques in Northern California. Retailers shopping the show included San Francisco boutiques Azalea, Two Skirts, Citizen and Ambiance San Francisco. Also shopping CALA San Francisco were retailers such as Angelina Haole, who sought to clothe wealthy tech entrepreneurs in Northern California's Silicon Valley and their families.
"They want something that is unique," Haole said of this group. She plans to open a boutique that will offer ready-to-wear and couture in Silicon Valley this fall. She was a partner in the leading Franco Uomo boutique in the Santana Row retail center in San Jose, Calif.
Other Bay Area boutiques shopping the show included Viva Diva of San Rafael, Kitsch Couture of Los Gatos, Morning Glory of Burlingame and Specialtees of Lafayette. Pinkadot in Davis, Calif., was reportedly seen at the event as was The Loop from Northern California's wine country and boutiques from Oregon and Washington.
During the show, Joene Kelly of The Loop said she was shopping for many of the brands her boutique's clients have favored. Her clients also prefer a sustainable story. "When I get a chance, if I can buy local and made-in-USA, I'll do it," she said.
For other trends, Annie Rubin, the owner of Specialtees boutique, said blouson tops were popular and often paired with a body-hugging garment, such as leggings.
A sizable contingent of vendors exhibiting at CALA San Francisco were headquartered in Los Angeles' Fashion District. Israel Ramirez of Los Angeles' Siblings Showroom said CALA was the place where contemporary showrooms could connect with high-end boutiques spread out over a large region.
"We become a coalition," he said of Los Angeles vendors exhibiting at the show. "We attract buyers together."
While the show was dominated by women's showrooms, a handful of menswear vendors also exhibited. Mario Pasillas, West Coast Sales for the 7 Diamonds label, headquartered in Tustin, Calif., said he saw most of his clients from the Oregon border to the Central Valley. Most of those boutiques were looking for reorders, and 70 percent of his CALA orders were made for at-once merchandise.
The show was held at a festive time for the San Francisco Bay Area. The Golden State Warriors basketball team, based in Oakland, Calif., won the NBA Finals on June 16. City halls in San Francisco and Oakland both assembled installations celebrating the victory. The weather seemed to support the celebration. Temperatures during the show were brisk, but sunny skies gave vendors and buyers a clear view of Alcatraz Island, which is located two miles away, or a 10-minute ferry ride from Fort Mason, which is located in San Francisco's Marina District.
The next CALA San Francisco show is scheduled to run Aug. 25–26. The event producer, also called CALA, produces a contemporary trade show in Denver. CALA Denver is scheduled to run June 30–July 1.