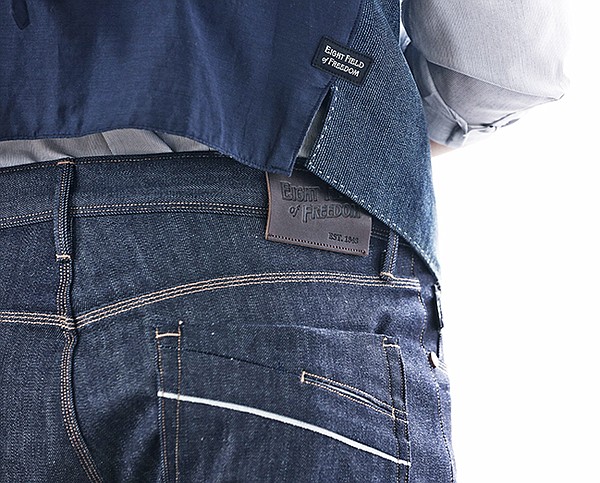 PREMIUM DENIM
Fighting for Greater Market Share
Premium denim is a staple at LASC, but the West Hollywood, Calif., men's boutique kept its offerings fairly narrow until recently, when the retailer began adding new labels to its mix.
In October, the retailer started stocking Los Angeles brand Bravery for All, which offers novelty premium-denim pants retail priced at $180 and up. Alfredo Izaguirre, LASC's general manager and buyer, said he was surprised to find customers were open to trying new denim brands and not as resistant to premium-denim prices as they have been in recent years.
"There was no issue with price. We could have gone to $250," he said. "It's a big step. …. We are cautiously optimistic about the denim business."
Southern California has been a capital for the design and the production of high-end premium denim. Jeans retailing for $100 and above have long been popular for their fine fabrics and their attention to stylish detail, but since the Great Recession, boutiques such as LASC found higher-priced premium denim a harder sell.
For LASC customers, this marks a change in spending on premium denim. Before the Great Recession, premium denim made up 30 percent of the sales at LASC. Since 2009, it has made up 10 percent of the boutique's sales, Izaguirre said.
Throughout the relatively lean years for premium denim, LASC stocked denim from tried-and-true brands such as G-Star and Scotch & Soda.
Darrel Adams, owner of the boutique chain Kin, also reported that he was developing more business in premium denim—specifically, novelty denim.
"Customers are willing to pay for something special," Adams said. "If it looks the same as all of their other jeans, they won't pick it up. But if it is different, if it is something that they don't have in their closets, they will pay for it."
Kin maintains boutiques in West Hollywood, Los Angeles' exclusive Bel-Air neighborhood and a recently opened appointments-only boutique in Huntington Beach, Calif.
There has been a rebound of consumer interest in novelty premium denim, said Michael Morrell, partner and president of operations and marketing at Olah Inc., which produces the denim trade show Kingpins.
"It has recovered in novelty areas," he said. "It has not recovered just as much in core areas." He defined the core area of premium as five-pocket jeans. Core premium is going through a challenging time because the low end of that segment, perhaps $110 jeans, has done a spectacular job of emulating the core denim jeans that are $180 and higher—whereas customers of novelty jeans get what they pay for. The high-priced novelty jeans look and feel different from the less-expensive novelty jeans, Morrell said. There are no alternatives. Those who want the best novelty jeans must pay the requested price.
"The main search for denim companies will be the search for pure innovation and newness," he said. "No longer does a simple five pocket make it. For core to do well, they have to hit home runs."
The resurgence of interest in premium novelty might take a page from the pre-recession period, which was marked by a spirit of experimentation with new looks for denim. Entrepreneurs were willing to take their chances with new premium-denim brands, and consumers did not blink when they were told that a pair of pants retailed for more than $150. But the Great Recession caused many U.S. consumers to step back from what seemed like a years-long shopping spree for premium denim.
For Fred Levine, owner of the M.Fredric chain of contemporary boutiques in Los Angeles County, the excesses and the variety of the go-go days of premium denim aren't back. He says consumer interests have changed.
"I don't see any demand for any 'flavor of the month' premium brands like we experienced in the denim rush of the pre-recession days," Levine said. "I think there's a movement toward jeans in the $120 to $180 price range that offer a flattering and consistent fit with tasteful washes and no embellishments and no bold branding," he said. "There is no 'must-have' brand, and the consumer is identifying and remaining loyal to a brand that fits her body best and feels good. This is a big departure from the brand consciousness of the past."
Consumer research from Cotton Inc., a trade group for the cotton industry, found that premium denim has a long way to go to recapture its market share of its heyday.
In a recent survey published by its Lifestyle Monitor newsletter, about 7 percent of those surveyed plan to purchase a pair of premium-denim jeans, which cost more than $100. Three in four consumers surveyed planned to buy new jeans. Fifty-four percent plan to purchase jeans made in the U.S. Many are looking for jeans made with technical fabrics. The survey found that 48 percent of those surveyed plan to buy jeans with thermal-regulating properties, 42 percent plan to purchase odor-resistant jeans, and 27 percent plan to purchase moisture-wicking jeans. The survey was conducted in December. (Earlier this year, Greensboro, N.C.–based Cone Denim introduced a number of performance denim fabrications designed to bring high-strength and thermal-regulating properties to jeans.)
Even if the popularity of premium denim waxes and wanes, styles are always changing, and there always is room for experimentation.
Adams of the Kin store noted that moto-style premium denim is popular. Bernard G. Jacobs, a fashion stylist for his Los Angeles–based company Katy Duds, noted that the Los Angeles–based Robin's Jean kept the spirit of premium experimentation alive.
Jacobs reported being impressed with Robin's Jean styles such as the "New Long Flap Miami Red," which features a snake-style print and Swarovski crystals on the back.
The Miami Red retails for $999. Kim Dillard, a Robin's spokesperson, said Robin's offers couture-style denim. Each retailer can request a different style of embellishment on their order of jeans, which will make them unique from other retailers.
Jacobs noted a resurgence of interest in premium denim with his entertainment and sports clients. A few years ago, they seemed to prefer simple five-pocket jeans. But by the end of 2013, interest in new premium-denim looks started to surge with his customers.
Premium-priced and special
In April, LASC will take its commitment to premium denim further. It is scheduled to introduce a special store environment for high-end Los Angeles premium-denim brand Eight Field of Freedom, which made its debut at the Liberty Fashion & Lifestyle Fairs trade show in Las Vegas last month.
Premium denim will thrive because there is a well-off consumer who seeks it out, said Gonzalo Posada, a founder of Eight Field of Freedom. "There are people who want denim, and they are not scared to spend $189 to $350 for a pair of well-made jeans," he said.
The key is to be different, and Posada intends to give people what they want—a serious and appealing alternative.
Eight Field, which is headquartered in Vernon, Calif., makes jeans on sewing machines that were constructed in the early 20th century. These machines were built to make suits and hats, but Posada and his studio of 15 denim tailoring veterans use the vintage machines to make unique silhouettes and special stitching. Eight Field makes its jeans with denim fabrics from Italy and Turkey. High-end fabrics range from $7.50 to $14 a yard. The brand's highest price point denim retails for $352 and features velveteen fabric in the waistband and special lining for pockets. The pants are especially tailored and can take two days to make by an Eight Field tailor.
Jeff Shafer, founder of premium-jeans brand Agave, which sells its jeans at specialty stores such as American Rag, said that premium denim is here to stay.
"The biggest change is that the denim market went from 'boom' to 'bubble' to 'bust' and now we are back to 'business as usual.' Hundreds of companies have come and gone trying to take a piece of this market. Premium denim became a fad. All fads eventually die. Only denim is denim and it has always been there and it will always be there. Denim is part of the global fashion culture," he said.