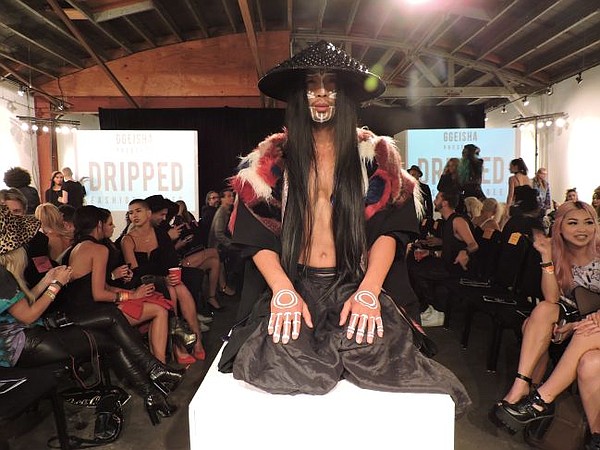 Dripped's Underground LA Fashion Week
The Dripped Fashion Soiree went big on March 18.
The longtime showcase for underground and outsider fashion produced the biggest gala of its multi-year run on March 18. More than 500 people checked out runway shows from four emerging designers at Lot 613, a venue at the gritty edge of downtown Los Angeles. Also on deck, 25 vendors selling outsider looks.
GGeisha, the Dripped founder/creative director, presented emerging designers from Los Angeles, all of whom were inspired by utopian and fantasy subjects. Samsara Collections offered a 'Vapor Wave' skin suit. Anika Perkins showed what she called a "sculptural" styles which featured drawings of mystical creatures "mindguards." Kaley Giovinazzo's Distilled Utopia line featured garments with sleeves covered with bottle caps. Oscar Utierrè designed a line inspired by Shakespeare's character Ophelia. The last looks of his runway show featured gowns seemingly tailored for a Tudor-era princess.
GGeisha hopes to produce another giant Dripped Fashion Soiree in October. It will be right in time for the next run of LA Fashion Week.