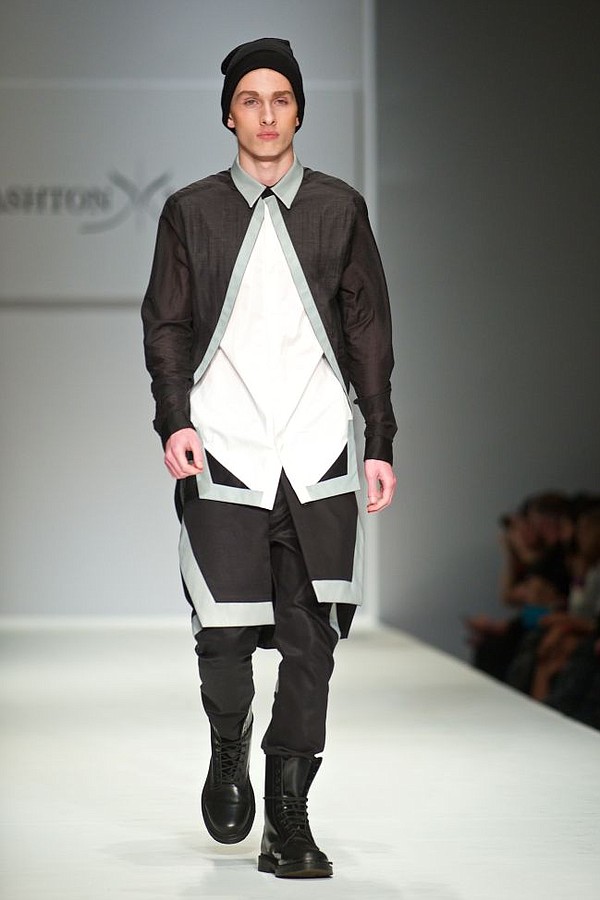 Ashton Michael at Style Fashion Week
Consider the Ashton Michael Fall 2015 line, Blood, Sweat & Tears, one of the most brash looks of the Los Angeles-headquartered label, which made its runway debut at Style Fashion Week on March 20.
The line used a raw, primary red color for many of its looks, said Ashton Hirota, the designer of the Ashton Michael line. "I'm a designer who typically uses only blacks and whites, and here I am using the most aggressive color," he said.
Much of the line was Ashton Michael's take on athletic wear. The 34-looks of the line used neoprene, leather and jersey. Many of the silhouettes were inspired by boxers. Some outerwear was inspired by pre-game robes, what with the garments' oversized hoods. Other looks included draped jackets and pants.
Similar to the hand wraps used by boxers, the Ashton Michael line offered harness- like wraps for hands. It's a nod to the line's bondage inspirations.
Science fiction was another inspiration for Blood, Sweat & Tears. Some of the outerwear was inspired by the 1982 movie Tron, where the actors wore combat suits covered in lights. The lights gave the costumes a circular shape.
For jackets, pants and shirts inspired by Tron, Hirota used gray leather. He said the material makes the eye travel around the body, instead of end suddenly at a side seam, creating a circular look a la Tron.