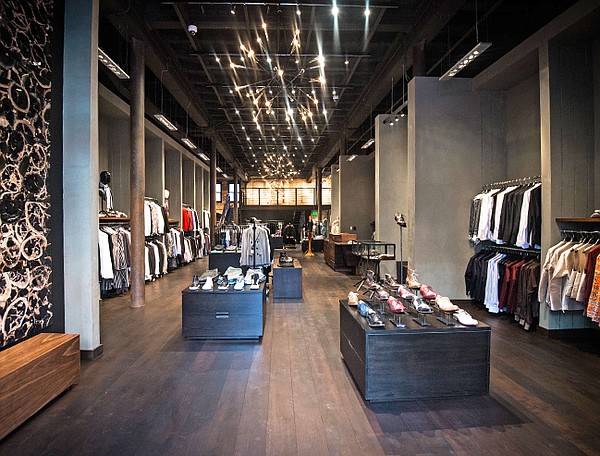 SHOP & DINE
Shop & Dine
The trade show circuit can be trying. If you are a buyer, it is walking up and down long lines of booths, and if you are a vendor, it is endless hours sitting inside a windowless room hoping to sell the latest fashions. After a long day at a trade show, the best way to reward yourself is to splurge at a new restaurant or shopping spot. Here are a few suggestions on the new restaurants and up-and-coming boutiques found in some of the major cities on the trade-show circuit.
LOS ANGELES
Redbird
114 E. Second St.
(213) 788-1191
Early this year, a touch of history joined forces with fine cuisine to create Redbird, a unique eatery that opened in a 19th-century structure that used to be the parish and cathedral for the Roman Catholic Archdiocese of Los Angeles. Called St. Vibiana's Cathedral when it opened, the church has been decommissioned and serves as an event center simply called Vibiana.
Located in the heart of downtown Los Angeles, not far from the Los Angeles Fashion District, the eatery is in the cathedral's former rectory, where a cardinal lived upstairs on the rectory's second floor. Hence, the name Redbird.
The rectory is off to the side of the cathedral, which makes it a bit quieter and a good spot to dine outside in the calming courtyard, which has a retractable roof and citrus trees. Inside is a bar/lounge where you can also dine.
Redbird is the creation of chef Neal Fraser; his wife and business partner, Amy Knoll Fraser; and restaurateur Bill Chait, who is responsible for a number of high-end Los Angeles restaurants, including République and Bestia.
Fraser and his wife closed their Grace restaurant on Beverly Boulevard in 2010 and ended up moving their catering service to the Vibiana event center. Waiting for the economy to improve, they plotted the exact look and menu that would be incorporated at the future Redbird.
The result is a menu filled with special dishes that lean on spices for their uniqueness. Small dishes and appetizers include shrimp with grits and a cocoa nib chipotle mole; grilled Spanish octopus with cherry tomatoes, black chickpeas, baby kale and anchovy vinaigrette; and tai snapper with yuzu kosho, shiso, Meyer; lemon and California olive oil.
For meat lovers, there is spit-grilled lamb belly with fava beans, kumquats, aleppo pepper and sumac spice.
Main dishes include aged Liberty Farms duck breast with duck-leg chorizo; ora king salmon with roasted beets, farro verde and sorrel; and a 24-ounce veal chop with 24-hour veal cheeks and burgundy snails.
The restaurant has been well-received by restaurant critics, who are giving the place a thumbs-up.
The Well
1006 S. Olive St.
(213) 550-4448
When the partners of The Well, a designer retail complex in downtown Los Angeles, installed a pink neon sign bearing the store's name on their storefront, people wondered if they were crazy.
The store made its debut in a sketchy, blighted-looking neighborhood just outside the Los Angeles Fashion District on Black Friday, the day after Thanksgiving, back in 2012, when promises of a boutique retail scene in downtown Los Angeles were vague and memories of the Great Recession were fresh.
Now, the partners of The Well might be considered pioneers. They were among the first to take a chance on selling designer and contemporary clothes in downtown Los Angeles. A year after The Well's debut, Acne Studios and the Ace Hotel opened a few blocks away, bringing international attention to the neighborhood.
Stephanie Harrison, a Well retail director and buyer, said the new shops and the construction boom of expensive luxury lofts in downtown Los Angeles have bought a new, wealthier consumer to the shop. "It used to be starving artists," she said of the neighborhood. "Now it is artists and creatives with more money."
When it opened, The Well could not have survived without offering other services to downtown Los Angeles. In the 7,500-square-foot compound, there's a five-seat salon offering hair and manicuring services. In the back, there's a 3,000-square-foot events space, which is typically rented out by companies looking to produce parties for hipsters. Hit-making DJs such as Skrillex performed at the events space in 2014. The events space hosts probably one party a week, said Well partner Alex Weidner. The company's owners are Jefferson Tangradi and Alex Weidner. Jeremy Yuge is a Well co-founder.
Being a multi-brand fashion boutique was always a central part of The Well's business plan. It currently sells work from new and emerging brands such as Drkshdw by Rick Owens, Minimale Animale, 11 by Boris Bidjan Saberi, Drifter, Henrik Vibskov and the company's in-house fashion line, called The Well.
Some of the recent looks for The Well brand include elongated T-shirts, tuxedo-style drop-crotch pants with a ¾ length and sneaker-style shoes embossed with the company's logo of an eye in a triangle.
The logo represents connection and the partners wish to connect people with their various services, Yuge said. "We want to spread a positive vibe—be well, live well and stay well," he said.
SAN FRANCISCO
Mourad
140 Montgomery St. #1
(415) 660-2500
There was a lot of anticipation for the Moroccan-influenced restaurant Mourad, which opened early this year in the art deco PacBell building, constructed in the 1920s in the heart of the Financial District.
The eatery's décor, which is more modern than Moroccan, was written up in Architectural Digest, giving a nod to the 14-foot-high teak sculpture at the entrance and the round, spiky chandeliers that have a very mid-century look.
The man behind the kitchen door is Mourad Lahlou, who grew up in Morocco and made his way to San Francisco when he was 20 to study economics at San Francisco State University. When he began missing his native cuisine, he started cooking for himself and adopting recipes with fresh ingredients from Northern California.
That cooking style has been implemented in his restaurants. His first eatery was Kasbah in San Rafael, Calif., which opened in 1996 and concentrated on more traditional Moroccan cuisine. Closing Kasbah a few years later, he next invested his culinary endeavors in Aziza, a restaurant opened in 2001 in the Richmond district of San Francisco. It is here that the Moroccan menu got an infusion of California cuisine, which earned the eatery a Michelin star, a first for a Moroccan restaurant in the United States.
Lahlou next set his sights on downtown San Francisco while keeping Aziza open. So far, he has been getting glowing reviews for dishes such as the eggplant served with cucumber, oregano, pepper, flatbread and za'atar spice and the octopus served with chickpeas, artichokes, oranges, olives, and merguez.
There is also branzino served with potatoes, cabbage, cranberries and mussels or duck liver with pistachios, cocoa, turnips and satsuma.
For those wishing a more traditional Moroccan experience, there is family-style dining with short ribs, chicken or lamb shoulder served with all the sides and sauces. And, of course, there is couscous.
Workshop Residence
833 22nd St.
(415) 285-2050
San Francisco is famous for companies such as Gap Inc. and Levi Strauss & Co., which make basic clothing and pants once constructed for laborers. Add Workshop Residence to that list of Bay Area companies with useful clothing on their radar.
Located in San Francisco's Dogpatch/Potrero Hill neighborhood, Workshop Residence contracts artists to design items deemed useful. Then it contracts with San Francisco Bay Area manufacturers to produce the items, which are later sold at Workshop's storefront, said Kristie Wu, a Workshop store manager.
Clothing is a big part of the locally produced, useful goods sold at the Workshop. Artist Ann Hamilton designed trench-style coats made out of linen, denim and waxed canvas for a rain-repellent outerwear. Kimono makers Tsuyo Onodera and Maki Aizawa made aprons and scarves for the Workshop. Stephanie Syjuco designed dresses and hoodies painted with battleship camouflage designs from World War I.
Most artists work at the residency by invitation. Occasionally, the Workshop produces an open call where anyone can submit ideas for a useful product that will be manufactured in San Francisco.
LAS VEGAS
Cleo
SLS Las Vegas
2535 S. Las Vegas Blvd.
(702) 761-7612
www.sbe.com/restaurants/locations/cleo-las-vegas
For a Mediterranean twist on dining, you can't go wrong with Cleo, one of several high-end restaurants at the new SLS Las Vegas hotel.
Cleo, short for Cleopatra, is a small chain of restaurants born in the heart of Hollywood when Danny Elmaleh opened up his first Cleo in 2010 at The Redbury Hotel, operated by Sam Nazarian, who opened the SLS Las Vegas hotel last August. Once established in Los Angeles, it was only natural that the next stop should be in the desert.
The first thing that greets visitors at the Las Vegas Cleo is the 14-foot-tall photo of Nazarian's girlfriend, model Emina Cunmulaj, dressed as Cleopatra, headdress and all. That sets the tone for an evening of exotic dining inside a room with green-and-white tile floors, brilliant chandeliers hanging overhead and a wood-burning oven in the middle of the dining room.
Elmaleh is a chef with international roots. He was born in Israel to a Moroccan father and a Japanese mother, having lived in the Middle East and Japan before landing in the United States. Once in the U.S., he worked with culinary stars such as Josiah Citrin of Mélisse in Santa Monica, Calif., and later with chef Katsuya of the Katsuya chain, which is also a partnership with Nazarian.
Diners who have frequented Cleo rave about the eastern Mediterranean fare, which includes lamb tagine with apricots and couscous, spinach and ricotta dumplings, grilled octopus, falafel, layered eggplant moussakah in a béchamel sauce, lamb shawarma with spices, grilled branzino with cauliflower and couscous, and homemade laffa bread.
co-te-rie
515 E. Fremont St.
(702) 685-7741
www.co-te-rie.com
Don't bother looking for a sign to tell you the address of the downtown Vegas boutique co-te-rie.
The sign in front of the store reads "Checks Cashed," and it's upside down. Walk inside, and the store is completely different from the luxe casino milieu of the Las Vegas Strip, located a short drive away.
There's AstroTurf on co-te-rie's ceiling. There's blackboard on some of the walls where people can doodle. Paintings and photography from local artists line other walls. There's a couch area, a newsstand with books and magazines, and a workspace to hook up a computer.
The store is a bit different by design. It is located in the middle of the "Downtown Project" to rejuvenate the Fremont East District neighborhood. The project is helmed by Tony Hsieh, founder of Zappos, the fashion e-commerce emporium. Zappos headquarters also is located in the Fremont East District.
Hsieh invited co-te-rie founder Sarah Nisperos to open a boutique in the formerly blighted area because he thought the place needed a clothing boutique … and a place to hang out, said Nicole Comacho, a co-te-rie buyer.
The demographic breakdown of consumers visiting co-te-rie is 50 percent locals, 50 percent tourists, who take advantage of the 3,000-square-foot place's free Wi-Fi. There's a 1980s arcade-style table loaded with a Pac-Man game. Those achieving a high score can redeem points for a 35 percent discount on clothes.
The boutique sells women's brands such as Free People, Hard Tail Forever, Dittos, Boheme and For Love & Lemons as well as lines from emerging designers from Amsterdam and Paris. It also sells men's looks and shoes.
For clothing, co-te-rie also hosts a pop-up shop. It's for So So Happy, a Los Angeles–area fashion line with a Japanese cute-culture inspiration.
DALLAS
CBD Provisions
1530 Main St. 
(214) 261-4500
There are not many restaurants around where the biggest draw on the menu is pig's head.
The idea of finding a pig's head on your table can be daunting, but pork lovers who have ordered it rave about the succulent meat served with tomatillo sauce, radishes and tortillas that can turn a head into carnitas.
CBD Provisions (the CBD stands for Central Business District) is one of those eateries that combines a dollop of Europe with a big serving of the Lone Star state. Everything is made from scratch and is sourced from local farms and ranches in the area.
Under the eye of Executive Chef Richard Blankenship, the menu has something for everyone— even if they aren't red-meat lovers.
The menu is divided into small plates and large plates. The small plates vary from meaty fried pig tails (the other end of the pig) served with house kimchi to kale salad served with goat feta and golden raisins to yogurt cheese served with Texas olive oil.
Big plates consist of the roasted Gulf catch of the day served with spring gazpacho, snap peas and lemon bread crumbs; braised lamb shoulder with fresh chickpeas, harissa yogurt and spring onion raisins; or head-on Gulf shrimp and grits.
For family-style dining, there is the pig's head or the 44 Farms steak served with new potatoes and charred onion.
The restaurant's location is also a draw. It is in Dallas' historic downtown, right next to the well-appointed Joule Hotel.
The interior design of the restaurant could best be described as a Texas brasserie, which is one way of saying that Paris came to visit but Dallas came to stay. There are brick walls, salvaged wood floors, and industrial-style tables and chairs.
The open kitchen inside the eatery gives you a clear view of how creative the chefs can be.
Traffic Los Angeles
1604 Main St.
(214) 261-4585
After serving as a style innovator in Los Angeles for a few decades, Traffic Los Angeles boutiques helped redefine the look of another big city: Dallas.
Traffic Los Angeles opened its Dallas location adjacent to the Joule Hotel, a boutique lodging space in a regentrifying area of downtown Dallas, which is the home of the first Neiman Marcus location. The 2-year-old shop is Traffic Los Angeles' first shop built outside of Los Angeles County.
Downtown Dallas developers Headington Companies asked Traffic owner Michael Dovan if he was interested in opening in an area full of potential but not much else. "It reminded me of Los Angeles in the 1970s and 1980s," Dovan said of downtown Dallas. "When I came to [Los Angeles] in 1977, there was no Saks, no Neiman Marcus. There was nothing. Now there is a lot of competition in Los Angeles."
Dallas was so open that Dovan was able to stock brands that others have exclusives on in the Los Angeles area, such as Commes des Garçons and Rick Owens. Other popular Traffic brands, such as Paul Smith and D Squared, did not have a big distribution in Texas, and Dovan said that people from all over the state have dropped by the shop to check out the brands.
Novelty and new looks will continue to be an important part of the Dallas store's identity. It features a 350-square-foot pop-up shop, called Traffic Play, which will devote temporary space to new brands. The permanent parts of the store feature a 3,500-square-foot men's shop and a 1,200-square-foot women's shop. Dovan said the stores look similar to their counterparts at the Beverly Center in Los Angeles. Retail price points at the Dallas store range from $36 to $5,000.
Dovan would not say if he was considering opening more Traffic Los Angeles stores. "It's up in the air," he said.
NEW YORK
Santina
820 Washington St.
(212) 254-3000
The big glass box that sits under the High Line in the Meatpacking District is not an arboretum or a greenhouse. But it is becoming one of the more talked-about restaurants because of its clean lines designed by Italian architect Renzo Piano and its fun, Mediterranean atmosphere.
Santina opened at the beginning of 2015 at a time when the weather was so frigid no one wanted to go outside. But if they made it to Santina, they got a mini vacation to the Italian coast, where the seafood is abundant and the colors are vibrant.
The glass ceiling and walls create a peculiar atmosphere of sitting outside in a garden when you're sitting under the old railway line now called the High Line. The restaurant is filled with potted palms, Murano-glass sunflower chandeliers and brightly hued dinner plates. The white marble tables surrounded by blue banquettes create a seaside ambience. Even the wait staff is decked out in colorful polo shirts and sneakers to add to the on-the-beach feel.
Santina's menu is heavy on vegetables and seafood, as any coastal Italian eatery would be. It is also renowned for its cecina, a chickpea crepe that comes with a variety of fillings, such as shrimp, mushrooms, tuna or lamb tartare.
There are vegetables such as squash carpaccio drenched with beurre noisette, a fritto misto—a medley of fried vegetables—and kale salad. Specialties include mozzarella grilled in a lemon-leaf wrap and a tasty minestrone soup.
Main courses tend to seafood. Particularly tasty is the lobster Catalan with a sea urchin emulsion, a well-prepared swordfish and a sea bass plate. There is also a grilled meat dish of the day.
Babel Fair
260 Elizabeth St.
(646) 360-3685
There's a new style rising in Manhattan.
It's playful, a bit unconventional, and colorful patterns are welcome. What it is not is dark and sexy, said Erica Kiang. She is the founder of one of the outlets and perhaps a home to this style. It's the Babel Fair boutique in Manhattan's Nolita neighborhood.
Babel Fair founder Erica Kiang opened the bright, cheerful boutique in 2009 during the grimmest period of the Great Recession. The store thrived. In September 2014, Kiang opened another location in Brooklyn's stylish Williamsburg section.
Enter the Manhattan store, and you'll find walls painted white, hear pop music as well as doo-wop songs from the 1950s and see the looks of international designers. However, the dresses, tees and jackets are not sold at a designer price. Retail price points typically range from $60 to $350. A typical ticket is $150, Kiang said.
Kiang developed a taste for emerging international designers when she was an exchange student at the University of Cape Town in South Africa. Since then she has traveled the world—specifically China, Brazil, Korea and Spain—to find new, affordable designers that match her aesthetic. She also developed a showroom business to represent some of these designers. Also called Babel Fair, the showroom is headquartered in New York's Garment District.
Kiang eventually hopes to expand Babel Fair to Los Angeles. "We'd like to have a showroom there," she said. But what about a store? "We always go back and forth about it," she said.
MIAMI BEACH
Seagrape
4041 Collins Ave.
(786) 605-1043
Seagrape, a new restaurant that recently opened inside the Thompson Miami Beach hotel, is the work of local celebrity chef Michelle Bernstein, whose Jewish and Latina roots have always influenced her menus.
She is renowned for taking over the Azul restaurant in 2001 at the Mandarin Oriental hotel and turning it into a must-go destination. Then she went on to open the modern bistro Michy's, another well-received restaurant created this time with her husband, David Martinez.
With Seagrape, she has amped up her culinary skills to offer a little bit of something for everyone. But mainly she concentrates on local ingredients grown by farms with which she has partnered.
Her menu has Italian pasta dishes, expertly prepared vegetable dishes with touches of spices, seafood and a selection of steaks that come from a local ranch.
The nosh appetizers start the evening on a high note. There are warm gougères served with truffled cheese, a sherry glaze and jamon Serrano (the Spanish version of prosciutto). Or there are squash blossoms stuffed with corn grits and baby corn surrounded by a layer of shrimp mousseline sauce.
Or you can skip to the starters, which include coriander roasted red and yellow beets served with an avocado hummus, fried chickpeas and sumac yogurt, or a kale salad made with pomegranate and toasted walnuts, pears and a pickled-raisin dressing. A favorite in this category is the Spanish grilled octopus with an orange-gochujang sauce.
There are a wide variety of main dishes. There is house-made garganelli pasta served with long-stewed tomatoes, parmesan and basil or a Florida snapper served with a rice cake, sugar snaps and shrimp chorizo in a sofrito broth.
The 1950s are definitely alive in the restaurant's interior design. There are light-oak tables, terrazzo floors and a horseshoe-shaped green marble–clad bar. For those who can't get enough of the outdoors, there is a terrace for dining.
Trend by Sebastien James
130 NE 40th St.
(305) 576-5200
Call Trend by Sebastien James a family affair.
On the left side of the 2,200-square-foot boutique, Sebastien Scemla runs a store for his men's collection, Sebastien James. On the right side of the shop, his wife, Sandy Scemla, runs the multi-brand boutique Trend by Sebastien James.
It's an island of independent boutique retail in the Miami Design District. Neighbors include flagships for European fashion houses such as Hermès, Louis Vuitton, Celine, Givenchy and Cartier. Located across the street is the celebrated restaurant Michael's Genuine Food & Drink.
If the address is part of Miami's most upscale commercial real estate, Sandy Scemla feels that her family's operation has an alternative to offer the city. "We have a unique, personalized touch that no one has in the area," she said.
The boutique offers brands such as Helmut Lang, Iro, Derek Lam, Rag & Bone, J Brand, Haute Hippie, Missoni, Equipment and Diane von Furstenberg.
But don't expect to see Lang or Iro styles that you see in Los Angeles or New York at Trend, Sandy said. "Miami is a special place. It is very warm. It is not seasonal. I have to be very selective," she said.
While Miami style reigns at her side of the shop, the Sebastien James collection aspires to a global audience. Along with collared shirting that could be worn at any Miami hot spot, the collection also makes suiting with a young, stylish edge and bomber jackets.